Although summer has ended, the season of itchy feet from the yearning to explore the world beyond our doorstep is still here. But with the rise of staycations in the past few years, and the desire of travellers to reconnect with nature, people aren't going as far from their doorsteps as they used to – and that's good news for anyone looking to start a glamping business.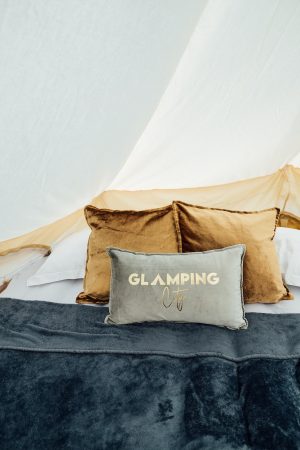 Whether you want to know how to start a glamping Airbnb, how much are glamping pods to buy or how to choose the perfect glamping site, we've put together the ultimate glamping business guide to answer these questions and more. First up, here are some key need-to-knows…
How to Start a Glamping Business - The Basics
The glamping holiday has become more and more popular in recent years, especially among millennial and gen Z travellers who want to collect authentic close-to-nature experiences but still prefer a few creature comforts. If you already own some land or have an existing business you can expand, then you're off to a great start. And while everyone's business will be different, there are some essential things you should consider when determining how much it will cost to start your glamping business. These will not only ensure that it's both safe and legal but help to make yours the best getaway spot for miles around!
The layout of your glamping site is crucial to the vibe you're going for – will your structures be spread out and isolated or clustered and communal? You'll also need to consider vehicle access and walking routes, and don't forget you will likely need planning permission from your local authorities. Read on as we tackle these matters in further sections of this article.
These will depend on where you live, but you'll almost certainly need at least one. For example, if you plan on starting up a glamping business in England or Wales, you will need both a licence and planning permission. Permits and licences ensure the safety and well-being of your guests and your neighbours. As you'll find it much easier to run your business without the neighbours complaining all the time, you'd best keep them happy!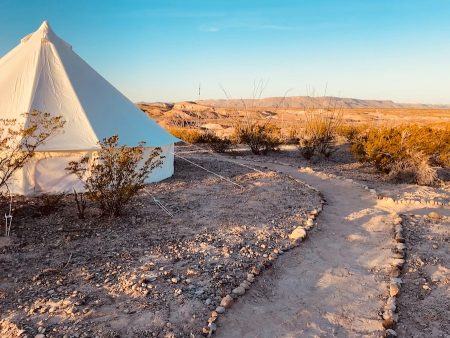 Unless you already have some infrastructure in place, connecting utilities like water, electricity and sewerage will require an initial investment as well as future maintenance. Your local authority will stipulate the level of communal facilities (e.g. toilets, washbasins, showers, etc.) you'll need on-site – it depends on the number of pitches available.
At the very least, you'll need public liability insurance for your site, and you'll probably want to insure individual structures and their contents. You'll need to renew it every year, of course, but think of it like an extra bag of tent pegs – you may never need it, but you'll sleep better knowing it's there!
As with all holiday lets, you may need to pay tax on your new business. Each country has its own taxation system and rules, and it's always best to do your calculations before you set your prices for the year. In many regions, (like in the UK or in the EU) Valued Added Tax (VAT) and income taxes are those that you definitely need to take into consideration. In the USA your booking prices will be affected by Sales Tax. You may also be required to pay property taxes, although this is region-specific. It's always best to seek professional advice from your accountant.
People who 'glamp' might not expect the height of luxury, but they do want certain comforts – a sturdy structure is a must at the very least! In the wide world of camping, glamping and caravanning, the range of accommodation options is vast – from very basic bell tents starting at £500, to top-of-the-range mansions at £40-£50k. The key is to find the best quality-to-price ratio on the right glamping products for you. For example, suppose you can't decide between permanent tents and cabins. In that case, a Hypedome bedroom dome might provide the perfect middle ground, as it offers possibly the best ratio of value to price among the glamping pod products on the market.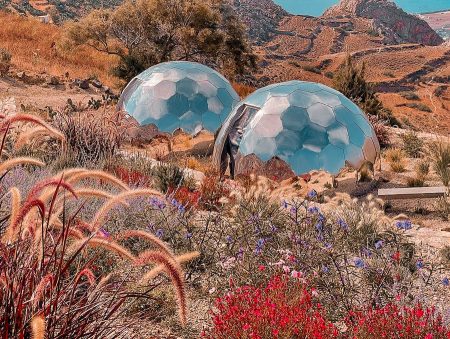 A Hypedome glamping pod is a solid structure with a domed roof, so it feels cosy like a tent but can be insulated like a cabin. Our popular S model can easily accommodate a queen-size bed, or the larger M design will fit a queen plus a smaller bed or table. Because they can be heated and ventilated, they're usable all year round. In fact, many resorts invest in glamping domes as a unique and memorable option to complement more traditional accommodation.
Return on Investment (ROI)
Is glamping a good business? It's often hard to predict how much business will come in in a certain year, but a good business plan can provide a close estimate. For example, a Hypedome S Glamping kit, comes ready to furnish for £4,059.00 including VAT, and the M kit comes in at £9,950. Based on our customer's shared data and our experience a Hypedome glamping pod pays for itself (with profit) in one season. Keep reading to see a detailed ROI breakdown further in this article!
What's Your Glamping Site's Unique Selling Point?
When setting up a glamping business, it's essential to understand your competition and work out what's different and unique about your offering. To determine your USP, start by getting to grips with your target audience. 
Are you hoping to attract families looking for fun and adventure? Couples desiring an intimate retreat? Reluctant campers – people who enjoy being close to nature but want more comfort than a tent can offer?
Once you understand your ideal guest, think about what you can offer that they might want or need. What are your glamping site ideas? Consider your business values, decorating glamping pods according to themes and providing communal areas or add-on services such as private dining.
Choosing Land or a Site for Glamping Business
Location plays a big part in the overall glamping experience. If you already own land, what's unique about it that guests will love? Survey your friends and family to get their views on what they like or dislike about your site. Maybe they can see some beauty you've overlooked or offer constructive feedback on improving the landscape.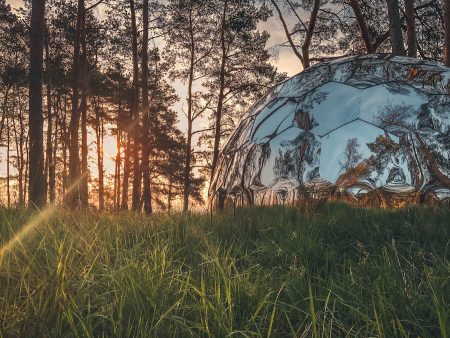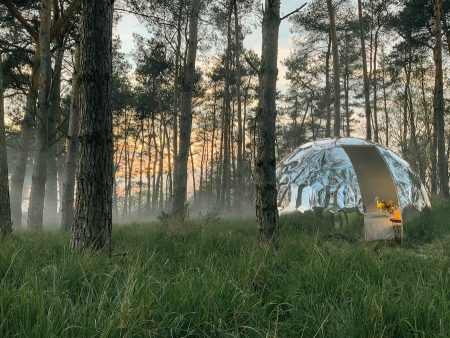 Now comes the matter of how to build a glamping site in a brand new space. Use these pointers to guide you when choosing land.
Natural features

– a tinkling spring, a gorgeous view or a nearby forest can add instant appeal to your setting.

Access to local amenities

– people love to explore the surrounding area. Check for nearby pubs, a picturesque village, hiking trails, etc.

Distance from other areas

– you'll get more footfall if your land is within two hours drive of large towns and cities, especially from people seeking short weekend breaks.

Nearest major attraction

– sites near areas of outstanding natural beauty (AONB) and national parks naturally attract tourists from all around.

Plot size

– is the land big enough for expansion in the future?

Utilities

– how easy will it be to arrange access to power, water and sewerage?

Need for landscaping

– will the land need much groundwork to get it shipshape? Is it level enough for glamping pods?

Development permission

– planning can be difficult for greenbelt and AONB areas or heritage sites. Before you buy land, check with the local authority to see whether the site is suitable for an outdoor accommodation business.

Neighbouring businesses

– do your homework on the local area to learn about nearby developments. Glampers won't appreciate a noisy factory or polluting power plant just around the corner!

Roads and motorways

– likewise, a glampsite next to a rumbling highway or a busy neighbourhood won't appeal to guests looking for peace and quiet and the chance to reconnect with nature. 
If you can get permission from the current owner, try to experience the land in all its glory before you commit to purchasing. Pitch up with a tent and get a feel for what it's like in different weather conditions, especially rain. You don't want a site that floods on a wet day!
Planning Your Glamping Site Layout or Theme
Site layout is crucial to your glamping pod plans and could influence the land you choose. Consider how many units you want to start with – and the limit you're allowed to build by local authorities. How would the site layout adapt to future expansion? 
You'll also need to plan where to place communal areas like shower blocks, toilets, picnic areas, or playparks. Then there are pathways and disabled access – guests expect an easy, stable route to and from their glamping pod – and privacy from other units.
Deciding how to dress each pod is an exciting part of the planning process! Will you offer an adventure or safari-themed unit? A galaxy theme for stargazing? Or keep things classy with fairy lights and potted plants?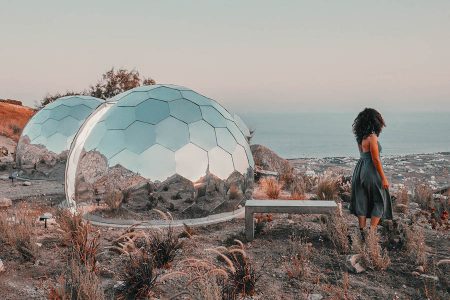 Plan for a cordoned-off parking area that's out of view of your glamping pods. Finally, think about how visitors will arrive at the site, where to place signage and how to make the entrance highly visible and welcoming. Good access is critical, particularly for getting planning permission.
Glamping Planning Permission
Do you need planning permission for glamping pods? Well, there are different regulations across the world, but generally, yes. Glamping planning permission is definitely required if you want to install permanent pods or utilities on your site.
Obtaining planning permission is one of the most challenging parts of starting a glamping business. As mentioned earlier, this is something that needs to be addressed at the point of choosing land. 
Your best chance of achieving planning consent is to source land actively used for farming or agriculture or a site previously used for a campsite or holiday accomodation. It pays to enlist a planning expert for advice on the land before you buy it. 
Always obtain planning permission before purchasing your land (you should be able to do this as long as you notify all parties with a legal interest, including the current owner). Fees will be attached, and you'll need to factor these into your glamping startup costs.
How to Get Glamping Planning Permission
A process of getting planning permission may vary for different locations. Still, wherever you start your glamping business it will most likely consist of 3 steps:
Step 1

– Submit a pre-planning application first to see whether the local council is willing to approve your build. You'll need a proposed layout drawing for this, and an email to your local authority's planning department should suffice. (

Find a council

in the UK.) If you're considering using Hypedomes glamping pods, then you're always welcome to consult your ideas with our experienced team.

We're happy to advise and even help with the preparation of your layout drawings for the pre-planning application.

Step 2

– once you've got the nod from the council, submit a full planning application which should include additional technical drawings such as drainage design, parking details, road visibility splays, market research, landscaping plans and more. Send this via your local council's planning portal. Once you've submitted your application, you should receive a confirmation along with an indication of when you'll get a response.

Step 3

– you'll get your decision! Hopefully, your plans will be approved but expect some conditions on specific aspects of the build or the timescale involved for you to commence works. If you get a rejection, you'll be told a reason why, and it may be possible to address any issues and resubmit your plans.



Camping License for Glamping Site
You may need a camping license before you can run your glamping site. Camping licenses vary depending on the country.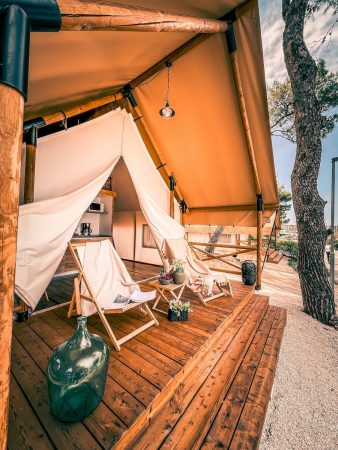 For instance, in the United States, each state has its own laws and regulations for campsites. And in the UK, camping license rules are slightly different for temporary structures that can be freely moved (as opposed to structures that are permanently fixed in place). For example, if you're using tents on a site in England or Wales, you can run glamping activities for fewer than 42 days in a row or less than 60 days in 12 months without a license from your local authority. (Different rules apply for Scotland and Ireland.)
It's best to check with your local authority as to whether you need a camping license. (Note that if you do need a license, you'll probably need to obtain planning permission before you apply). 
Investing in Glamping Pods
There are several things to consider when exploring the cost of a glamping pod – you'll want to ensure you're getting quality units that will offer a strong return on investment. Use these pointers when verifying product features:
Durability

– how long will the pods last, and do they have a warranty? Ideally, they should last more than ten years and be weather-proof to withstand long-term exposure to the elements.

Maintenance requirements

– timber units may need regular painting or staining to keep them in good condition, whereas polycarbonate domes can be cleaned with water and mild detergent. Are the pods likely to need repair at some point – if so, are spare parts readily available?

Uniqueness

– are the units distinctive and special enough to appeal to visitors? Do they stand out from the competition? Uniqueness is a factor that can drive up the price per night and attract guests from afar.

Season dependency

– ideally, you'll want glamping pods that can be insulated and stay up all year round so you can take bookings throughout autumn and winter. 

ROI

– how long will it take before you see a return on the

glamping pod cost?
Hypedome glamping pods not only look spectacular, they're extremely durable too. They have an expected lifespan of 15+ years and withstand harsh weather conditions – including strong winds, torrential rains, hail and snow. They can stay up year-round as long as they're properly anchored, enabling you to make the most of every season. And as they're made from solid polycarbonate, they can be easily cleaned with hose water (a cleaning kit is provided to tackle stubborn dirt) or with a power washer.
You can easily adjust the Hypedomes to meet your needs and please the guests with bespoke glamping pod add-ons. Choose from various options and create the space for unforgettable and comfortable stays.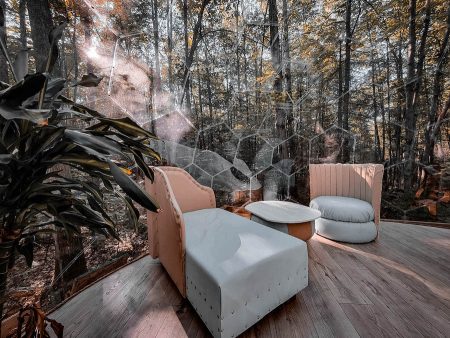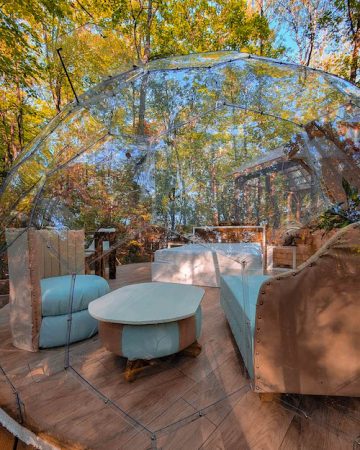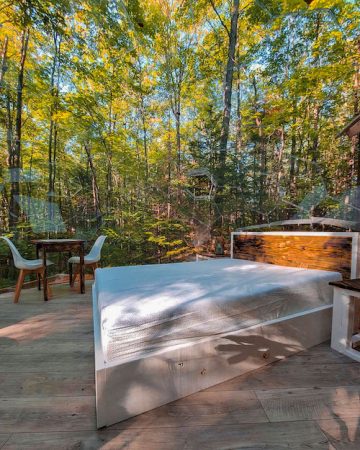 How Much Are Glamping Pods to Buy?
The cost of a glamping pod can vary from several hundred pounds to many thousands; it depends on what kind of setup you want and the budget you have. To give you an idea:
A decent-sized 4m bell tent costs around £1,600

A fully kitted-out safari-style lodge (tent and timber structure) will set you back between £15-£40K. 

A timber pod that sleeps four is around £16K.

Hypedome's M glamping kit costs

£9,950

incl. VAT and delivery (that's for a large, crystal-clear igloo-style pod complete with everything you need to get started).
The durability of these structures will vary – some will last for a few seasons while others will be a long-term investment.
Glamping Tents and Pods ROI
Before you take the plunge and purchase your preferred glamping pods, work out the ROI of a few different types to see which will be more profitable for your business. To help you, we've calculated an ROI simulation* for three different products:
4m empty bell tent with no furnishings 

Fully kitted-out safari lodge 

Hypedome M glamping bundle
*Booking prices and occupancy rates are based on our own research and insights shared by some of our customers. They are presented here for indicative purposes – your actual numbers and results may be different.
Table: ROI for different glamping structures
Glamping Structure
4m Bell Tent


(Empty)

Safari Lodge


(Kit)

Hypedome M


(Kit)

Approx. Purchase Cost
£1,600
£28,000
£10,000
Typical Lifespan
3 Years
7 Years
12 Years
Average rent per night
£60
£180
£180
Occupancy (One Season)
65 nights
80 nights
90 nights
Expected Revenue (1st Year)
£3,900
£14,400
£16,200
ROI (% in 1st Year)
243%
-50%
162%
ROI (Nominal – 1st Year)
£2,300
– £13,600
£6,200
ROI (Nominal – Consecutive Years)
£3,900


(Each Year: 2-3)

£800

(Year 2)


£14,400


(Each Year: 3-7)

£16,200


(Each Year: 2-12)

Total Revenue During Lifespan
£10,100
£72,800
£184,400
Average Yearly Revenue During Lifespan
£3,367
£10,400
£15,367
Approx. Purchase Cost
Glamping Structure
4m Bell Tent


(Empty)

Safari Lodge


(Kit)

Hypedome M


(Kit)

£1,600
£28,000
£10,000
Typical Lifespan
Glamping Structure
4m Bell Tent


(Empty)

Safari Lodge


(Kit)

Hypedome M


(Kit)

3 Years
7 Years
12 Years
Average rent per night
Glamping Structure
4m Bell Tent


(Empty)

Safari Lodge


(Kit)

Hypedome M


(Kit)

£60
£180
£180
Occupancy (One Season)
Glamping Structure
4m Bell Tent


(Empty)

Safari Lodge


(Kit)

Hypedome M


(Kit)

65 nights
80 nights
90 nights
Expected Revenue (1st Year)
Glamping Structure
4m Bell Tent


(Empty)

Safari Lodge


(Kit)

Hypedome M


(Kit)

£3,900
£14,400
£16,200
ROI (% in 1st Year)
Glamping Structure
4m Bell Tent


(Empty)

Safari Lodge


(Kit)

Hypedome M


(Kit)

243%
-50%
162%
ROI (Nominal – 1st Year)
Glamping Structure
4m Bell Tent


(Empty)

Safari Lodge


(Kit)

Hypedome M


(Kit)

£2,300
– £13,600
£6,200
ROI (Nominal – Consecutive Years)
Glamping Structure
4m Bell Tent


(Empty)

Safari Lodge


(Kit)

Hypedome M


(Kit)

£3,900


(Each Year: 2-3)

£800

(Year 2)


£14,400


(Each Year: 3-7)

£16,200


(Each Year: 2-12)

Total Revenue During Lifespan
Glamping Structure
4m Bell Tent


(Empty)

Safari Lodge


(Kit)

Hypedome M


(Kit)

£10,100
£72,800
£184,400
Average Yearly Revenue During Lifespan
Glamping Structure
4m Bell Tent (Empty)
Safari Lodge (Kit)
Hypedome M (Kit)
£3,367
£10,400
£15,367
ROI is calculated by subtracting the investment cost from the final value. The new number is divided by the cost of the investment and multiplied by 100. (In this case, the final value figure is the expected revenue earned in one year).
Occupancy rates vary for different glamping accommodation types due to their uniqueness and overall comfort. For instance, bell tents and safari tents have a lower occupancy rate because they aren't as appealing during the colder seasons of spring and autumn. They're rarely insulated and don't have quite the same wow factor as e.g. Hypedome's crystal clear igloo-style pods. 
Below we present the occupancy rate calculated for the Hypedome glamping pod:
May: 31 days with an average occupancy of 40% = 12 days

June: 30 days with an average occupancy of 60% = 18 days

July: 31 days with an average occupancy of 80% = 25 days

August: 31 days with an average occupancy of 90% = 28 days

September: 30 days with an average occupancy of 25% = 7 days
In total for a season: 90 days
A typical glamping site has four to eight units of the same type, so let's look at the yearly revenue potential based on an average of six units:
6 x bell tents

= investment of £9,600. Potential yearly booking revenue =

£19,800.
6 x safari lodges

= investment of £168,000. Potential yearly booking revenue =

£62,400.
6 x Hypedome M Glamping Bundle

= investment of £60,000. Potential yearly booking revenue =

£91,800.
As these calculations demonstrate, with Hypedomes, your yearly bookings revenue could reach over £90K with a middle-of-the-road investment cost of £60K – possibly the most viable option here. 
The Cost of On-site Amenities
Other costs involved with how to make a glamping site are those related to on-site amenities. You'll need communal facilities, like a shower and toilet block, a reception and office space, plus outbuildings to house tools and equipment. You may also want a roofed common area where guests can gather outside of their glamping pod.
There may be an existing building or two on-site that you can make use of. But if not, amenities are something you'll need to factor into your budget. A basic four-bay shower block alone can cost around £17,000 + VAT (more depending on the construction). Here are some helpful design considerations and guidelines to help you plan shared washroom facilities. Alternatively, you can consider creating a bathroom dome, with a pre-built bathroom module installed inside. 
Landscaping, pathways, lighting, signage and fencing are other structures and elements that may need constructing and maintaining. Will you keep a herd of friendly alpacas or goats on the land that need caring for? A fishing lake that needs stocking? A swimming pool or hot tubs that need draining and cleaning?
Although fully furnished glamping pod packages are convenient, you might prefer to buy glamping pods and furnishings separately to achieve your own unique interior style.
Other than a bed, table and chairs, you might want to add coir mat flooring and ambient LED lighting, cushions and blankets, plants and bunting, a small fridge with local wine waiting for your guests… the possibilities are endless! Of course, it depends on the space you have available. For example, our Hypedome M offers 18 sqm of base area, enough to create a very comfortable space for two adults or 2+1 family.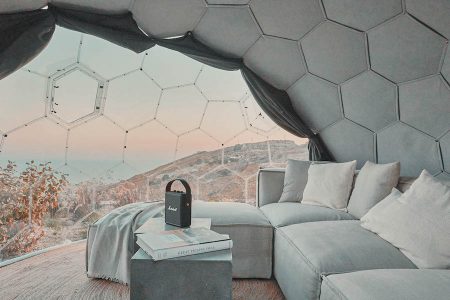 Pinterest has tons of inspiration. If you've opted for clear dome glamping pods, it's also worth sourcing privacy curtains or sun shades to offer your guests a secluded retreat and keep the glare of the morning sun at bay. 
Choosing interior decor is a key job to tick off your glamping business checklist. Done right, it can really enhance the overall experience of your accommodation and make your guests' stay more comfortable and memorable.
Spreading the Word (Branding and Marketing)
Developing your brand is a vital part of creating a glamping site – and it's something you should work on before you officially open. Start with picking a business name and designing your logo.
Your glamping business name should be easy to remember yet unique so you don't infringe on another company's copyright. Here's a list of company registries covering the USA, Europe, the Middle East, Asia, Africa and more, where you can research existing business names. In the UK, you can use the government's company name availability checker for this. You'll also need to check that a corresponding website domain is available for your chosen name, plus social media handles – namecheckr and Google Domains are helpful resources.
Need inspiration for naming your glamping biz? Consider the distinctive features of your site or the local area to spark ideas. Create a shortlist, then use a nifty tool like namelix to generate alternatives.
Next, create visual branding: a logo, strapline, colour palette and fonts. If you're savvy with graphic design, you could do this yourself using platforms like Looka or Canva (which has a free package). If design isn't your forte, hire a freelance designer via 99designs (where you'll get many ideas and pay for the best one). You might also find one on Upwork.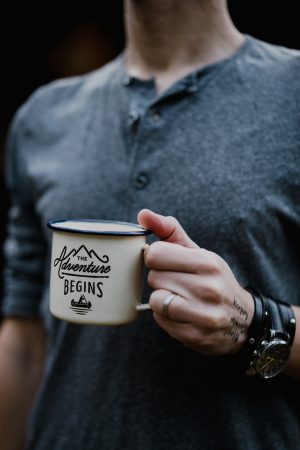 Finally, think about your story. Who are you? Why are you starting a glamping site, and what do you stand for? Hire a copywriter (try Upwork) to write compelling content that describes your core values and mission.
Promoting Your Glamping Business
Start marketing as soon as possible – even before opening a glamping business, to attract early interest and capture leads. These activities will help get your business off the ground:
Build a website

– this is one of the

best ways to advertise a glamping business.

It's important to have an online presence where you can educate potential guests about your site – and take bookings

Capture leads

– add a signup form to your website to start building a list of e-newsletter subscribers.

Be active on social

– share your glamping business journey on Facebook, Instagram, Tiktok, YouTube and other channels. Be the face of your business, showcase site photos, publish reviews and offer behind-the-scenes glimpses.

Try paid advertising

– targeting your ideal guest through Facebook and Google ads will drive traffic to your site and help increase bookings. Paid ads are costly so only go down this route once you've exhausted all organic marketing opportunities.
Your Own Website vs Booking Platforms
When thinking about how to run a glamping business, consider how you'll take bookings. You could just rely on a booking platform instead of creating your own website. It'll do the legwork in promoting your business and you can sit back and watch the bookings flock in. Listings are usually free, but you'll pay a commission whenever a booking is made (typically 3-20%). Some platforms (like Airbnb) charge the guest a fee, as well as the accommodation provider.
Creating a dedicated website offers several benefits. By taking bookings yourself, you'll retain more profit as you won't need to pay a commission to a platform operator. A dedicated website is great for building brand awareness, plus you'll have full control over the content. You can easily add new information to promote new services and add-ons.
These days, it's straightforward and inexpensive enough to build a DIY website through Wix, Squarespace, Webflow or WordPress. But if you decide to hire a professional web designer, your site could cost anywhere between £1-5K – and you might need to pay this upfront. 
Then there's website maintenance to consider. You'll be responsible for fixing errors, running backups and performing updates on a regular basis. Will you get hands-on and do these jobs yourself or hire a freelance webmaster to help with on-going tasks? 
Finally, if you don't use a booking site, you may have to spend more money on marketing, since the onus will be on you to drive traffic to your website.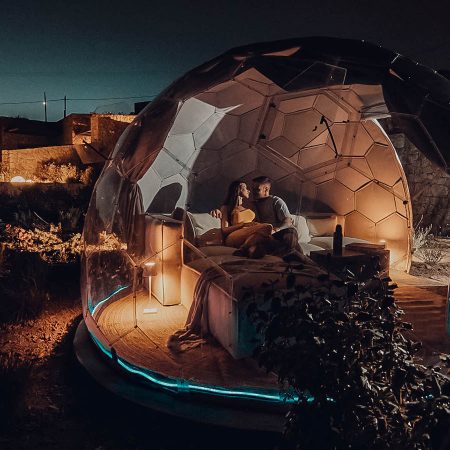 Booking Platforms and Channel Managers
A good approach is to create your own website and use booking platforms, at least initially until your glamping business starts to grow. Here's where to advertise a glamping business:
Before you choose a platform to list your glamping business on, make sure to understand their terms, especially those related to commissions. Then think about which platforms suit you best regarding the fees, popularity, type of properties listed, visuals, and geographical scope of the sites already advertised.
If your glamping business is listed on multiple booking sites (and possibly on your own website too), you'll need to invest in channel manager software to keep your calendar and bookings in sync (you don't want to run the risk of double bookings!). Examples include:
Many Channel Managers come with Property Management functionalities. They can be incredibly helpful in staying on top of the day-to-day operations. They will not only help you sync calendars across multiple booking channels but also automate many crucial tasks such as sending email confirmations to guests, requesting and capturing guests' feedback, processing payments for bookings, processing cancellations, refunds and many more.
Make good research before selecting your Channel and Property Manager as setting them up can be time-consuming, therefore you want to avoid having to change it down the road.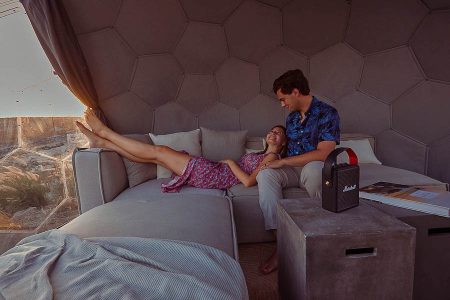 Additional Income Sources to Maximise Profits
If you are at the beginning of your way to your own outdoor accommodation business – one important question surely comes to your mind: "Is glamping business profitable?"
The answer is… yes, it can be profitable and it very often is. However, how much profit you'll make depends on your glamping business model.
A great way to increase your glamping business income is to set up additional income sources through add-on services and packages. For example, you could:
Provide a breakfast basket, picnic hamper or a selection of your favourite wines for an extra cost.

Sell local handmade goods or bakery produce. 

Offer guided tours, private dining, bike rentals and local wine-tasting events to evoke good memories of your site. 

Collaborate with local businesses to expand your offering.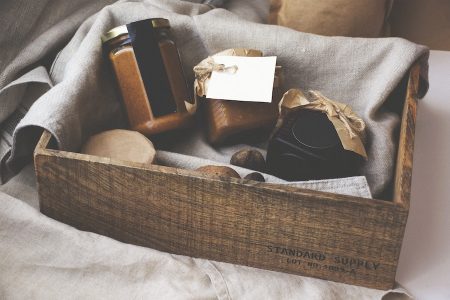 Why not offer your own merchandise that guests can buy and keep as souvenirs? Glamping tumblers, mugs, marshmallow sticks, caps and t-shirts are great items you can brand up with your logo. (Check out more ideas here.) 
Most guests will gladly spend a little extra to make their stay more enjoyable or luxurious. Authenticity goes a long way – offer high-quality produce, experiences or souvenirs and your guests will reminisce about their visit long after they depart.
Creating Delightful Guest Experiences
Outstanding customer service should feature highly within your glamping pod business plan. Happy guests make for fantastic PR – they'll put more business your way through recommendations, and they might return for another glamping trip!
Make your guests happy by:
Going above and beyond

– to make them feel welcome and valued. Be friendly, charismatic, pleasant, professional and accommodating.

Being attentive

– be organised, informative and helpful. Try to anticipate your guests' every need.

Solve problems quickly

– issues will arise, and when they do, don't delay in getting them sorted out.

Being better than the competition

– read competitor reviews, discover their strengths and weaknesses, and work hard to excel in these areas.
Surprising them with something unexpected – such as a glass of Prosecco on arrival, a box of chocolates on a pillow, complimentary slippers or a toy basket (for family bookings).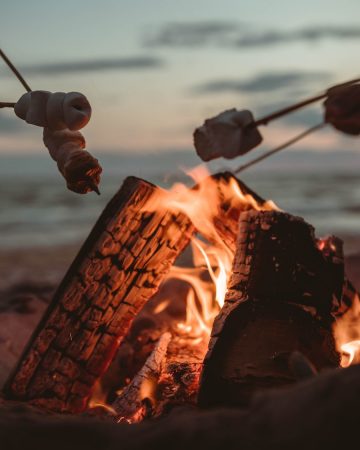 Another way to make your guests feel special is to organise on-site events such as stargazing nights or weekly BBQs. Consider hosting an experience at your site and promoting it through Airbnb Experiences.
Glamping Business Operations
It's sensible to have a very good understanding of your operational costs before diving in and running a glamping site, so there are no hidden surprises later down the line. 
As a glamping business owner, you'll no doubt be wearing many hats – sales, marketing, admin, bookkeeping, customer service…
Minimise the amount of operational work by investing in glamping pods that require little or no maintenance. For example, Hypedomes can stay up all year round and require minimum care. A good wash once or twice per season is often enough to keep them in mint condition.
Also, employ modern IT solutions to help with the workload, speed up or even automate many tasks. Use booking platforms to get instant exposure and start collecting bookings but invest in your own website too so that you could become less dependent on third parties in the future.
Many of our customers do away without hiring staff at the beginning of their glamping business journey. Although once your glampsite gets traction, you might want to hire staff to help free up your time.
Hiring is part of the operational cost of setting up a glamping business, as are running costs like:
Housekeeping: cleaning pods/guest rooms, changing bed linen, towels, supplies

Utilities (gas, electric, water, sewerage)

Groundskeeping

IT (communication infrastructure, broadband, hardware, software)

Office supplies

Insurance**

Business rates*** 

Taxes
**As a minimum, you'll need public liability insurance in order to protect your business from the unique risks involved in running a glamping site. It should cover your guests and any staff you may employ for any claims relating to personal injury or death and loss or damage to third-party property. Given the financial investment you'll make when purchasing glamping pods, you should also consider insuring individual structures and their contents. 
***Glamping sites, like campsites, may be classed as a property business or holiday let. In this case, business rates may apply. This article explains more. The business rate cost for glamping is something that varies by the government – check with your local authority to see if business rates apply to your setting.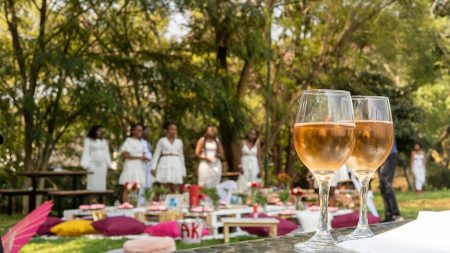 Dealing with Common Challenges
Running a glamping site is fun and exciting! But it probably won't be all roses and rainbows. From time to time, you'll encounter challenges such as last-minute cancellations, unfair reviews, damage caused by guests, rowdy visitors and difficult customers that aren't pleased no matter what you do. The way to deal with problems like these is to preempt and plan. 
Last-minute cancellations can be avoided by adopting a cancellation policy. If a guest cancels at too short notice, you get to keep their deposit (make sure guests agree to your terms at the point of booking). You could also take a security deposit if taking in a large group so that any damages are paid for out of this.
Rowdy and difficult guests are less predictable. Have a cut-off time for loud music and display a code of conduct that outlines expected behaviour standards for the comfort of all guests – make it witty so it doesn't come across as patronising. 
As for the complainers… listen to them because that's what they really want: for their problem to be heard. Then do your best to resolve their issue and follow up afterwards so they know you haven't forgotten about them. 
Finally, when you get a bad review, try to emotionally detach yourself and evaluate whether it's fair or unfair. If the guest has made a fair point, fix the problem and invite them back at a discounted rate to see if you can improve their experience (and encourage them to update their review if so). Address unfair reviews calmly and explain why points aren't valid.
Expanding Your Glamping Business
Depending on your startup costs and business model, you might not see your glamping business profit during your first season. But the glamping business opportunity has bags of potential, so don't worry too much. In the UK alone, bookings are up 92% in 2022. And the global glamping market size is expected to grow at a compound annual growth rate (CAGR) of 10.9% from 2022 to 2030.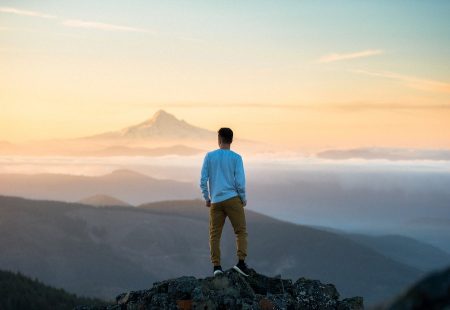 Tips for a Successful Glamping Business
Even though expansion probably isn't at the forefront of your mind when you're just starting out, give some thought to this early on, especially when choosing your site's location. After all, you'll need room to add more glamping pods should you want to take in more guests.
Indicate your long-term objectives
As part of your business plan for a glamping site, include some long-term objectives and model scenarios for when and how you hope to scale your business. For example, after year one or two, providing you've made a profit, this could be the time to add another few glamping pods.
Expansion strategies include offering different types of glamping units to attract a range of guests (and budgets), focusing on a new target audience (e.g. families wanting themed stays) and purchasing and developing surrounding land to physically expand your site. To cope with more guests, you'll likely have to invest in other areas such as upgrading your facilities, equipment and infrastructure. (And you may need to hire more staff.)
Finally, you'll need to keep on top of glamping trends (and other rising tourism trends), so you can adapt your business quickly to what visitors begin to want and expect.
Wellness tourism is an example, and it goes hand-in-hand with glamping. It's all about taking part in activities or visiting a place, associated with mental and physical wellbeing. To capitalise on this trend, you could potentially set up an area of your glamping site for a yoga retreat, an outdoor spa or alternative therapies.
Glamping Site Equipment and Tech
We've already touched on the amenities and utilities you'll need when building a glamping site, plus ways to kit out the interior of your pods. Now let's look at some general and technical equipment that'll optimise your site.
Start with the area outside each glamping pod. Will you have deck chairs or hammocks for your guests to enjoy? Glampers often like to cook outdoors, so a small gas grill or wood burning stove is well worth considering. 
Then there are litter bins and planters to keep your site tidy and looking nice. Would a golf buggy help you access all areas of your site quickly? Don't forget to factor landscaping equipment into your budget (hedge-trimmer, ride-on lawnmower and regular gardening tools).
It might be acceptable to have sketchy internet and a poor phone signal on a campsite, where guests are used to 'roughing it'. But with glamping sites, guests might not be up for a digital detox (unless this is your USP of course!).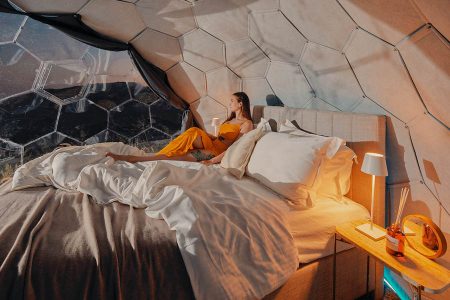 In any case, if you advertise that internet is available, guests may want to access their devices with the speed they're used to at home. A good, modern option for high-speed internet in remote areas is SpaceX Starlink which provides satellite internet coverage to 40 countries. In the UK, it costs £75 per month, plus £460 for the kit.

Other tech that'll be appreciated includes wireless speakers, solar lights and chargers for mobile devices. 
When considering how to create a glamping site, think about the equipment you might need in the longer term. For example, would photovoltaics be a good future investment to help offset the cost of energy bills?
For other glamping business ideas relating to equipment and tech, why not visit an existing glamping (or camping) site and observe what's in place?
There are many reasons to start a glamping pod business, whether that's to make better use of land, to start a business or simply to show off your favourite part of the world. Keep in mind, though, that with a boom also comes competition, so you want to make sure your site stands out from all the others. What better way than with a Hypedome glamping pod? For a little graft, you can have all the glam – how much that is, of course, will be entirely up to you!