We offer three Hypedome sizes: Mini, S and M, all available in the crystal-clear version that truly blurs indoors and outdoors.

YOUR PERFECT GARDEN RETREAT
Create your dream garden pod with ease using our new product configurator. Choose from a variety of sizes, colours, and bespoke add-ons to create a unique and personalized outdoor living space.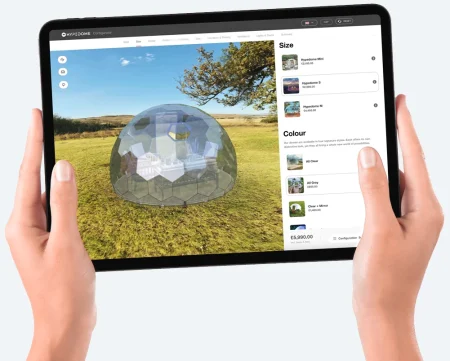 Our domes are now available in four signature styles. Each offers its own distinctive look, yet they all bring a whole new world of possibilities.
Improved privacy and reduced glare in the Grey version. Complete seclusion perfectly blended with surroundings in the Mirror style. Translucent finish creating glowing effects in the Opal type.
Inspired? What if we told you that you can even mix the colours?
Designed to provide our customers with enhanced comfort and security. Both doors have successfully passed our internal durability and usability tests. Choose an upgrade or a retrofit depending whether you plan to purchase it together with your new Hypedome or upgrade the one you already own.
BESPOKE FLOORING SOLUTIONS
Create a solid foundation for your Hypedome with our tailor-made flooring solutions. 

Shades, Insulation, Privacy
Our shading and insulation add-ons increase the functionality of a Hypedome allowing for completely new use cases.

Add Ventilation Panels to your Hypedome for improved airflow inside the dome.
All Hypedomes are equipped with a rollable membrane zip-door in standard.
Upgrade to a wide door version for improved comfort and professional applications or add a second entrance – ideal for visiting pods or walk-through use cases.
Illuminate your Hypedome with these clever lighting add-ons.