Round Carpet
Tailor-made carpet floor cover
Price includes:
VAT
Delivery to all UK regions in 7 - 10 days
Any customs duties or fees if applicable
Our bespoke carpet floor cover instantly turns your Hypedome into an extra cosy space. Comes with a set of two interchangeable, semi-circular doormats. Works best when paired with our Modular Insulated Base or Soft Floor. Available in two easy to clean colours: Dark Grey and Beige.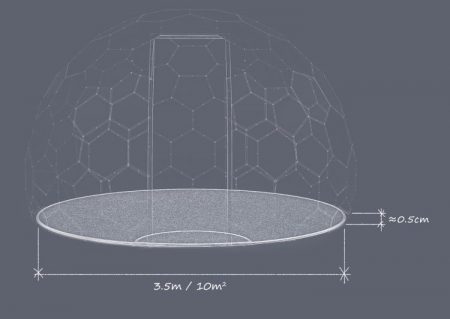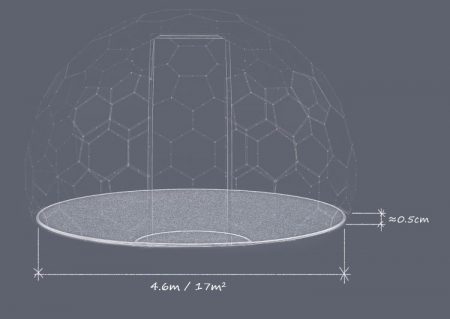 Size: 350 cm diameter, about 0.5 cm thick
Makes the dome very cosy
Our Carpet Cover is safe for allergy sufferers – the fibres are hypoallergenic and prevent the development of mites and bacteria
It has high anti-static properties – does not electrify, and does not attract dust, meaning it is easy to clean
Designed to be paired with our under-carpet floor heating matt (coming soon)
Non-flammable (Fire Class Cfl-s1)
Size: 460 cm diameter, about 0.5 cm thick
Makes the dome very cosy
Our Carpet Cover is safe for allergy sufferers – the fibres are hypoallergenic and prevent the development of mites and bacteria
It has high anti-static properties – does not electrify, and does not attract dust, meaning it is easy to clean
Designed to be paired with our under-carpet floor heating matt (coming soon)
Non-flammable (Fire Class Cfl-s1)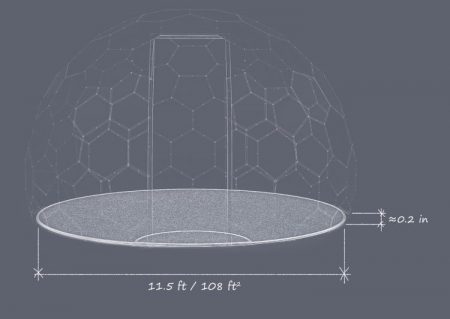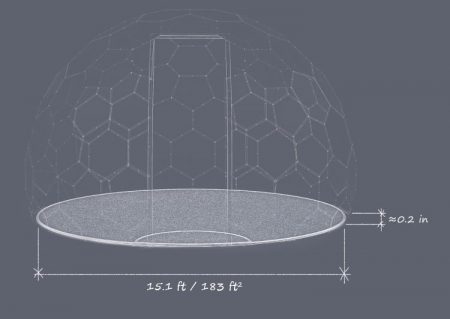 Size: 11.5 ft diameter, about 0.2 in thick
Makes the dome very cosy
Our Carpet Cover is safe for allergy sufferers – the fibres are hypoallergenic and prevent the development of mites and bacteria
It has high anti-static properties – does not electrify, and does not attract dust, meaning it can be easily cleaned.
Designed to be paired with our under-carpet floor heating matt (coming soon)
Non-flammable (Fire Class Cfl-s1)
Size: 15.1 ft diameter, about 0.2 in thick
Makes the dome very cosy
Our Carpet Cover is safe for allergy sufferers – the fibres are hypoallergenic and prevent the development of mites and bacteria
It has high anti-static properties – does not electrify, and does not attract dust, meaning it can be easily cleaned.
Designed to be paired with our under-carpet floor heating matt (coming soon)
Non-flammable (Fire Class Cfl-s1)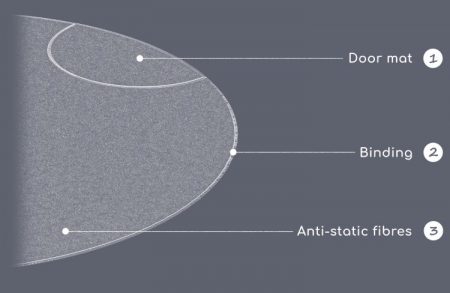 2x door mats
Easy to remove and clean
Binding
Colour matched with the carpet – gives a premium, finished look
Anti-static fibres
Do not attract dirt or allergens
Ingredients:
Available colours:
Gray melange
Beige melange
Carpet can be easily retrofitted into the existing dome
The carpet should be placed on a waterproof surface (e.g. on a Soft Floor Membrane or Insulated Base Deck. It should not be installed directly on the ground or concrete)
Assembly takes about 30 minutes to complete for two people
Required tools: none
Please note that your Hypedome needs to be properly anchored to the ground before assembling the carpet
A Carpet is currently available for the Hypedome S and Hypedome M only. It is not compatible with the Hypedome Mini
It can be used with all types of Hypedome S and M: Clear, Black, Mirror & Opal
Works best with a single entrance Hypedome S
Single-piece round carpet
Two doormats
Assembly manual
Round Carpet can be installed only in one position inside the dome
Round Carpet comes with 2 years warranty against manufacturing defects
There's no maintenance required, other than occasional cleaning of the top surface
Can be shipped as a separate parcel when ordered alone or added to any Hypedome package
Total weight: 15 kg
Can be easily lifted and moved by one person
Dimensions when packaged: 175 cm x 40 cm x 20 cm