Sun Shade Sail
Provides shade & privacy
Price includes:
VAT
Delivery to all UK regions in 7 - 10 days
Any customs duties or fees if applicable
Useful on sunny days as it provides shade and improves privacy. Can be quickly added or removed with a built-in magnetic snap-on/snap-off system. Helps with temperature control on sunny days. Use your dome all day long, protect your shade-loving plants or hide from the curious glances of your neighbour.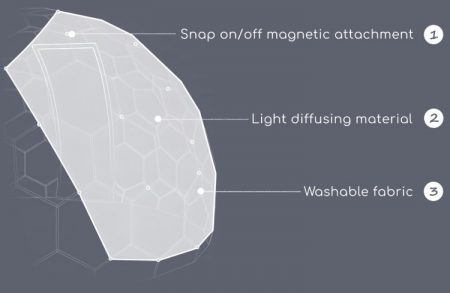 Snap-on/off magnetic fixings
Easily attach, remove or change shade sail position
Light-diffusing
Softens strong sunlight and provides privacy
Washable fabric
The entire shade sail can be easily cleaned
Sun Shade Sail can be easily retrofitted into the existing dome
The first assembly takes about 10 minutes to complete for one person
Then removing and attaching it again takes only 30 seconds
Required tools: none
A Sun Shade Sail is currently available for the Hypedome S and Hypedome Mini only and is not compatible with the Hypedome M
It can be used with all types of Hypedome S and Mini: Clear, Black, Mirror & Opal
Sun Shade Sail
Magnetic holders
Assembly manual
Sun Shade Sail can be installed only in three possible positions inside the dome
In Hypdome S You can install up to two Sun Shade Sails
The Sun Shade Sail comes with 2 years warranty against manufacturing defects
There's no maintenance required
Total weight: 3 kg
Dimensions when packaged: 35 cm x 35 cm x 7 cm
Can be easily lifted and moved by one person