Product Description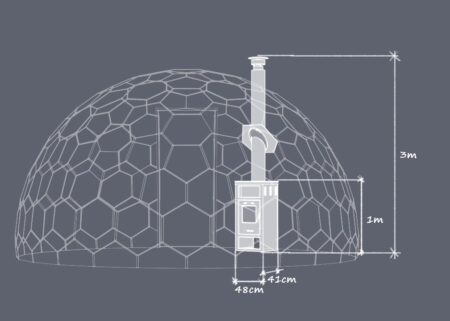 Stove – Width:48cm, Depth:41cm, Height: 100cm
Chimney – Outer diameter: 20cm, Inner diameter: 15cm, Height (incl. hat): 200cm
Total assembly height: 300 cm
Designed for Hypedome M only
Minimal assembly required
Can be installed in up to 5 positions (3 with Privacy Curtain)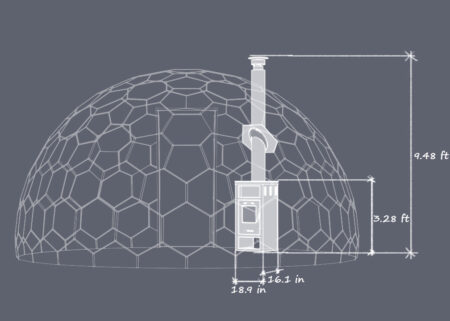 Stove – Width: 18.9 in., Depth: 16.1 in., Height: 39.4 in., Weight: 150 lbs
Chimney – Outer diameter: 7.9 in., Inner diameter: 5.9 inches, Height: 78.7 in.
Total assembly height: 118 inches
Designed for Hypedome M only
Minimal assembly required
Can be installed in up to 5 positions (3 with Privacy Curtain)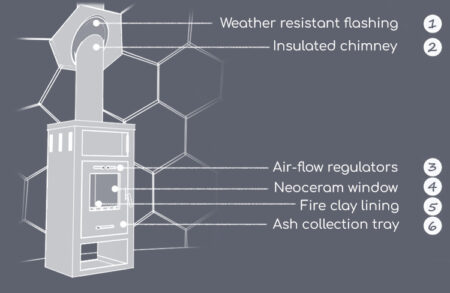 Weather resistant flashing
Powder coated steel panel with custom heat-resistant gasket
Insulated chimney
Double-walled chimney with mineral wool insulation
Air-flow regulators
Adjust the temperature with three sliders
Neoceram window
Heat-resistant ceramic glass with a clean window system (soot-resistant)

Fire clay lining
Durable and features great heat-retaining properties

Ash collection tray
Ash flows down the furnace into the tray, making cleaning much easier

Kits can be retrofitted into any Hypedome M
We recommend at least two people and a wheeled cart to assist in positioning the stove
Minimal assembly is required
Required tools: 1.5m / 4.9 ft ladder. Wrenches that came with your Hypedome
Kits are compatible with Hypedome M only (incompatible with Hypedome S and Mini)
Chimney flashing is mounted in the same locations as the Window Panels. If you have a Window Panel in place where you wish to install the stove, you should remove it first (you can move it to one of the other available locations).
It doesn't matter what kind of flooring solution you have. The position of the chimney in flashing is adjustable meaning that you can install it even if you have a slightly raised floor level (as with the Insulated Modular Base).
If you decide to install chimney kit with your own stove, to achieve the best draught we recommend stoves that are between 90cm (2.95ft) and 110cm (3.6ft) in height.
Outer diameter of the chimney is 20cm (7.87 inches), inner diameter is 15cm (5.90 inches). Chimney does not come with adapters for other sizes. If possible install stove that does not require adapters as they can impact the effectiveness of the chimney.
Insulated chimney (2 pieces)
Chimney hat
Flashing
Assembly manual
Wood burning stove (if complete Stove + Chimney Kit ordered)
Kits can be installed in either 5 or 3 locations depending on whether your dome features Privacy Curtains.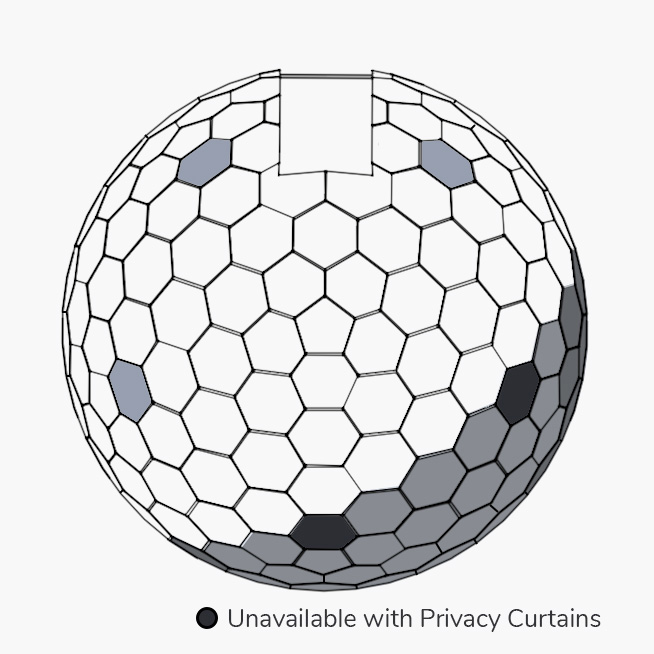 Kits come with 2 years warranty against manufacturing defects
There's no maintenance required
Total weight: 75kg
The kit comes on one EPAL standard pallet: 120cm x 80cm x 150cm / 3.95 ft x 2.62 ft x 4.92 ft
Depending on the accessibility of your dome, the delivery company may have to leave the stove on your driveway
We recommend a wheeled cart to assist moving the pallet