Running a successful vacation rental is no easy feat. Even if you've nailed the location and kitted out your Airbnb with luxury furnishings, it may not be enough to stand out from competitors. Since many travellers are looking for something out of the ordinary to make their stay feel unique and memorable, include an outside-the-box idea in your offering.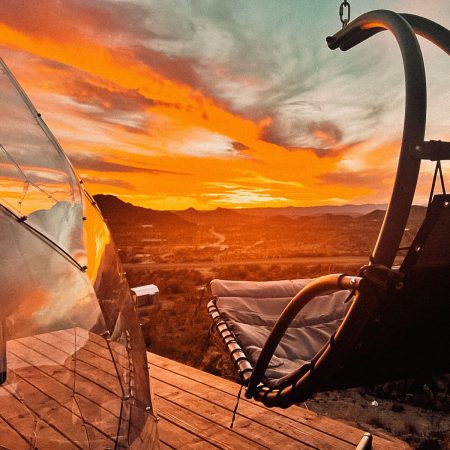 Make Your Vacation Rental Extraordinary
So what can you add to your holiday rental? Some features Airbnb guests love are an outdoor hot tub, spa amenities or an alpaca farm, but we're guessing the latter can't be an option for every vacation business owner.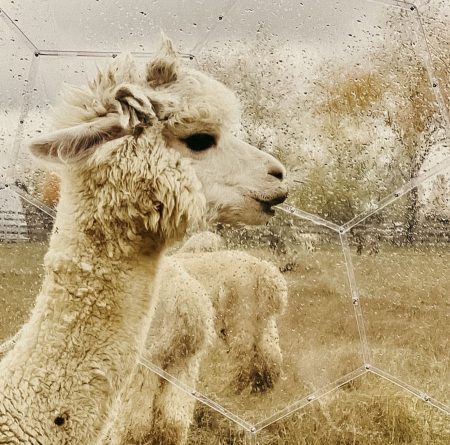 However, you can easily improve your Airbnb if you smartly utilise the holiday home's outdoor area. One option that doesn't require too much space, investment or special skills is to install a multipurpose glamping pod.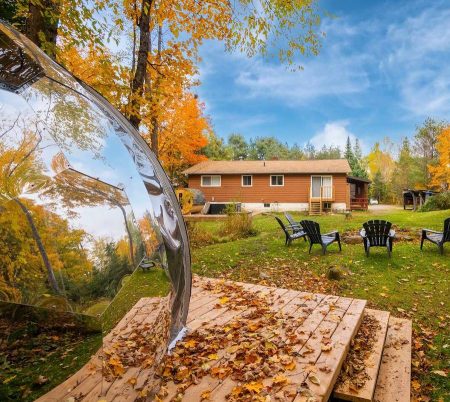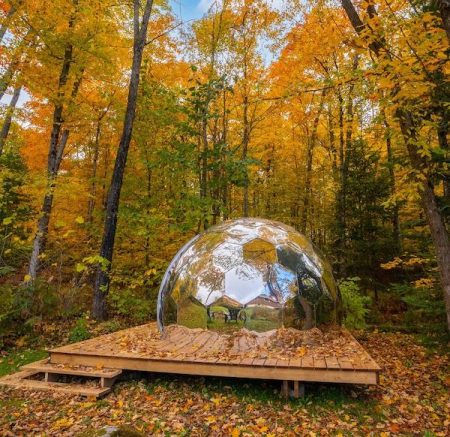 These have the 'OMG!' factor, and you can buy them individually. You don't need a full-on glamping site to use them – many hospitality businesses, like B&Bs, farm cottages and hotels, often invest in glamping domes to expand their existing, rather traditional offering.
How Can Glamping Pods Improve Airbnb Rentals?
Glamping domes (like Hypedomes) can be used in two main ways to provide unique vacation experiences – to provide extraordinary accommodation or a designated space for unusual activities.
Glamping Pods as Additional Accommodation
If you have a desirable Airbnb spot, like a country cottage or seaside villa with idyllic views, a pod for glamping could be the perfect Airbnb upgrade.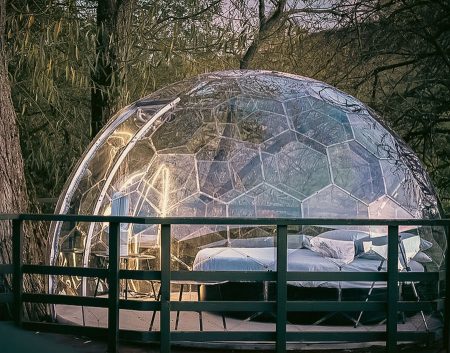 With an outdoor pod of a reasonable size (like Hypedome S or Hypedome M), you can provide your guests with a unique sleeping experience and potentially increase your revenue in two ways:
First up, you can add the dome to your existing rental property and offer extra bedrooms to your guests. Achieve bigger revenue by accepting larger groups within the same booking. Your guests may even end up haggling with each other over who gets to sleep outdoors, as the experience is so exciting and unique.

Alternatively, you can add Hypedome units as standalone bedrooms and offer them independently from your existing rental offering. Increase your revenue by accepting individual bookings on a larger scale.
Either way, your guests are in for a treat and you just make your holiday spot much more attractive.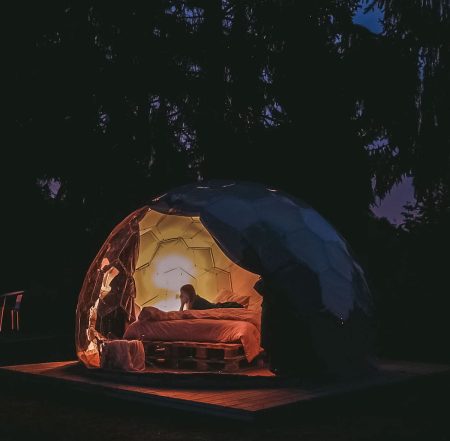 What your guests may love the most? Hypedomes are designed to blend in with their surroundings and blur the line between indoors and outdoors. In the crystal clear version, guests can fall asleep under the stars. You can add Hype.Wall Panels for privacy and leave a 'porthole' at the top of the dome so guests can gaze up at the night sky while lying in bed.
Note: Hypedomes are temporary structures that usually do not need planning permission if used for dining/lounging/garden purposes. However, if you plan to rent them out for accommodation purposes/overnight stays, then obtaining appropriate permits might be required.
Read our guide on Starting a Glamping Business for more information on planning permission and check with your local authority whether getting permits is necessary in your area.
Glamping Pods for Outdoor Activities
Guests always welcome impressive facilities, but often the most appealing vacation rental upgrades are experiences they can participate in during their stay.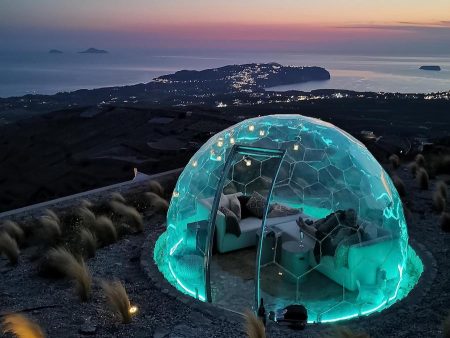 Instead of using a clear outdoor pod for overnight accommodation, use it to offer unique Airbnb amenities. Who wouldn't like stargazing with a telescope, watching northern lights from the comfort of the dome or dining alfresco-style under the glimmering night sky?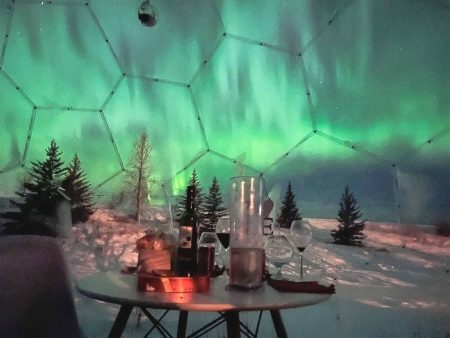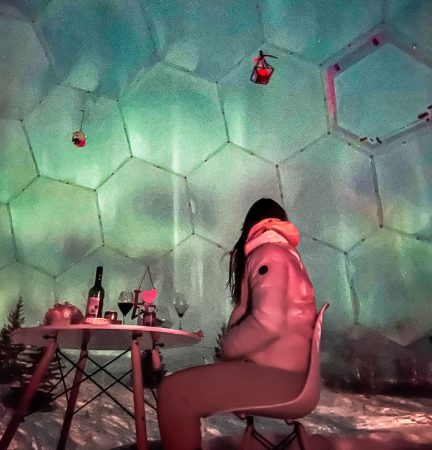 Why not create a sheltered meditation zone or yoga retreat if your rental has a well-being theme? These are all things to make your Airbnb stand out.
With a Hypedome, you can offer all the above and even organise a movie night by projecting a film onto our snap-on/snap-off Sun Shade Sail. Your guests could enjoy unique experiences all year round, as Hypedomes are weather-proof and easy to heat. And you can choose from a range of glamping pod add-ons like useful wall pockets and beautiful lighting kits to make guests 'ooh and aah'. 
Note: In most countries, you won't need planning permission to install Hypedomes for this type of use (not for overnight stays), meaning you can instantly add a wow factor to your rental offering, helping you to get fully booked or even bumping up that rental price. With our short lead times on clear domes, you can even get it in less than 2 weeks, perfectly in time to assemble and furnish before the season starts.
Improve Your Airbnb with Glamping Domes
The vacation rental market is highly competitive nowadays, and offering a 'standard stay' (even in a deluxe cottage or villa) may not be enough to keep bookings flowing in and resulting in fantastic reviews from guests.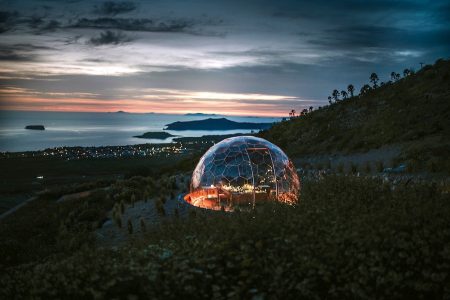 Working out how to make your Airbnb unique is essential for success. One versatile solution to enhance your offering is to add a glamping dome to create unforgettable memories – either from staying inside it overnight or by using it for exceptional experiences.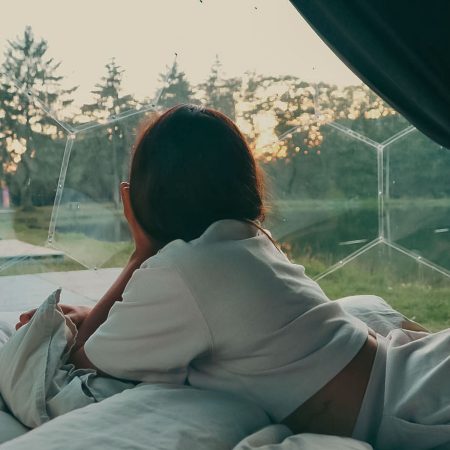 So don't settle for being just another holiday rental  – spice up your guests' vacation. They'll be raving about your spot and snapping photos of themselves in your outdoor pod before they've even unpacked. Don't be surprised to see them return in the future (with a few friends in tow)!