"What's the best way to keep the dome warm during winter?" This is a question often asked by those who want to make the most of their garden igloo come rain, snow, hail or shine. 
Here are our best tips for heating a dome during those chilly winter months – including which Hypedome accessories work best to improve thermal performance, plus the safest patio heating solution for your dome's interior.
First, we'll address the sun exposition and heat sources – like any other type of building, you'll need a heat source to warm the interior. And then we'll explore insulation. The better your Hypedome is insulated, the easier it'll be to heat (and retain that warmth inside the dome).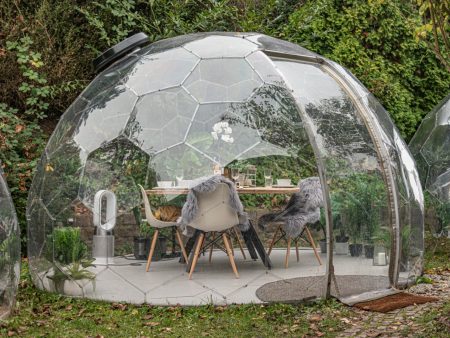 Whenever possible, it's always best to use this free, natural resource to provide heat for patio domes. It's especially relevant for clear-finish Hypedomes but grey, mirror-like and opal domes will also gain some heat from the sunlight.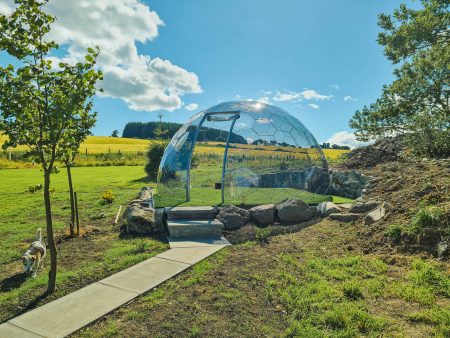 By building your Hypedome in a sunny position, you can harness the power of the sun's rays to increase the temperature inside. This is the easiest way to keep the dome warm if you have a clear dome with no insulated panels.
If you do already have insulated panels and curtains for your Hypedome, we recommend opening the curtains wide on a bright day to let the sun work its magic.
Pro tip:
Already own a Hypedome but it's positioned in a shaded corner of your garden? Wish you had it installed on that patch that gets just enough sun in the winter time?
Breathe a sigh of relief because you can move it as a whole; there's no need to dismantle it. Just gather five or six friends or family members, un-anchor the dome from the surface and have all of you lift the dome together. You can then slowly move it into its new, sunny spot.
There are many types of heating appliances on the market, however some are more suitable to use inside the Hypedome than others. And some will not be recommended at all for performance or safety reasons. Let's see what options we have…
One of the best ways to heat an outdoor patio dome is to use an electric heater fan. Thanks to the hemispherical shape of your Hypedome, you'll find the air circulates evenly, warming your dome, reducing condensation and keeping the dome clear.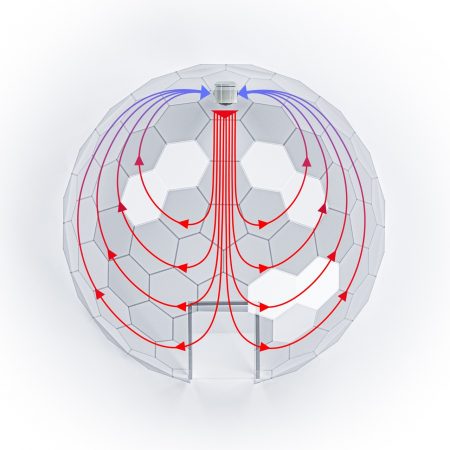 Heated air circulation in a Hypedome garden dome with the use of an electric heater fan.
Dyson fans are our favourite as they can be connected to your home wi-fi and controlled remotely with an app or automatically turned on to keep a desired temperature inside the Hypedome. Many other brands now also offer this functionality and most likely they'll be good for the job, as long as they provide enough heating power.
Electric heater fans that we use in our showroom domes offer 2600W of heating power. With this level of power, it usually takes about 20 minutes to heat the Hypedome S interior from 6°C to 18°C (43°F to 65°F) and about 30 minutes to heat it from 2°C to 18°C (35°F to 65°F).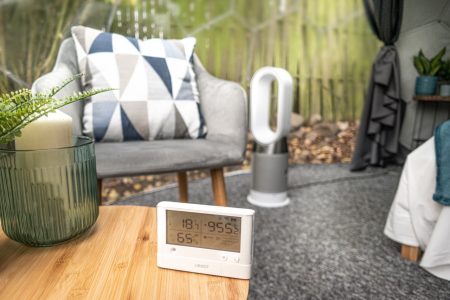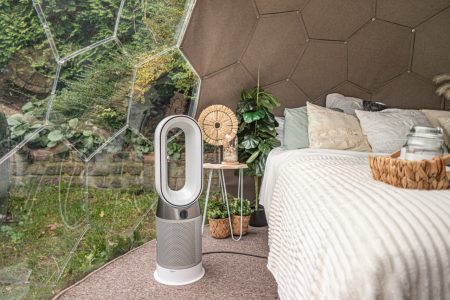 In the table below, we've gathered estimated costs of running a Dyson fan heater per one hour of use. We analysed two scenarios:
One hour of typical use in winter time, where we're increasing the temperature from 2°C to 18°C (35°F to 65°F) and maintaining this level of warmth.

One hour of use on full power.
Cost of heating [with updated average energy prices, as of November 2022]
Average variable unit price (kWh) in November 2022*
One hour of typical use in winter time**
One hour use of 2.6 kW heater fan on full power
United Kingdom

£

0.34 per kWh

£

0.66

£

0.88
Republic of Ireland

€

0.43 per kWh

€

0.83

€

1.11
Canada

C$

0.10 per kWh

C$

0.20

C$

0.26
USA

$

0.16 per kWh

$

0.30

$

0.41
Average variable unit price (kWh) in November 2022*
UK
Ireland
Canada
USA

£

0.34


per kWh

€

0.43


per kWh

C$

0.10


per kWh

$

0.16


per kWh

One hour of typical use in winter time**
UK
Ireland
Canada
USA

£

0.66

€

0.83

C$

0.20

$

0.30
One hour use of 2.6 kW heater fan on full power
UK
Ireland
Canada
USA

£

0.88

€

1.11

C$

0.26

$

0.41
We have also tested electric heater fans in zero and sub-zero conditions. When equipped with our Insulated Hype.Wall panels and Insulated Modular Deck, heating the Hypedome S with a 2.6 kWh electric fan heater achieved the following results:

15 minutes after starting the heater, temperature increased by 8.4°C (47.1°F)

30 minutes after starting the heater, temperature increased by 16.7°C (62°F)

45 minutes after starting the heater, temperature increased by 21.5°C (70.7°F)

60 minutes after starting the heater, temperature increased by 24.5°C (76.1°F)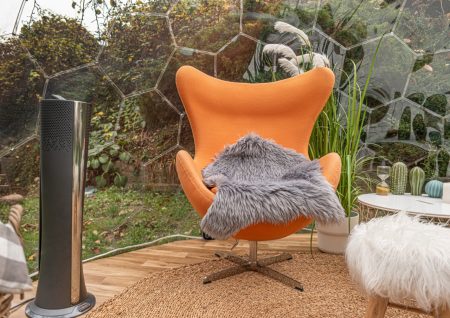 Side note: when selecting an electric heater fan consider how loud it is (Dyson fans are relatively silent even on full power).
Standalone Electric Infrared Heaters
While electric heater fans are often the preferred heating solution due to their ease of use, reliability and safety, there are other options worth considering. Electric infrared heaters are one alternative.
Unlike the space heaters that blow hot air and warm the entire air volume inside the dome, infrared heaters warm surrounding objects directly through infrared radiation.
Thermal energy is transferred directly to a material with a lower temperature through electromagnetic waves in the infrared region. The surrounding air is not heated and is uninvolved in the transfer of heat, which makes infrared heaters energy-efficient, convenient, and healthy.
Different to heater fans that require time to heat the air, infrared heaters offer instant warmth, seconds after they are switched on. They also operate silently.
For use inside the Hypedome, we would recommend, stand-alone patio heaters, ideally ones with a large base for added stability. It should also offer variable heat output, allowing you to reduce the amount of electricity used, when full heating power isn't required.
We particularly like the Shadow Sidekick products available at Heat Outdoors that come in two sizes: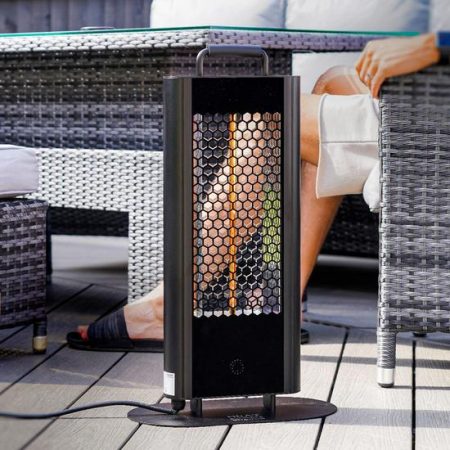 Photo: heat-outdoors.co.uk
Both can be operated with a remote and they feature an elegant hexagon grill design, matching the hexagonal panels of the Hypedome.
Although we generally don't recommend using any type of open flame or gas-fueled heating equipment inside the dome due to its limited size, some of our customers opt for bio fireplaces that are safe to use indoors.
Among bio-fueled fireplace manufacturers, a danish brand, Le Feu, is our customer's favourite due to the beautiful design and great functionality of their products. Their Le Feu Ground Low with 45 cm wooden legs is a portable freestanding fireplace for indoor and outdoor patio areas. Standing at a height of 80 cm in total, it provides warmth at armchair level or when chilling out on a sofa.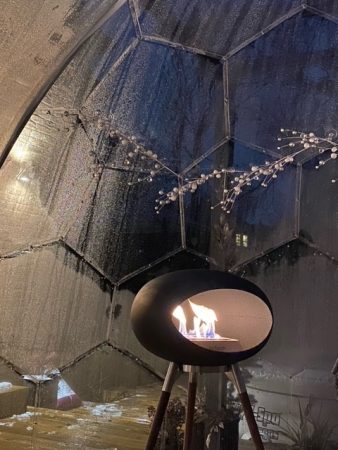 According to Le Feu, the Ground Low Fireplace provides about 2.5 kWh – 3.0 kWh of heat and requires about one litre of bioethanol fuel per every four hours of burn.
One litre of premium quality bioethanol fuel for fireplaces retails at £5.00 and can last for about four hours, meaning that the average cost of operating this fireplace at full power is about £0.25 per hour.
As yet, we've not conducted our own tests with biofueled fireplaces, so we can't confirm that it's a feasible heat source. But given the significant heat output, it might be worth considering, especially if there's no electricity available inside your dome.
Safety notes:
Bioethanol fireplaces are safe to use indoors, as the amount of CO2 produced by the fireplace is small and comparable to the level emitted by a candle. Bioethanol fuels produce clean, smokeless warmth without the harmful emissions produced from conventional fossil fuel fires and wood burners.
Despite that, if you want to use this kind of heating source inside your Hypedome, we recommend equipping your dome with a window panel and keeping the window open when the fireplace is in use to allow for better air circulation.
Care is required when handling biofuel. Denatured bioethanol is a highly inflammable Class 1 fuel. Always refer to the manufacturer's guidelines. Consider choosing a different heat source for your dome if you prefer a low-maintenance solution.
Another feasible option to explore are standalone oil-filled radiators. They work on a convection principle, meaning they will heat up the entire air volume similar to an electric heater fan.
Contrary to space heaters, oil radiators are completely silent, but they usually take much longer to heat up the dome's interior.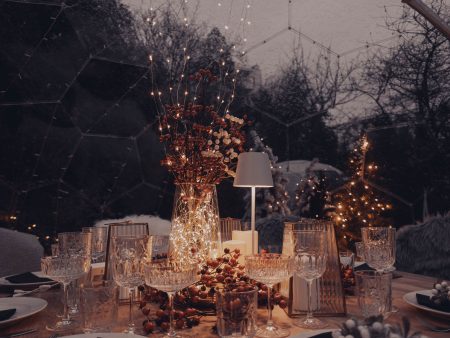 Most of the radiator heaters available on the market offer up to 1500 W of heating power, so they might be a good choice for milder climates or a reliable heat source in the  spring/autumn season.
Most of the oil-filled radiators come with a thermostat and also a manual option to switch between different modes of heating, e.g. 1500/900/600 W. These kind of heaters are considered safe to use as they usually don't expose any extremely hot elements. Even though most of them come with a set of wheels, they can be quite bulky and heavy, thus difficult to move around. DeLonghi is the big brand name for oil-filled heaters.
A 1500 W oil-filled radiator will consume 1.5 kWh of energy during one hour of use on full power. This means that the cost per hour (when in use) will be approximately:
£0.51 in the UK 

€0.65 in Ireland 

C$0.15 in Canada 

$0.24 in the USA
Electric Throws and Blankets
Electric throws can be a great energy-efficient solution if you plan to use your dome solo or as a couple to relax together on a sofa. Modern electric blankets warm up in less than five minutes and offer multiple degrees of heating to keep you toasty but not too hot.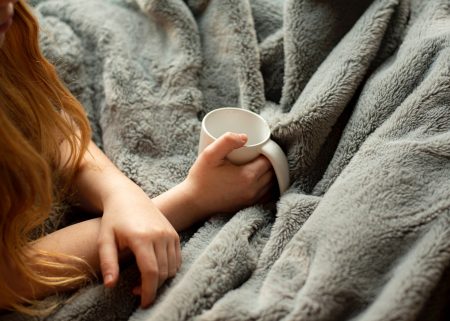 And because they only heat a small space that envelops you, they usually require about 100 – 150 W of power, making them very cost effective.
They come in various sizes, colours and designs. Here are some of our favourites: 
Heating is one thing – but to keep your Hypedome warm, you should take care of its insulation as well. We prepared bespoke accessories to improve the thermal performance of your dome and make you feel cosy in colder months.
Fitting a solid floor inside your Hypedome ensures you have a perfectly flat surface for your interior furnishings. It also works to seal your dome from the ground, offering protection from the elements.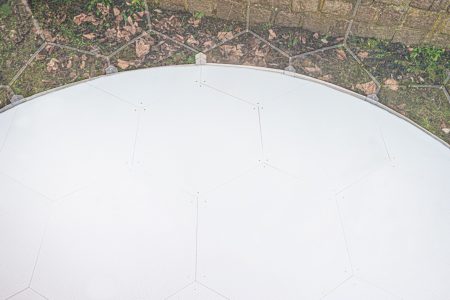 While there are a few Hypedome flooring products to choose from, our Insulated Modular Base is your best option for thermal performance. It's made out of three layers, the middle one being high-quality insulation that stops the coldness of the ground from seeping up into your dome.
For an extra cosy finish, you may want to consider covering the Insulated Modular Base with our bespoke Round Carpet, available in two colours.
For even better heat retention, consider Hype.Wall panels in addition to an insulated floor. These are upholstered, insulated hexagon-shaped panels that attach to the polycarbonate panels of your Hypedome, covering nearly 70% of its surface.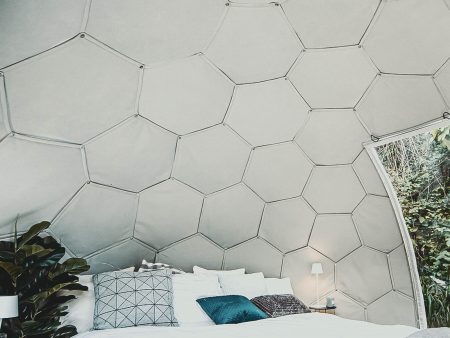 Hype.Wall panels are made with hotel-grade textiles and feature a thermal core layer of polyethene foam to provide insulation. This helps to keep the interior super-snug once it's been heated. The panels also have a waterproof outer layer to prevent condensation seeping through inside the dome during a cold snap.
Thermal properties aside, Hype.Wall panels are a smart choice if you want a little privacy away from the prying eyes of neighbours.
Curtains have been used for centuries to reduce heat loss, block light – and make windows look pretty. You can use this age-old method in your Hypedome with our blackout Privacy Curtains. They're made from a thick, hotel-grade fabric and are tailored to fit neatly across the entrance of your dome with snap-fit magnetic closures.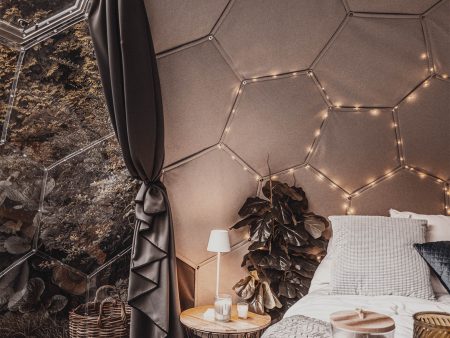 The saying, "good things come in threes", certainly rings true when you use these curtains with insulated wall panels and flooring. Using all three solutions together is the optimal way to improve the thermal performance of your Hypedome.
You Can Use Your Hypedome All Year Round
The multiple uses of garden domes include outdoor dining, a garden gym or office, a craft room, a tranquil space to sit and relax, and so much more. And because heating a patio dome is perfectly possible, you can enjoy your extended living space for any of these purposes all year long, no matter the weather.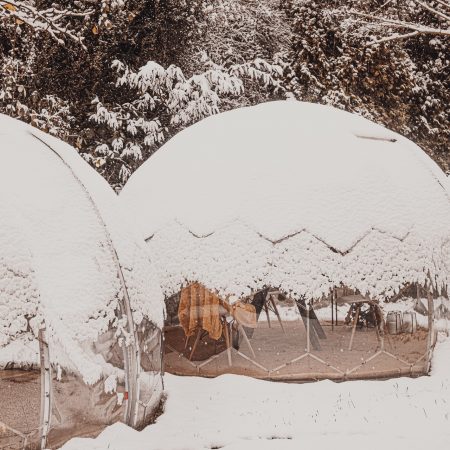 In fact, when snowflakes are softly falling, there's probably no cosier place to be than inside your Hypedome, kitted out with an insulated floor, walls, curtains and patio heating. Add a set of twinkling fairy lights to illuminate the scene outside, and you'll truly feel the warm fuzzies as you enjoy the view before you!
Disclaimer:
Use heating equipment with care. Always follow manufacturers' guidelines on how to safely operate their heating products.

Hypedome is a light-weight, non-permanent outdoor shelter designed for easy self-assembly. It's made from a single layer polycarbonate, which makes it very durable but on its own does not provide significant thermal insulation.

Achieving thermal insulation properties comparable to those of traditional buildings is not possible with this kind of outdoor product, therefore it's not suitable for long-term accommodation