We get it, you want to stay comfortable inside your dome. Whether you're relaxing with friends and family, enjoying some solo workout, or treating your guests to some fine dining, comfort is always the name of the game.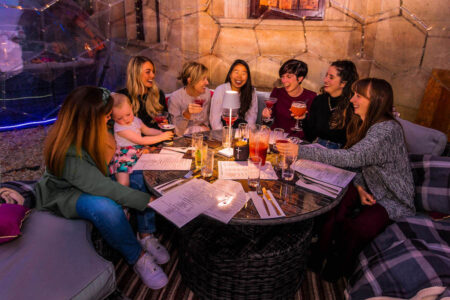 Ventilation is crucial for an enjoyable dome experience. It will help you keep the temperature inside at a pleasant level on sunny days and is the best way to reduce condensation. Keep reading to learn everything you need to know to stay comfy, cosy and relaxed all year round.
Factors that Influence Ventilation Needs
Domes heat up, cool down and can collect some moisture in the form of condensation. That's why, when seeking comfort in your garden igloo, consider these factors to properly adjust your ventilation strategy.
Dome's Size and Finishing's Style
Smaller domes usually need more frequent ventilation, as do Clear domes that, like all transparent structures, let virtually all of the sunlight in.
If you're thinking about adding a dome to your garden, or to your business, and want to benefit from some handy natural shade, our Mirror and Opal finishes are a good option. Just make sure not to put the transparent bay window in a direction that's strongly exposed to the sun. A little pre-planning is all it takes there.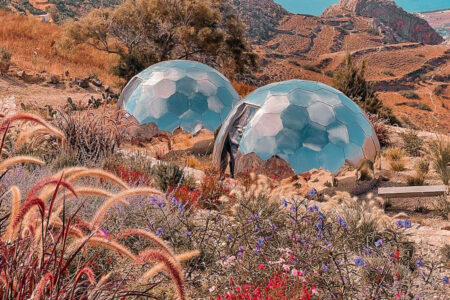 If you're using the dome in summer, plenty of airflow coming through will keep you comfortable and relaxed. And if you're braving the colder months outdoors in your dome, heating the dome with an electric fan heater will distribute the warmth evenly.
And what if you get caught out by a day that's very rainy and humid? Ventilating your dome helps remove the condensation nice and quickly, allowing you to enjoy the true Hypedome experience, regardless of what the weather decides to do next.
Insulation is a feature definitely worth considering. If the dome is insulated from the ground with our Insulated Modular Base or Soft Floor, you're going to have a warmer dome that attracts less condensation. Plus, it will be sealed from the ground, stopping moisture from getting into your dome from underneath. You could also build a deck yourself if you're feeling a little more adventurous.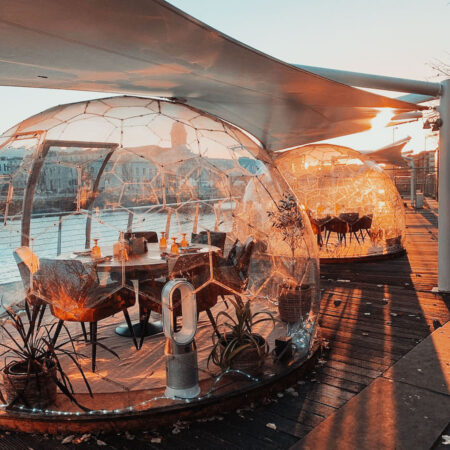 The way the dome is used also has a big impact. First of all, the more people inside your dome, the greater the need for ventilation. Picture dining domes for a second. They're likely to be full for several hours thanks to a table of happy diners. And all those extra pairs of lungs, steaming food and hot beverages mean more potential condensation. Regularly ventilate the dome and your guests will love every minute. Once they leave, keep the door and any windows open for 15 minutes while your team clears down ready for your next table to arrive. 
The same goes for any other intensive use of the dome, like working out inside (if you really do your best and sweat out, there are no shortcuts here!) or having a party in your hot tub dome.
Tips to Ventilate Your Igloo Dome
Whether you want to air your garden dome or keep your glamping domes in perfect condition, the same top tips are always applicable.
Take a step back and notice the natural, spherical shape of your dome. It allows the air to flow uninhibited, thanks to the curved surfaces that minimise air resistance. Perfect when you want to allow a gentle breeze to flow smoothly. Look closer and you'll also see plenty of mini-gaps between the panels. (Don't worry, they're designed the way they overlap perfectly like fish scales, letting the air flow while keeping the rain at bay.) This unique structure is why just a little help of keeping the air moving will be enough to effectively air your dome.
One of the easiest, yet most effective ways to ventilate the dome is opening it to let the fresh air in. Window Panels are essential to make it happen. We advise installing two to four windows in Hypedome Mini and two to five in Hypedome S and Hypedome M. They can be left open even on a rainy day. While a gentle breeze is a big help, avoid ventilating your dome during strong winds. Keeping the windows fully closed is the way to go on a windy day.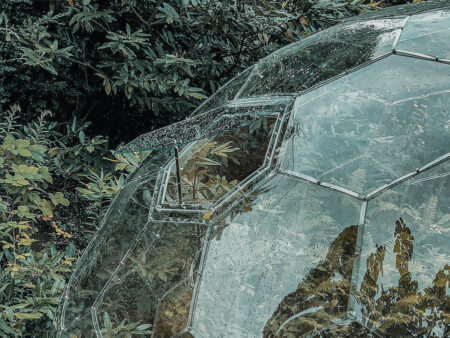 Take a back-to-basics approach and open the door as well. We've found great results within 15 minutes of having it open (together with Window Panels) after exercise or a group dinner. Once you've done it, shut the door and your dome will be ready and waiting for the next outdoor experience.
Mechanical Dome Ventilation
Simple electric fans are a great way to boost air circulation and improve ventilation. If you find you're in a high level of direct sun, or you like to use your dome as a gym or dining area, portable air conditioners are an efficient way to make the dome's interior even more comfortable for everyone.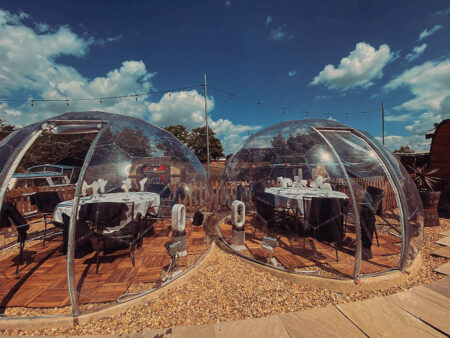 How often should I ventilate my dome to keep it comfortable?
We advise ventilating the dome regularly, especially when you use it on a daily basis, which we highly encourage you to do so. But if you choose to stay away from the dome for a longer period, for example during the winter months, you can keep it closed the entire time. You don't need to worry about mould or mildew – Hypedomes are resistant to both.
How long does it take to ventilate the dome?
15 minutes will usually be enough to lower the temperature to a comfortable level or reduce condensation. If the day is very hot and sunny or you want to speed things up, a simple electric fan will be of much help.
Can I leave the dome permanently open?
We advise ventilating the dome for a short time on a calm day when not in use, and also for the whole time you're using it. However, we don't recommend leaving it permanently open. Your dome is resistant to very strong winds, provided that it's closed and properly anchored to the ground. We also strongly recommend always keeping your dome closed on windy days.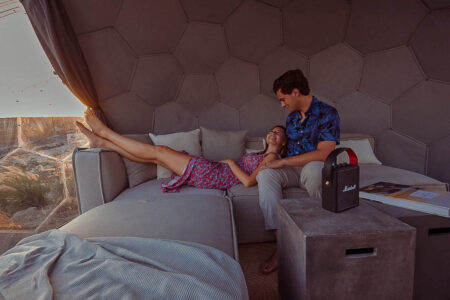 When the heat is on, finding a comfortable place to relax can be a real feat. But fear not, with these ventilation tips, you'll have the air flowing smoothly, ensuring a breath of fresh air for your dome-dwelling adventures!