Hot tubs have gone from only being found in luxury hotels to popping up in gardens of all shapes and sizes. They're relaxing, soothing and the perfect place to let the stress simply fade away. The only problem is finding the right hot tub shelter so you can enjoy yourself in all weathers. But wait… isn't there a way to fix that?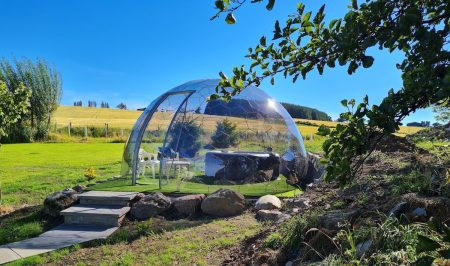 When you want a stylish solution, hot tub domes are right at the top of the list. With different Hypedome sizes and finishes, you can create your own elegant relaxing space exactly the way you want. 
All you have to do now is keep reading and we'll give you several ideas about how to bring your hot tub enclosure to life.
Will a Hot Tub Dome Work For Me?
You love the idea of being outdoors, soaking away in your new tub, but you also seek all the benefits of being indoors. You want privacy that makes you feel at peace and relaxed, plus you need protection from the elements all year round. And then there's the style factor: you can beautify your garden or patio, and maybe you'll even want to show off the end result to your friends and neighbours.
Sounds familiar? If so, let the Hypedome garden igloo lend a helping hand with all of the above.
A Hot Tub-Friendly Shape and Structure
A hot tub canopy is one of the most requested features for our domes. We prioritise your both physical and mental comfort while you use the dome. With our Hypedome hot tub shelter, you can enjoy a cosy and relaxed experience without worrying about the longevity of the dome.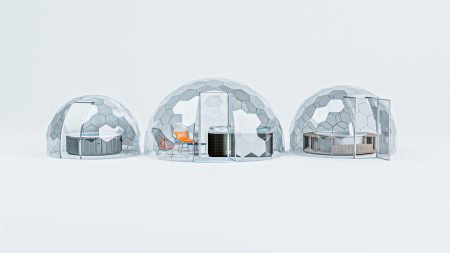 Hypedome's geodesic shape ensures superior strength and stability in even very windy areas. Perfect for the peace of mind that your hot tub canopy is never going to budge. Add in the fact that the unique shape also provides optimal airflow, preventing moisture buildup, and you have a shelter with minimal upkeep.
Then there's the issue of how big a tub can you house. You can choose from Hypedome S and Hypedome M to find the right fit. All you have to do is measure up and take your pick.
If you have an eye for design, our Hypedome Opal, Grey and Mirror finishes are ready to give you some additional privacy. Use Grey if you want something transparent all over but stylishly dimmed, or pick from Opal and Mirror for a mix of opaque panels and a trendy bay window. Need to find a way to take the edge of the beating summer sun? Mirror's reflective finishing is cool in more ways than one. By reflecting sun rays, it keeps the dome's internal temperature at a comfortable level.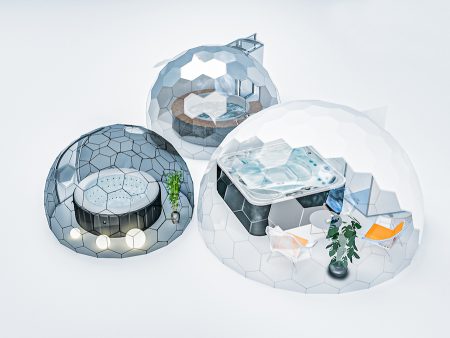 You don't have to settle for Clear, you can choose one of three custom finishes for your hot tub enclosure.
What Are Hypedome Hot Tub Canopies Made From?
We understand: you want your garden's stylish new addition to last. That's why we've used extremely durable polycarbonate to make sure your hot tub dome is always up to standard. If you want to learn more, you can read why polycarbonate is a great material that is highly resistant to damage and also prevents mildew and mould with a quick click. 
We've also used stainless steel elements that won't corrode, ensuring your hot tub shelter lasts for years to come.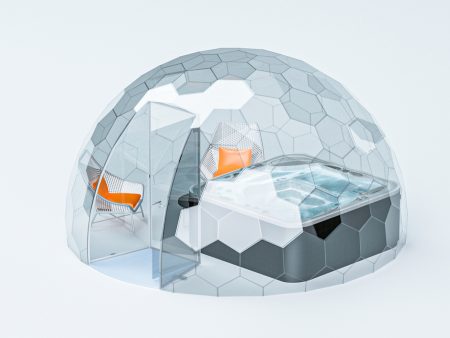 Hypedome M Hot Tub Enclosure With Nest Door
Everyone wants to make their pod feel inviting. Heating the dome is one of the first things to consider so you can use it for all 12 months of the year. Electric heating is suitable all year round, easy-to-install and keeps your dome cosy. And it will greatly facilitate getting out of your hot tub during the colder months, making the experience much more convenient.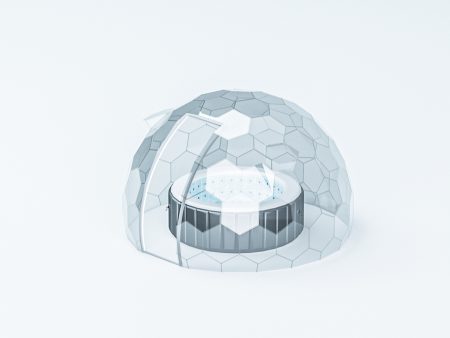 Hypedome Mini Hot Tub Enclosure With Roll Door
Your hot tub will also require a sturdy floor to support it, and we can provide just that. With our Insulated Modular Base, you can safely place your hot tub, as long as it has a flat base with no stands, and its weight is evenly distributed across the surface. This floor not only offers insulation for the dome but also seals it off from the ground. Additionally, it is covered with an anti-slip film, ensuring a more comfortable and secure experience.
Next up is lighting. The choice is yours but we love the idea of keeping it simple with some warm white fairy lights creating a soothing ambience or a colourful LED strip for a lively hot tub party.
Furnishing your dome with wooden towel storage is a simple way to deliver a homely touch that's also highly practical. Add in some pot plants and other greenery and it'll soon be the one place you'd always rather be.
Maintaining Your Hot Tub Enclosure
This is the part that's all too easy to overlook: ventilation. Hypedome's Window Panels (we recommend 2-4 in a single hot tub dome) help reduce the condensation by allowing the air to flow naturally. Additionally, you can use an electric fan if you want to give it a little extra push to get that moisture shifting.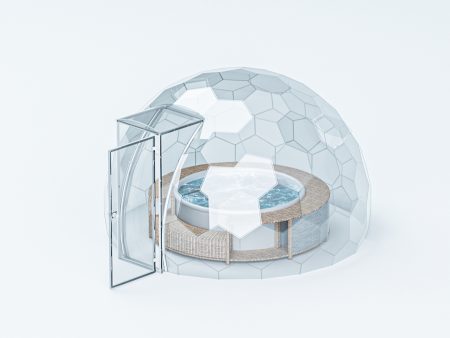 Hypedome S Hot Tub Enclosure With Port Door
Regular ventilation is what it's all about when you want to maintain your hot tub enclosure the right way. Opening the door during or after prolonged use is a simple way to stay on top of it all. And if you want to really make sure you leave nothing to chance, more tips on dealing with condensation are just a click away. 
Once you have your dome how you like it, you'll want to keep it that way. The polycarbonate panels are easy to clean with a garden hose or a power washer. Sometimes you'll just need a damp cloth to get everything spotless.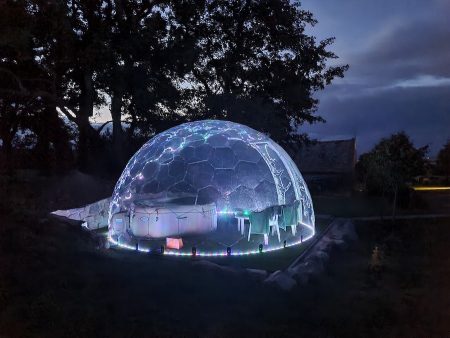 No matter how you design your dream hot tub dome, it'll soon become your relaxing oasis, regardless of the rain, wind or snow falling outside. Just make sure you also treat yourself to some new swimwear for the grand unveiling. You want to look the part after all that, don't you?