Researching garden domes? You may have noticed that the materials used in construction vary. This article explains some of the pros and cons of three materials often used to make garden pods to help you decide which is best for your needs.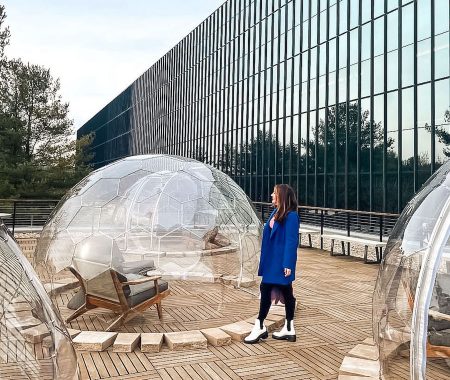 Hypedome polycarbonate domes
A Brief Explainer About Dome Materials
Let's take a closer look at three popular options for dome materials: polycarbonate, glass, and PVC.
Polycarbonate domes (like Hypedomes) are self-supportive structures featuring interlocking hexagonal tiles. They create a watertight and impressively strong surface. With its sleek and frameless design, the polycarbonate dome is both visually stunning and sturdy.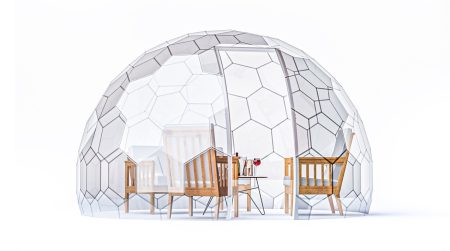 What exactly is polycarbonate? Polycarbonate is a type of thermoplastic material that can be transparent or opaque. While it shares some similar properties with glass, such as being transparent, polycarbonate is actually much stronger and more impact-resistant than glass. Polycarbonate is often used as a substitute for glass in applications where safety and durability are important factors.
Next, we have the elegant glass dome. Supported by a steel, aluminium or wood frame, the triangular tiles create a truly impressive garden dome. It's worth mentioning that glass domes are significantly heavier than others, yet they add a touch of refinement to any outdoor space.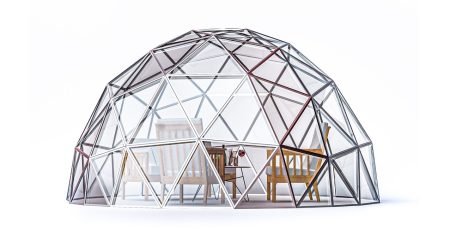 We all know glass quite well, but not everyone knows where it comes from. Glass is made from heating sand or silica until it melts and then rapidly cooling it. It creates a transparent and solid material, with a variety of decorative uses.
PVC domes offer a lightweight option. In recent years, small garden pods made out of PVC pipes and covered with transparent PVC tarpaulin got quite popular among individual users. However, due to the choice of materials and their very flexible nature, they often look creased and are vulnerable to harsh weather conditions.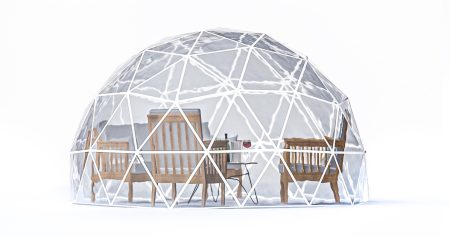 PVC (Polyvinyl chloride) is a plastic made from polymerizing vinyl chloride, often used in construction due to its stiffness, rather high durability, and low cost.
So, which dome material reigns supreme? Let's explore their unique qualities and features to determine which one will suit you best.
Polycarbonate Dome Vs. Glass Dome
Durability

– polycarbonate is up to

200 times stronger

than glass yet is 50% lighter. We actually tested our Hypedome polycarbonate garden dome in a wind tunnel to see whether it was strong enough to endure harsh weather conditions –

check out the results

.

Thermal insulation

– single layer solid polycarbonate and glass of the same thickness have similar properties in terms of thermal transmittance.

UV protection

– if you're concerned about UV rays, polycarbonate used to manufacture Hypedomes is the clear winner. It blocks a whopping 99.9% of harmful rays, compared to glass's average of 50%. The polycarbonate is both sides UV protected, meaning that it will protect furniture inside the dome from discolouration caused by long-term sun exposure.

Ease of installation

– glass is heavy to handle and prone to damage, so you'll probably need the supplier's assembly service for installation. But with a frameless polycarbonate dome, you can put it together yourself with ease. No need for a professional assembly, hence no additional phone calls, scheduling the date and waiting. You can spend that time on other things instead, like planning plants and decor. 

Typical cost

– a standard 3.5m diameter Hypedome (our S model) costs around £3,000. A 3.6m diameter comparative version made from glass is eye-wateringly more expensive at approximately £9,000.
A glass pod for the garden will look great, yet the frame supporting it will interfere with the views from the inside. It will also be far more expensive and fragile. You can get an even more striking aesthetic (provided by a frameless construction) with a clear polycarbonate dome, like the Hypedome S, and benefit from a substantially more durable structure. 
Polycarbonate Dome Vs. PVC Dome
Durability – PVC has good resistance to impact at room temperature, but the pliable clear PVC foil used for domes weakens in strength as temperatures drop and is prone to cracking. Some Hypedome customers who've previously used PVC-covered domes have reported that foil cover tends to survive only one or two seasons.
Polycarbonate tiles (like Hypedome's), on the other hand, withstand extremely low temperatures easily. And they're much thicker and stronger than a PVC membrane. The way the tiles overlap each other further adds to the dome's overall weather resistance. So if you seek a structure that would serve you for many years and survive all kinds of violent weather, a polycarbonate one should be your choice.
Thermal insulation

– let's face it – polycarbonate and PVC can't be compared to traditional building materials in terms of energy efficiency due to their limited thickness. However, polycarbonate Hypedomes offer on average

4,5 times lower thermal conductivity

than PVC-covered domes, meaning their overall

thermal performance if better

. It is especially worth considering in moody-weather locations, or if you simply plan to use your dome in colder months. Better insulation will contribute to a more comfortable environment inside, and in effect – a pleasant use of the dome. 

UV protection

– polycarbonate tiles block UV radiation almost completely (99,9%), while PVC blocks only a part of it. This will affect the furniture and other things you keep in the dome, which may get discoloured or damaged. It also means that the PVC membrane will age quickly, lose its transparent look, and become cloudy.

Ease of installation

– PVC domes are straightforward and quick to install. First, you build the frame and then attach the cover. A Hypedome S is also

easy to build

with no DIY skills required. Although it'll take more time to build (about five to six hours), you'll eventually save much time in the long term, as you won't need to take it down off-season and put it back up after every winter during many years of using it.

Typical cost

– a basic PVC dome around 3.6m in diameter is around £900. As mentioned, the Hypedome 3.5m diameter model costs in the region of £3,000.
A plastic igloo for the garden could be a good choice if you're on a budget. However, PVC domes have a rather short life expectancy because of the low-cost materials resulting in a less durable product. They also don't look that attractive, as the PVC foil can wrinkle and crease easily. Hypedomes, however, offer premium looks with long-term value. And with little maintenance once in a while (think hosing it down or power-washing to keep the dome crystal clear), they'll look great for years to come.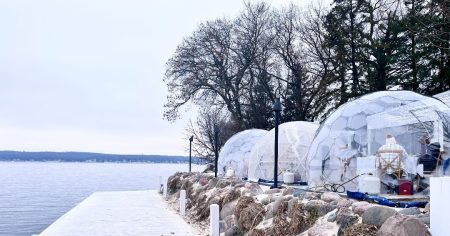 Polycarbonate Hypedomes (on the sides) and a PVC dome (in the middle)
So… Polycarbonate, Glass or PVC?
Here's a handy comparison of polycarbonate (PC), glass and PVC dome performance, which shows the weaknesses and strengths of each type:
| | PC dome | Glass dome | PVC dome |
| --- | --- | --- | --- |
| Durability | +++ | ++ | + |
| Thermal Insulation | ++ | ++ | + |
| UV Protection | +++ | ++ | + |
| Ease of Installation | ++ | + | +++ |
| Aesthetics | +++ | +++ | + |
| Price | ++ | + | +++ |
| Maintenance | +++ | +++ | + |
| Customization | +++ | ++ | + |
Durability
PC dome
Glass dome
PVC dome
+++
++
+
Thermal Insulation
PC dome
Glass dome
PVC dome
++
++
+
UV Protection
PC dome
Glass dome
PVC dome
+++
++
+
Ease of Installation
PC dome
Glass dome
PVC dome
++
+
+++
Aesthetics
PC dome
Glass dome
PVC dome
+++
+++
+
Price
PC dome
Glass dome
PVC dome
++
+
+++
Maintenance
PC dome
Glass dome
PVC dome
+++
+++
+
Customization
PC dome
Glass dome
PVC dome
+++
++
+
Legend: + reasonable, ++ good, +++ great
The three materials we discuss have their unique properties and choosing the right one for you depends on your personal needs. However, there's a reason why we at Hypedome decided to provide garden domes made of polycarbonate. So let's get deeper into our philosophy and answer the question…
Why Did We Choose to Make Polycarbonate Domes?
We like to surround ourselves with high-quality and beautifully designed items. And this is what we wanted to provide to our customers around the world.
Polycarbonate was our material of choice due to its durability and the fact that it lends itself well to innovative design:
"We wanted to make domes that will serve their owners for many years and be a beautiful asset to their garden. They needed to be resistant to dynamic weather conditions and strong enough to be a useful additional living space. We also wanted the design to be unique and truly blur the line between indoors and outdoors. Polycarbonate is the material that allowed us to achieve these goals and develop our self-supporting structure – a design that's made a breakthrough in the dome industry. " 
~ Ida, Product Manager, Hypedome.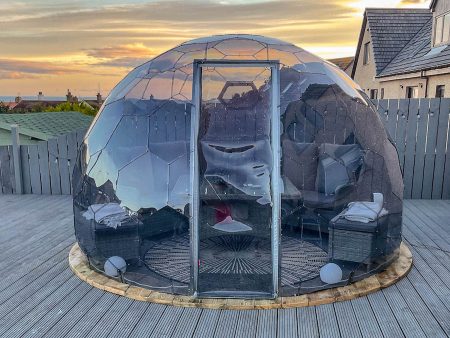 Hypedome made of polycarbonate
Garden Domes: Material Choice is Key
The material a garden dome is made from is like the bones of a skeletal system, giving the structure its overall shape, supporting it so that it stays upright and providing protection for what's inside. As we've explained, some materials are better than others in providing these benefits long-term.
A polycarbonate geodesic dome, such as the Hypedome, is easy to build and will stand the test of time, offering you an appealing outdoor room you can use however you want.
So when you don't need to worry about your dome's condition and looks, you can focus on what the dome really is about. And that's just taking a break. Unwinding. Being here and now. Just for you.