Getting outdoors and reconnecting with nature is an experience that many of us actively seek out. With more and more people heading to glamping sites like yours, maybe it's time to offer them something new?
Hypedomes catch the eye and provide a unique luxury stay for couples and individuals looking to rest and relax. They keep your guests warm and cosy, or cool and calm, all while making everyone feel at one with their surroundings. After listening to the needs of glamping site owners for connecting the domes, Hypedomes are now also the perfect option for families and groups of friends.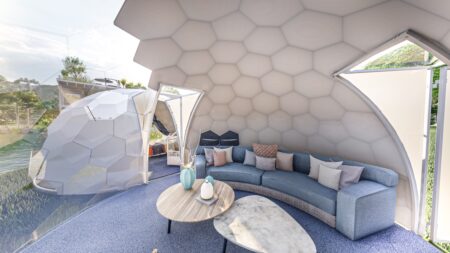 What Makes Hypedome Perfect For Glamping?
One Hypedome is spacious enough for two people who want to get away from the hustle and bustle for a long weekend. It's also perfect for solo getaways that are all about mindfulness and resetting. 
The unique glamping spirit comes from the striking geodesic design and the way it reconnects you with the great outdoors. Add in the fact that it has space for the creature comforts of home and you have a luxury option fit for even the most discerning glamper.
But what about when the whole family wants to share the experience? Being in a glamping dome together is the perfect way to make lifetime memories, but sometimes a little personal time is needed.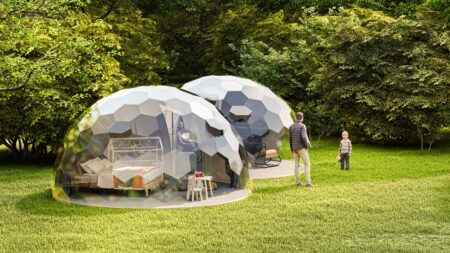 Glamping for families is the most convenient when you can offer communal space, private space, and a space that makes it easy to keep one eye on the kids. With most families preferring to all be under one roof, we knew we had to create an alternative to having two domes side by side. 
That's why we've come up with a solution to connect the domes together. 
It's time we introduced the Link so you can see the whole host of new group experiences it unlocks for your customers.
What is the Dome Link and How Does it Work?
The ability to connect two or more domes together into one multi-dome apartment creates plenty of new accommodation possibilities. With the Link, any Hypedome can be joined to up to two other domes. It can also have a Port Door installed inside for increased privacy between domes. Ideal when you want to cater for families and mixed groups.
Imagine expanding your options to include family glamping pods that increase your occupancy rates and revenue. You can attract bigger groups, sell longer stays, and reach a massive new audience. All with a little help from the multi-room domes everyone will want to take a closer look at.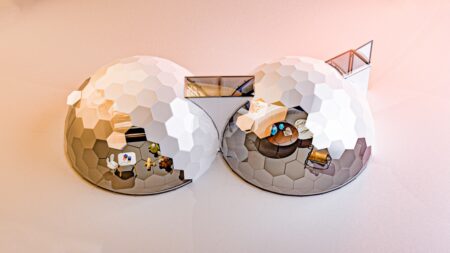 Why Did We Want to Connect the Domes?
We heard you: more and more families are asking about glamping holidays. Being able to offer a multi-room glamping dome to your customers is a great way to attract families and larger groups to further increase your occupancy.
Family Glamping with Privacy and Comfort
Keeping a careful eye on the kids is a job that never ends. Luckily, linked domes are ready to help out. Rather than having to choose between separate domes, or squeezing into a single dome, they allow families the best of both worlds. They get the privacy and space of multiple rooms, but the peace of mind that comes from all being under one roof.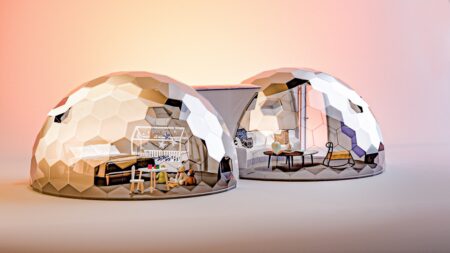 Good Sleep for the Whole Family
When the kids are little they'll love to snuggle up with mum and dad, and when they're bigger they'll want to move into their own bedroom. Having multiple domes as part of the same structure gives families all the options they need to get the perfect sleep. Ideal when you want to make sure your glamping site is the one they come back to over and over again.
Connected Domes But Divided Space
If the kids bring their toys and the adults still want space to move, the Link lends a helping hand. Parents can push the toys to one side and still have the peace and quiet of a communal dome in the centre. You can fit it out with all the modern conveniences they're expecting from a glamping dome, all while making sure the stay is perfect for families.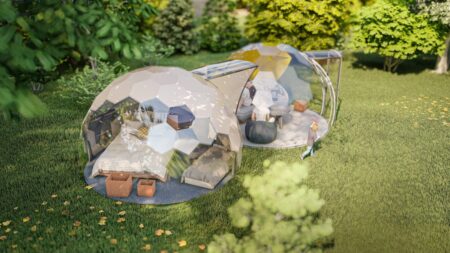 You can connect domes in different colours, as you envision. Here are the Hypedome S Clear and Hypedome S Opal.
Glamping Domes with Private Bathrooms
Wouldn't it be nice to go glamping with kids while enjoying all the comforts of a hotel? Surrounded by nature, but with direct access to amenities including a comfy bathroom? The answer is 'Yes!', so read our other article, in which we propose installing a pre-built bathroom module in a glamping dome. It's easy, fast and won't cause you the headache that designing a restroom from scratch would.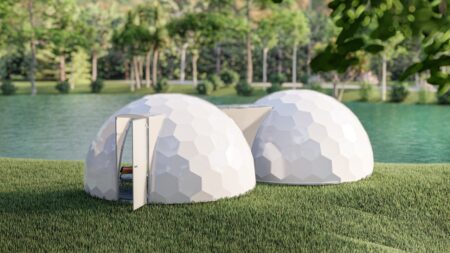 Increased Occupancy is the Name of the Game
Glamping is an experience, but for you, it's also a business: we get that. Linked domes give you new family glamping options that are tricky to find elsewhere, all so you can attract bigger groups and sell longer stays. Just what you had in mind when you wanted to make this year the year you really started to branch out and boost your occupancy.
Stunning Views in Every Direction
Our glamping pods for sale come in a variety of different finishes and styles. Imagine pointing the panoramic bay windows of Hypedome Opal or Mirror pods in several different directions. You'll be able to give every family who stays with you a selection of views they'll never forget.
After all, isn't making memories and reconnecting with nature what glamping is really all about?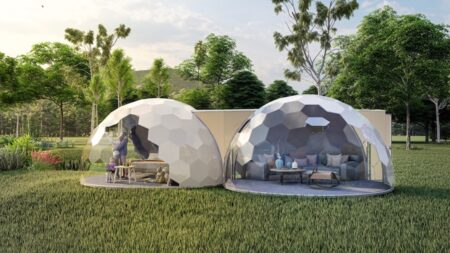 To finish, we want to share a little bit of advice from a team who instantly fell in love with a multi-dome glamping experience. Book the first weekend for your friends and family – so you can join them for unforgettable moments. You know you want to…