When you want to stand out amongst the growing number of glamping sites and off-grid hospitality businesses, what's the key? Well, if you ask the Hypedome team we'll tell you all about building your eco village with dome shelters that always catch the eye and withstand the test of unfavourable weather. Let's dive right in and see why it's worth considering geodomes for an alternative off-grid accommodation.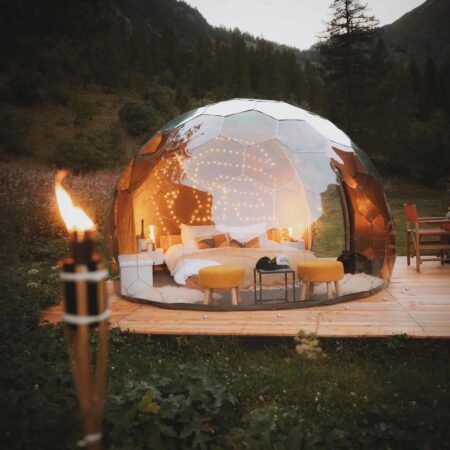 Why is a Geodome a Great Solution for an Off-Grid Shelter?
You've certainly come to the people with the answers! Whether you're talking strength, comfort, style, privacy or just looking great on your marketing materials, dome-shaped shelters have it all.
Your Dome Tent is Made to Last
Geodesic dome shelters are built using specially shaped interconnected hexagonal or triangular panels. This allows them to distribute stress and spread pressure evenly across the whole structure. Ideal if you want something that's as stylish on a sunny day as it is highly stable on a windy day. Hypedome can stand up to strong winds, rain and snow throughout the year. This makes it a sturdy glamping geodome choice for a wide range of locations. Perfect when you want to be able to set things up with the confidence that they're ready to contend with the challenges of being truly off-grid.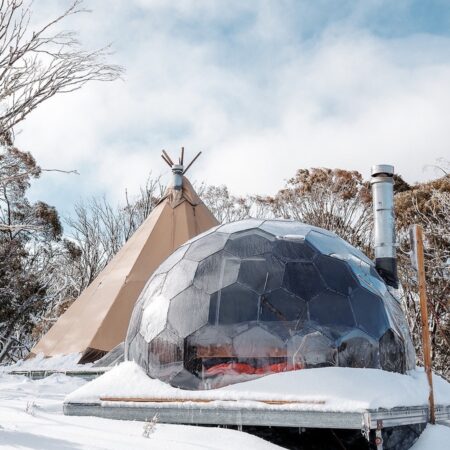 Eco Domes Offer Natural Airflow
Some of the most common problems with prefab shelters are ventilation and warmth distribution, resulting in a sleeping experience that's not as comfy as it could be. The beauty of an eco dome is it will reduce the need for excessive heating or cooling by promoting natural air circulation inside the dome, regardless of the time of year. This is a great contribution to the energy efficiency goals of off-grid accommodation.
A Dome Shelter Gives You Space to Rest and Relax
View a temporary dome structure from the outside and it looks stylish, but step inside and it offers so much more. A spacious interior is ready for your guests to enjoy thanks to a simple open-plan layout, allowing you to shape your own living spaces, bedrooms or even bathrooms. Perfect when you want to give everyone who visits plenty to smile about as they make themselves right at home.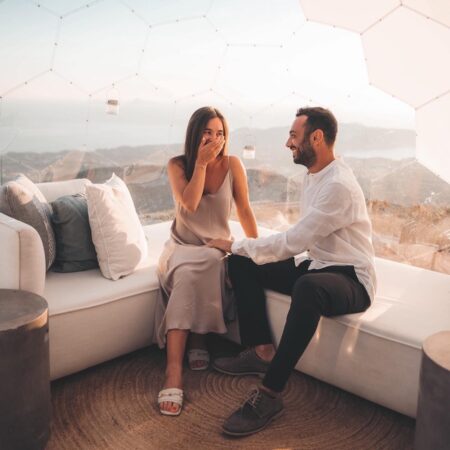 A Dome Shelter Reconnects Everyone with Nature
Hypedome offers every lucky guest panoramic views that make you feel at one with nature. Not only does it look great when you walk inside for the first time, but it's also the perfect way to escape the hustle and bustle of home and live life in the slow lane for a change.
You can turn the views into the real highlight of your glamping experience and offer something that feels so much more authentic and connected than huts and lodges. Don't get us wrong, we love them too, but a dome shelter is just different. And for those looking for a few refined options to choose from, why not swap the 360-degree views of the clear and grey finishes for the bay window panoramic views offered by an opaque dome like our mirror and opal Hypedomes?
Your Domes Feel Like They Got There Naturally
Our mirror dome is a great way to create a little hidden nest of peace and relaxation in any type of outdoor environment. It blends in, fits into the landscape and is perfect for creating an idyllic and unobtrusive retreat your guests won't want to leave. 
If you want to be able to leave your site how you found it, you'll be glad to know that Hypedome doesn't require intrusive foundations. After removing your domes, the ground quickly heals, returning to its natural state before long.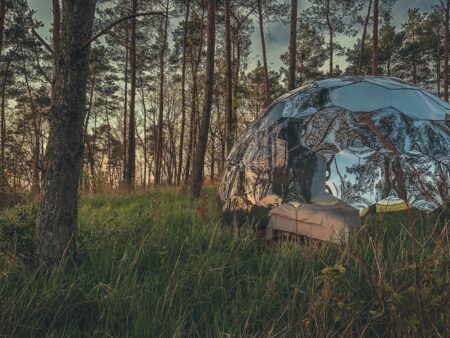 Dome Shelters from Hypedome Give You Customisable Options
Whether you're considering the Mini unit for limited outdoor spaces, our ever-popular Hypedome S, or the larger Hypedome M size, picking the perfect dome shelter for your landscape and needs is a breeze. While we have 4 styles to show you, for your glamping site there's nothing better than a little extra privacy of our mirror and opal finishes. 
One of the beauties of Hypedome is that it can be upgraded and fitted out with a wide range of bespoke accessories. Ideal when you want to add the right touch to enhance the image of your site, and best meet the needs of your guests.
A Dome Can Work in a Variety of Settings
Geodesic domes can provide shelter and accommodation deep in a forest, up a mountain, in the heart of the desert or just nestled down by the coast. Just what you want to hear when it's time to offer guests an off-grid hospitality experience that allows them to explore beautiful new corners of the world.
Domes Aren't Just Cosy, They're Safe
No matter where you are, Hypedome also makes sure your guests enjoy peace of mind. While many temporary domes don't have locks, we do things a little differently folks. The Hypedome Port Door is a solid, lockable door that's a stylish combination of easy access and sturdy security.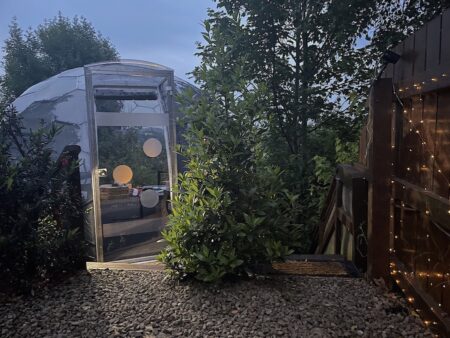 Time to Visualise Your New Dome Shelter?
Our dome configurator lets you check out how your new accommodation will look from every angle, making sure you love it before you buy it. It's a simple-to-use tool that allows you to get creative on your lunch break. There's even AR technology that will show you your desired dome placed in your exact location in no time.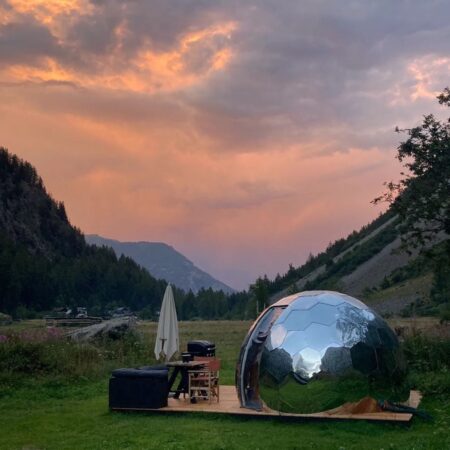 All you have to do is pour yourself another coffee and start daydreaming about all those new visitors exploring your glamping site. The architectural appeal that stands out from more traditional accommodation options is sure to bring a little bit of that wow factor. 
Once your retreat is well and truly in the spotlight, you'll want to put on some shades to shield yourself from the brightness. All you have to do then is find your own little island of calm to enjoy watching your retreat's newfound popularity.