If you're looking into garden pods, you might have come across the term 'geodesic dome' and be scratching your head over what this means exactly. 
Wonder no more – we explain everything you need to know about geodesic domes, including how they're constructed, their benefits and what they're used for. You'll also discover how to build a geodesic dome and why it pays to use a ready-made kit. Let's dive in by first answering the question that's probably landed you here…
A geodesic dome (or a geodome) is a self-supporting structure made up of interlocking hexagons or triangles. These are strong shapes that connect together to form a highly stable half-sphere. Geodesic domes are a fine example of beautiful architecture – they look somewhat futuristic and tend to draw the eye.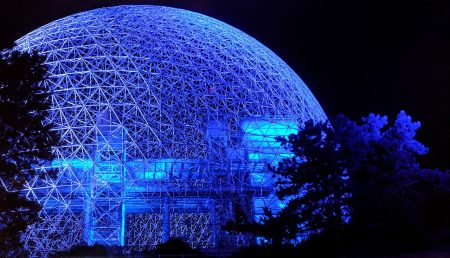 Yet, despite their modern aesthetic, geodomes were first invented about 100 years ago.
The Invention of the Geodesic Dome
A German engineer called Walter Bauersfeld was the original mastermind behind this revolutionary structure. In the 1920s, he designed a planetarium to sit on top of a Zeiss factory in Jena. It had to be lightweight, big enough to accommodate many people, and strong enough to withstand bad weather. After several years of calculations and trials,  Bauersfeld and his team settled on a geodesic dome design that would meet all those needs. Hence, Planetarium Jena was built.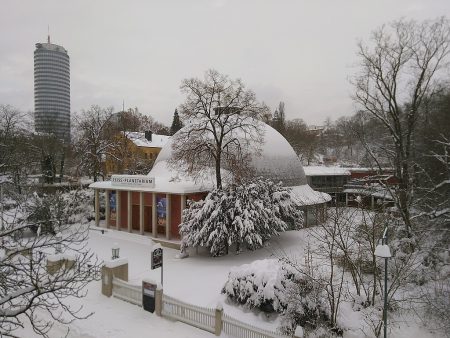 Fast forward a few decades to the 1950s, and it was American architect Buckminster Fuller who applied for U.S. patents and popularised geodesic dome structures, gaining international recognition for his work. Check out the impressive Montreal Biosphere, one of Fuller's most famous projects, originally made from steel tubes and plastic triangles. 
If you're an original Battlestar Galactica fan, you may recognise it from one of the episodes!
Materials Used to Make Geodesic Domes
Geodomes are made from various materials today, including polycarbonate, glass, wood, metal or PVC. We use polycarbonate (a fully recyclable thermoplastic material) in the construction of our Hypedome geodesic hexagon dome. It's a sound choice for several reasons.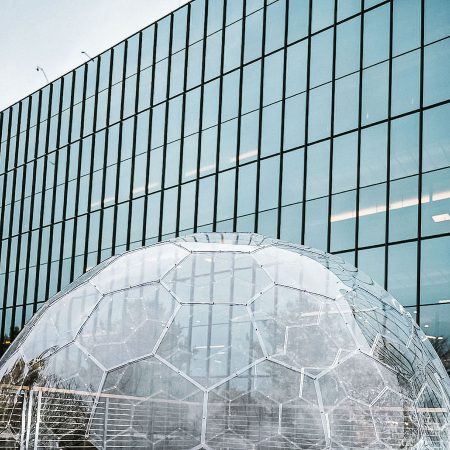 Firstly, polycarbonate is immensely strong – up to 200 times stronger than glass. It also offers brilliant impact resistance, UV protection and energy efficiency (less energy is needed to achieve the perfect temperature inside the dome). And it's lightweight, meaning it's easier to fabricate, transport and handle. These qualities make polycarbonate geodesic domes extraordinarily durable and able to withstand hot, cold and windy weather conditions.
Durability and Other Advantages of Geodesic Domes
Geodesic domes play an important role in sustainable and eco-friendly building design. They offer high energy efficiency and can be constructed with recyclable materials. They also require very few resources compared to traditional buildings and can be built without any heavy gear. What's more, all you need to build the majority of types of domes (including Hypedomes) can be flat-packed and easily transported, which also reduces their carbon footprint.
They're also one of the strongest structures in architecture, partly because of the way they're built. Geodomes contain side-by-side triangles or hexagons that transmit weight and stress evenly. The result is a network of panels that are stable and resistant to wind pressure and heavy loads.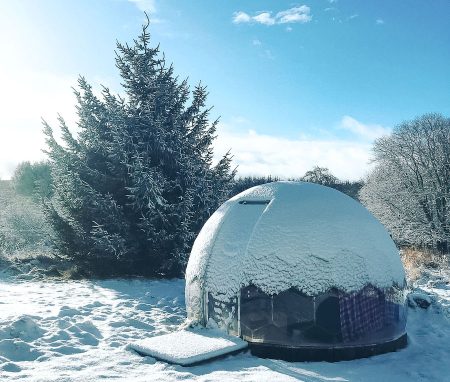 A geodesic dome's stability comes with its large surface area to volume ratio, which helps minimise wind impact and prevents the structure from collapsing. It can also support an astonishingly large amount of mass compared to the mass of the dome itself. As we've touched on, using highly durable materials for construction, like polycarbonate, adds to the structure's overall strength.
Strength and durability are key benefits of the geodesic dome structure. Here are some other important ones:
Energy efficiency

– the spherical shape of geodesic domes is simple yet mighty. It maximises the interior space while minimising the exterior surface area. Geodesic domes can be designed to be energy efficient – their curved shape helps to conserve heat and reduce energy costs (resulting in less fossil fuels being burned if using these for heating). It's much easier to regulate air temperature within a dome compared to a traditional building design. Domes are also less susceptible to temperature changes outside.

Usable space

– geodesic domes

are incredibly efficient in terms of their use of materials, as they use less material to cover a given area than a traditional flat roof structure

. They have no corners, so there's no wasted space – just more room for relaxing, entertaining, working out and dining (among many other activities).

Allows for natural lighting

– geodomes let ample light through their panels, creating a bright open space in the daytime and reducing the need for artificial lighting until it's dark outside. A fully transparent dome (like the

Hypedome S Clear

) is perfect for an art studio or hobby room where natural light is paramount.

Visual appealing

– geodesic domes offer a functional yet striking architectural style. Their seemingly intricate network of panels looks modernistic and beautiful. People find geodomes awe-inspiring and like to admire them from inside and out.

Low maintenance

– some geodesic domes are made from durable materials like polycarbonate, making them weather resistant and able to withstand natural wear and tear. They're usually easy to clean, too – polycarbonate domes can be washed with water or a mild detergent (and even power washed).

Portability

– geodomes are modular in design, making them easy to transport and build (and deconstruct if needed).

Multipurpose

–

geodomes are highly adaptable and can be used for all sorts of purposes – as a pod for the garden to

extend living space

or even for expanding work environments. Let's break down some of the uses for geodesic domes in detail.
What Geodesic Domes Are Used For
Geodesic domes are remarkably flexible and versatile; they can be turned into comfortable and unique spaces and kitted out with accessories like insulated flooring, carpet, furniture and lighting. They can be made in a variety of sizes and colours and are often used for:
Many people like the idea of sleeping under the stars but don't want to get too close to nature and risk sharing their sleeping area with bugs and insects. Hence, glamping (luxury camping) is a rising trend. Spending the night safely inside a warm, glamping geodesic dome is a unique experience, offering guests ample living space, natural light and often spectacular panoramic views.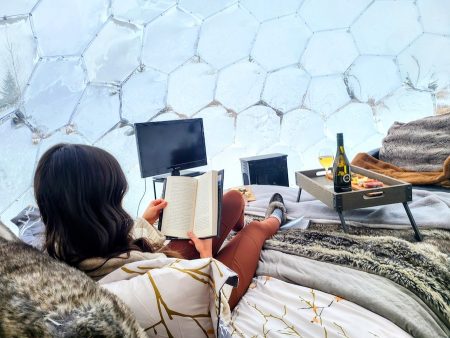 Two main reasons outdoor living spaces are popular are that they offer extra space without the hassle of moving home while providing the health benefits of being outside. Building a geodesic dome in your garden makes for an attractive addition to your property and gives you a dedicated space for escapism, alfresco dining or entertaining friends. Garden domes are also used as outdoor offices, gyms or yoga retreats.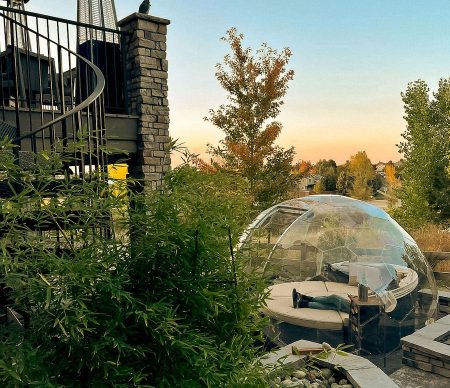 A clear backyard geodesic dome is a great alternative to a traditional greenhouse. The natural light and efficient use of space are ideal for green-fingered folk wishing to grow plants and vegetables.
Geodesic dome tents are often used for weddings, parties, concerts and other events that need to accommodate large groups of people. These have a spacious design and look very impressive, helping to wow those attending.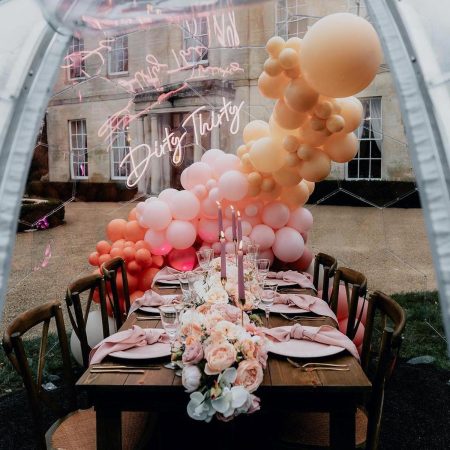 There are two types of geodesic dome design – those with frames (usually made from wood, steel or aluminium) – and frameless designs.
The design phase of building a framed geodesic dome is critical as it involves calculating the shape and size of the dome, as well as deciding on materials. Construction involves assembling the frame, attaching a membrane cover or panels (to create the dome walls) and finishing the geodesic dome interior and exterior. An example of framed geodomes are the Biomes at the Eden Project.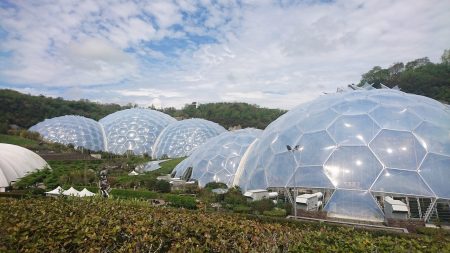 Frameless geodomes are trickier to design by yourself, so they are usually built from geodesic dome kits (ready-to-build DIY domes). An example of this type is Hypedome's hexagonal dome, which comes with all the materials you need, plus assembly tips and instructions.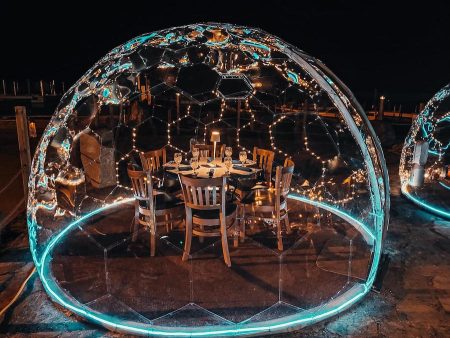 Here at Hypedome, we're enthusiastic about geodomes and have done our homework on the best ways to design and build them. If you want to build your own geodesic dome quickly and without any hitches, it's best to use a ready-made geodome kit designed by geodesic dome manufacturers. 
Hypedome dome building kits include all the necessary components needed: panels, entrance frame, rollable zip door, anchoring feet, screws and nuts, and more. And you can choose to upgrade your dome with wide range of add-ons – we offer the complete dome package.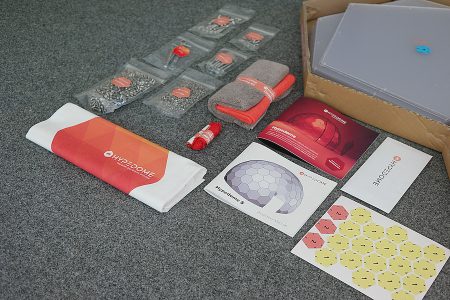 Geodesic dome kits are a solid, tested solution, ideal for those who don't want the hassle of designing and building their dome from scratch. A kit can actually save money on costs (since much of the design and construction process has already been done). Yet, you'll still get the satisfaction of building your own geodome.
FAQs about Geodesic Domes
Here are answers to the most common questions we get asked about geodesic domes:
A properly designed, built and anchored insulated geodesic dome should not leak either through its walls or from the ground. Hypedome's shell has been designed to function like fish scales – a protective layer that allows water to flow over the surface without leaking into the interior. Hypedome's insulated modular floor or soft floor membrane also seal the dome from the ground to prevent water from getting inside.
Can Geodesic Domes Withstand Extreme Weather Conditions?
It depends on the materials used and whether the dome is securely anchored. A glass geodesic dome may not fare well in very hot or cold weather or bad storms (glass is quite prone to damage). 
Hypedomes, made out of solid polycarbonate materials, have been designed to withstand heavy rain and strong winds up to 120 km/h. They can be built in areas with frequent snowfall and have been tested in even harsher weather conditions with positive results.
How Much Do Geodesic Domes Cost?
If you're looking for a geodesic dome to buy, you'll find the price varies depending on size and materials. To give you an idea, Hypedome's basic geo dome kit price starts at around £2,200 for the Mini size. You can check out the costs for all Hypedome kits and bundles in our online shop.
Geodomes: An Innovative Solution for Utilising Garden Space
A DIY geodesic dome is a brilliant choice for a garden pod project. It can be used to extend your living space outside so you can enjoy the beauty of nature come rain or shine.
By using a geodome kit, much of the hard work will be done for you in terms of design, quality materials and constructing the various components. If you follow the build instructions and correctly anchor your geodome, the finished result will be a durable, energy-efficient, low-maintenance enclosed outdoor space.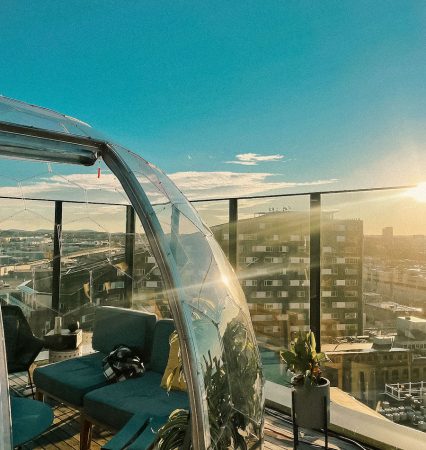 The only thing left to ponder is how you'll use it… For an outdoor office or workout area? A games room for the kids? A private dining space or somewhere to unwind with a glass of wine while stargazing? Or perhaps for entertaining friends – which you'll probably have a lot more of once you're the proud owner of a beautiful dome!