Welcome back to Hypedome Stories — the place to come when you want to have a sneak peek at how dome lovers around the world are putting Hypedome to good use. This week we've journeyed all the way down to sunny Cornwall to chat with Ania and Duncan Nicholls. Ania is a passionate artist who loves bright colours, while Duncan is a true nature lover who is hard at work creating a tropical area that allows them to rest, relax and reconnect.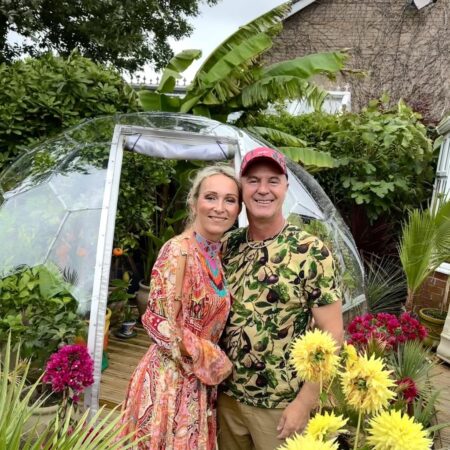 Q: Your Instagram is beautiful and has so many rich and vivid colours on show. Could you tell us a bit more about yourself and your art?
Ania: Right now my art is a hobby, but I hope to have more and more time for it in the future. I am currently exploring the world of colourful portraits and I'm thinking of moving into landscapes too. Colours, tropical vibes and a real sense of life and vitality are what I hope my art reflects and embodies.
Q: And what brought you to this sunny little corner of the world?
Ania: I moved here about 20 years ago to live with Duncan, who's Cornish. I used to live in Poland in a very large city, so I've never really been that close to nature. Duncan inspired me through his love of plants, especially tropical plants, and colours as well, and it kind of infected me in a very positive way. We're really trying to embrace a Mediterranean lifestyle in the UK here in Cornwall.
Duncan: I couldn't have put it better. I've always found that being at one with nature and feeling present is so good for the soul. There are so many luxuries we all surround ourselves with these days, but it's what sits in the great outdoors that really matters. Having a garden pod just outside our door is perfect in that sense.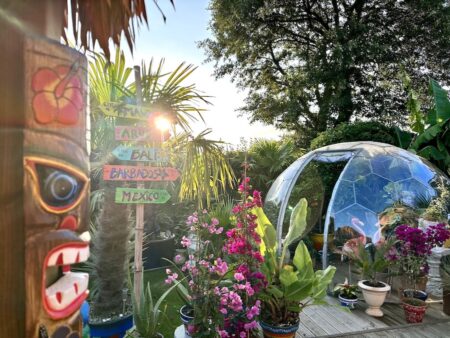 Q: Your garden looks like a work of art. Is it a place where you can decompress and get away from it all?
Duncan: That's it! Modern life can be stressful, especially with all the technology you just can't get away from. But you step outside into the garden and it's just puff! Pull the cork out and you just beat the stress and relax.
Q: Am I right in thinking you're mainly using your Hypedome as a conservatory?
Ania: That's only half of it! I'm lucky to be able to work from home, so on occasions I take my laptop to the dome as we have had power fitted in there. It's just nice to be surrounded by lovely plants. We can have them here because of the microclimate created under the dome's shell. There's a real collection of bougainvillaeas, bananas, and even some touches of citrus in there. All in all, we've got a greenhouse dome that's also a beautiful little lounge.
Q: How did you come up with the idea of getting a Hypedome to your garden?
Ania: The Hypedome Mini is a great fit for what we need because it can tick multiple boxes. Duncan needed a greenhouse and the dome fits that bill. But we saw from the moment we'd put it up that it was just far too nice to let the plants have free run of the place! Now we can sit outside come rain or shine (something often changes in our corner of the UK) in just a t-shirt and get to connect with the beautiful surroundings of our garden. Being able to enjoy the garden no matter what the weather chooses to do at any given moment is truly wonderful.
Q: How about in winter; do you enjoy your pod and get out into nature in cold months as well?
Ania: Absolutely! Hypedome feels like a little island of tropical joy all year round for us. We're particularly grateful for it from later winter through to spring because it's allowed us to stay connected with our outdoor spaces, which would have been much less pleasant without the dome. 
Duncan: Even our ragdoll cat, Mr Darcy, loves it. The other day it started raining and I wondered where he was. I looked inside and he was sitting on the cushion on the chair. Just there on his own, loving it.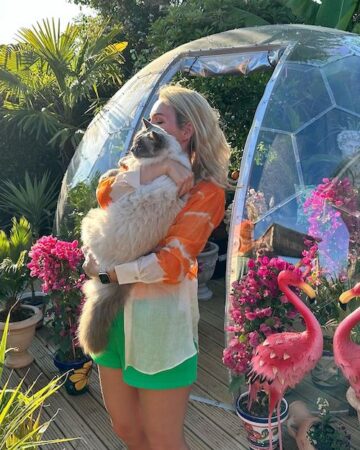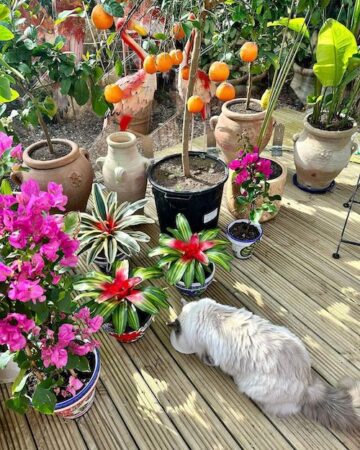 Q: I can see some beautiful coloured light shots on your Instagram. How did those come about?
Ania: We've added power to our tropical dome, synced the lights with our favourite music and created a space where we sometimes have a secret boogie. We think of it as our own personal little Eden Project that we can use to rest, relax and get away from it all. 
Duncan: Plus we have the tropical plants and citrus in there to create something really unique we couldn't have otherwise. The dome provides the protection they need in the winter months so we can enjoy them all year round.
Q: Sounds amazing! Are there any features of the dome that really stood out to you when it first arrived?
Duncan: It's frameless which is really important for us, and it offers unobstructed views all around. It's solid, and effortlessly stands up to the 70 mph winds that occasionally come off the Atlantic. And because it's a dome, rather than a square like a traditional greenhouse, the wind simply circulates around the structure.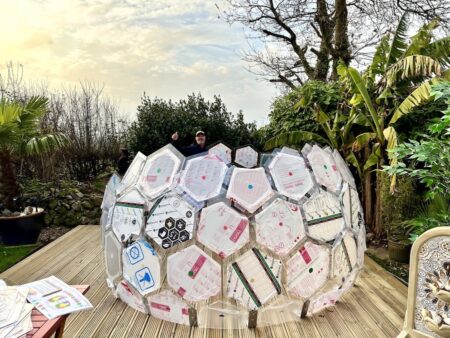 Ania: We even enjoyed putting it together by the two of us, breaking it up into short sessions of a couple of hours a day with our music in the background. Even a few mojitos were being mixed and poured along the way!
Q: Last question: Are there any changes you'd make if you could go back in time?
Ania: We've actually just ordered a second one for the other end of the garden. If we could travel back in time, we'd have got both our Hypedomes on day one!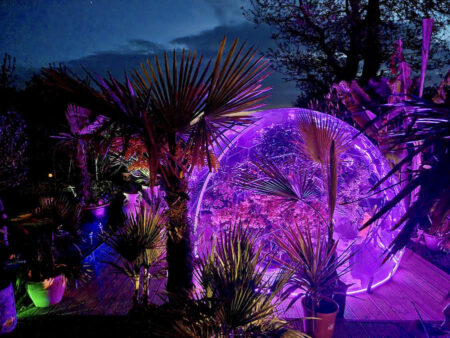 Great visiting Ania and Duncan and seeing how Hypedome has allowed them to reconnect with nature down in sunny Cornwall. Read a few more Hypedome Stories and you'll see plenty of other bright ideas along the way. You never know, we might be visiting you soon to take in your dome-based masterpiece! 
Oh, and don't forget to take a look at Ania's Instagram and check her art as well.