Tired of the seasonal limitations on your gardening dreams? Yearning to watch your garden flourish even when the weather takes a turn? Determined to provide your family with fresh, pesticide-free food, grown by yourself just outside the door? Say hello to the captivating world of greenhouse domes, where your plants can thrive regardless of the seasons.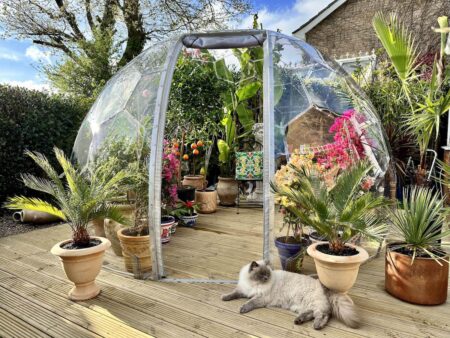 Greenhouse Domes For Garden Enthusiasts
Imagine a haven where plants stay safe and grow, unaffected by frosty winters or dry summers. That's the enchanting promise of greenhouse domes. These beauties, sometimes known as geodesic dome greenhouses, are revolutionizing gardening by offering an environment where you control your plants growing conditions. Sounds like a traditional greenhouse? Well, add the extraordinary appeal and extremely durable geodesic dome structure combined with polycarbonate hexagonal panels and you get a stylish and functional addition to your outdoors.
A Year-Round Symphony of Greenery
The charm of grow domes lies in their knack for inviting you to a potential year-round garden gathering. Picture a space where nurturing your plants is a timeless affair, regardless of the seasons. With a greenhouse dome, the usual rules of nature might just start to feel more like gentle suggestions. And it's not just about growth – it's also a haven for those plants seeking refuge from the chill of winter.
Geodesic Greenhouse Domes Benefits
Geodesic greenhouse domes revolutionize gardening with their circular design, maximizing interior space for thriving plants. 
Now, let's talk benefits – these growing domes stand out as the stars of the gardening world:
Extended Growing Season – Geodesic structures support year-round gardening no matter the weather, extending the growing season even in less temperate environments.

Structural Strength and Durability – Composed of interconnected hexagons, these domes offer unmatched durability, remaining rigid under pressure and resistant to strong winds.

Cost-Efficiency and Energy Savings – Their efficient design reduces material usage and promotes natural air circulation, resulting in energy savings and better warmth distribution during the colder months.

Portability and Ease of Setup – Assembling dome kits is easy and no heavy tools are needed. That's why they're ideal for different locations.

Stylish Garden Gem – Geodesic greenhouse domes bring a touch of flair to your garden, mixing practicality with a dash of eye-catching charm, giving your outdoors a trendy twist.
Enter Hypedome: Your Gardening Game-Changer
Speaking of stylish trends, hold onto your watering can because here comes the game-changer – Hypedome. We're talking geodesic greenhouse kits that turn your backyard into a sanctuary of green goodness. No need to fret if you're not the ultimate DIY champ; Hypedome's got your back with kits that are designed with simplicity in mind, complete with user-friendly instructions. Anyone can build it. What's more, you can craft your Hypedome masterpiece right on your existing deck or directly on the levelled ground – the choice is yours.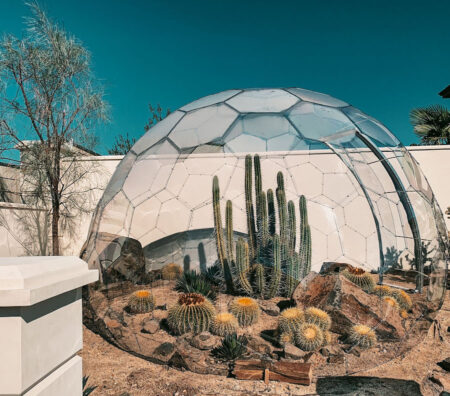 Hypedome Circular Greenhouse Setting
Let's get into the nitty-gritty of setting up your own round greenhouse. First, pick your spot. Think sunny and accessible – your plants love the spotlight and you'll appreciate the convenience of easy access. Got the location? Perfect. With an array of three Hypedome sizes, you can fit your greenhouse dome in every spot. When it comes to colours, our Clear version provides the remedy for those plants that crave natural light all year round. Sunlight streams in, extending your plants' growth potential and letting them thrive for much longer.
Consider Greenhouse Dome Accessories
To meet your plants' individual needs, adjusting your greenhouse dome's conditions is essential. Every greenhouse project has its unique requirements, but here are some practical ideas to consider:
Seal the Gap with

Soft Floor

or

Modular Base

– ensure an airtight connection between your dome and the ground by using these options

Boost Ventilation with

Window Panels

– proper airflow is crucial for healthy plants. Depending on your dome's size, adding 2 to 4 Window Panels can make a significant difference.

Ease of Access with Port Door – especially during winter, a Port Door prevents chilly drafts while allowing easy entry and exit.

Control the Temperature – maintaining the right temperature is essential. An electric heater keeps your round greenhouse warm during cold days.
Remember, tailoring these accessories to your plants' requirements is key to creating an optimal environment in your grow dome.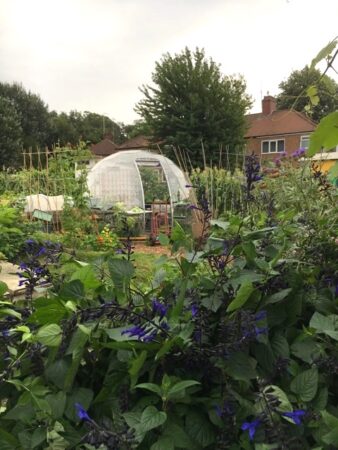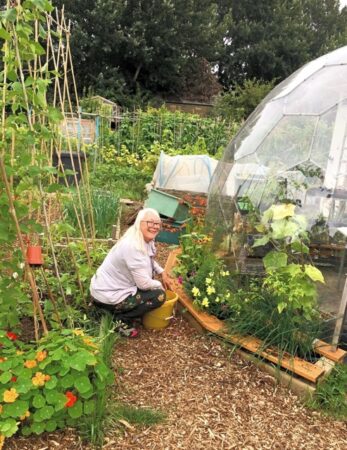 Preparing the interior of your greenhouse eco dome, with its unique round shape, requires thoughtful planning. This exciting step involves choosing plants that suit the dome's sunlight and humidity conditions. To optimise the space, consider multi-level racks to place your pots. Be sure to create ample space for both plant care and growth as you set up your geodesic dome greenhouse's interior. Keep air flowing to prevent excess humidity. As you prepare the interior, imagine a practical and vibrant space where your plants can thrive and flourish.
If you're ready to elevate your garden experience, don your gardening gloves and create a greenhouse dome paradise for yourself and all those who will revel in your bounties. Envision enjoying your plants with a comforting cup of coffee in hand – let's turn this vision into reality!
Q: Is a polycarbonate grow dome a good alternative to a glass greenhouse?
A: Absolutely, polycarbonate is an excellent substitute for glass. It's incredibly durable, being about 200 times stronger than glass, while still allowing ample sunlight to filter through.
Q: Will my Hypedome greenhouse last?
A: Yes, you can count on your Hypedome greenhouse to stand the test of time with a lifespan of 15+ years. 
Q: How can I control the conditions inside the Hypedome greenhouse?
A: Managing the interior environment of your Hypedome is made easy with a few key accessories. Window panels provide ventilation, allowing fresh air to circulate. For convenient access and temperature stability, consider the Port Door option. And, in colder months, an electric heater can keep the interior warm if needed.
Q: Is the Hypedome growing dome suitable for all climates?
A: Yes, the durable materials and sturdy design of Hypedome garden pods make them suitable for a variety of climates, from tropical to colder regions.
Q: Is the Hypedome greenhouse easy to dismantle if needed?
A: Yes, our domes are designed with easy assembly and disassembly in mind. If you need to relocate or store the dome temporarily, it can be taken apart and reassembled with minimal effort and tools.