When the rest of the family seems to have a free run of the house, the men out there sit and dream about the peace and quiet of their man cave. To some it's a shed, to others it's a garage, but we've found a whole new way to make the man cave daydreams a reality.
Turning a stylish garden igloo into a sleek man cave you'll never want to be without again isn't just a pipe dream, it's a growing trend. It's time for Hypedome to show you how to take over the bottom of the garden with some man strength…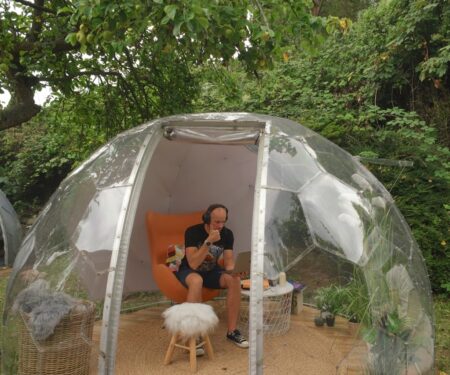 When you want to relax with your favourite hobby, having a little island of space to call your own makes all the difference. And if you're the kind of guy who loves messy, noisy hobbies that don't fit into the family home, your new men's cave is the place to be. 
Other times you might just want to get your friends over to watch some afternoon sports, have a few beers, or do some gaming on full volume into the night. None of that stuff is possible in the living room with the kids trying to sleep upstairs, which is why retreating to the new hobby room you've always wanted is a great solution 
And for those of you who just want to use your man shed to get away from it all, building a dome in the garden is a great way to immerse yourself in nature. Ideal when it's all about the peace, quiet and tranquillity that allows you to live life at your own pace.
Man Cave Ideas That'll Change Your Life
No list of man cave ideas would be complete without all of the weird and wonderful things a man can get up to inside. You might just want peace and quiet, a secret spot to have a sneaky nap, or even use it as an office to fly through your work if you're blessed with the freedom to work where you want to.
Let's take a look at the most popular options men from all walks of life are enjoying right now: 
A personal music studio that you can use to jam, riff and get your mates over for a practice session whenever the mood takes you — add the Port Door to reduce the noise and no one will bother you about turning it down

A chill-out room where you can read, play games, listen to music and get the guys round to watch some sports and drink a few bottles of beer in the evenings

A focus room that allows you to do anything from fly through your day job to make real progress on the novel you're writing or the research project you're trying to finish

A handyman room that's perfect for getting messy and noisy so you can take care of all those fiddly little 'dad'll fix it' type jobs that pile up at home

A home gym so you can stay in shape, feel good about yourself and blow off some steam all at the same time. Ideal for beating stress in the most productive and healthy way possible
The beauty of all these ideas is they look great at the bottom of the garden, and thanks to the versatility of your Hypedome man cave kit, they're easy to bring to life.
How Hypedome Creates Stylish Man Caves
Hypedome allows you to feel at one with your natural surroundings, is built for all weathers, and is a stylish addition that stands out for all the right reasons.

You can also enjoy a range of different finishing options that allow you to tailor your dome however you choose to use it. Clear and grey are great and give you the option of a relaxing 360-degree view so you can feel truly at peace. 
If you want privacy in your gym or gaming room, considering the mirror and opal finishes is a great way to get things just right. And if you still want a beautiful view of the greenery outside, the bay window is ready and waiting to make it happen.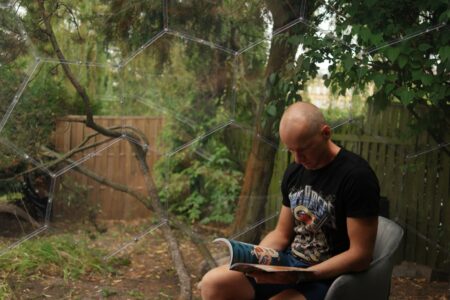 Time to Finish Your Man Shed Kit
Who says it's only a she shed that can look truly stylish on the inside? We want to show you how to turn on the style, whether you go for a garden gym or a hobby room, with a few timeless additions. See what you think of these guys: 
Lounger chairs

: They're perfect for gaming, reading, chatting with friends or just having a cold beer and listening to some tunes one evening 

A storage rack:

Put your tools, books and those little gadgets and gizmos you've been tinkering with on full display inside your man cave 

A home bar

: Imagine having a couple of your favourite ales or beers on tap, plus a fridge for a few fizzy drinks. Add your own name to the bar and you'll have the perfect spot to host the guys 

A quality gaming setup

: A 50" curved screen, surround sound and speaker bars, plus your choice of games console all sound like the perfect additions to us! 
You could even add a BBQ grill, fire pit and some lawn furniture to spread the man cave a little further around the garden as you build your kingdom.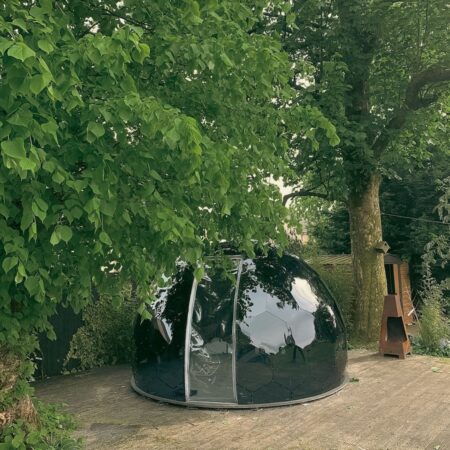 Can't wait to spend your first afternoon chilling and relaxing in your new dome-shaped cave? You're not the only one. Get a mate over to help with the DIY dome assembly and then treat him to a few cold beers as you fire up the grill and get away from it all together.