Are you a passionate crafter, artist, or musician needing your own space to let your creativity run wild? 
Do you dream of having a dedicated hobby room that's all your own, away from the distractions and demands of daily life? 
Hypedome garden pods allow you to create an additional space in your garden and are the perfect solution for anyone who needs an outdoor hobby room to pursue their passions. 
In this blog post, we'll explore why Hypedome pods are a unique and inspirational personal retreat for creative individuals to explore their passions. 
So grab your sketchbook, knitting needles, or even your guitar, and dive in!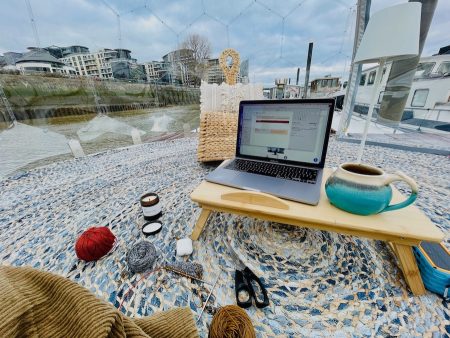 Hypedome as a Hobby Haven
Hypedome pods are the perfect choice for anyone looking for a dedicated hobby room. The unique design and construction make them a wonderful space to admire nature while pursuing your passion. 
With its spherical shape and transparent or translucent finishing options, your new outdoor hobby room provides an immersive experience that can bring calmness and serenity to your alone time.
One of the best things about these garden pods is their versatility. Available in three different sizes (Mini, S, M) and four unique styles (Clear, Opal, Grey, Mirror), Hypedome outdoor igloos can accommodate various hobby activities. 
The Clear version offers a fully transparent structure allowing unobstructed views of your surroundings, while the Grey provides the added benefit of decreasing harsher glare. On the other hand, the Opal and Mirror styles feature a large bay window (about 40% of the surface area) that provides more privacy and a sunshade.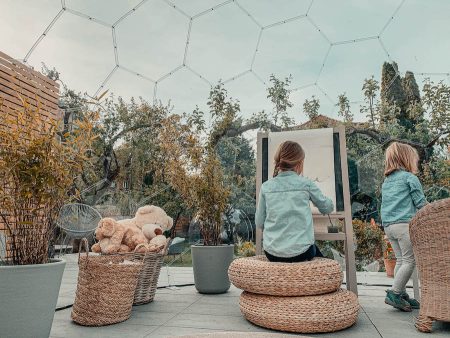 The Grey pod is an excellent choice for hobbyists who need reduced glare and improved privacy – ideal for painting. At the same time, the Mirror style will serve well those who want complete seclusion perfectly blended with their surroundings – ideal for a hidden craft room.
The Opal-style pod features a translucent finish that creates glowing effects, adding a touch of magic to your hobby space. And if you're feeling adventurous, why not mix and match different colours to create a truly unique and personalised pod? 
With so many options available, you can create a hobby room that is unique to your taste.
Who hasn't dreamed of having their own private space to follow their dreams, explore creativity, and work on passions? A Hypedome igloo pod has many benefits that can help you take your creative pursuits to the next level. 
Let's get real here – the best part about using a Hypedome as a hobby room is its increased privacy. No more annoying disruptions or distractions!
Hypedome pods are sure to inspire you with their sleek and modern aesthetic. From a crafts room to a painter's studio, it's a space that's both functional and beautiful, creating an inspiring and uplifting atmosphere that can help fuel your creativity.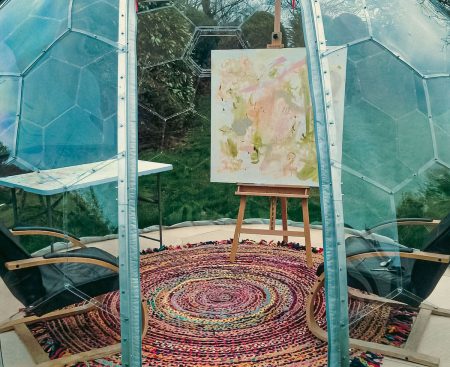 Hypedome garden pods protect from the elements allowing you to use your hobby room all year round without worrying about rainy days destroying the fruits of your labour.
Our igloos are designed to withstand extreme temperatures and strong winds, and there are plenty of ways to keep them warm and comfortable, even on cold winter days.
Get Inspired: Creative Ways To Use Hypedome
Garden domes can be used for a wide range of hobby activities. Here are just a few examples of the types of pursuits that can be enjoyed in a dedicated outdoor hobby room:
Imagine being able to finally escape to that private painting studio you've always dreamed of. Just add an easel or work table, and choose a finishing option with plenty of natural light, and your Hypedome pod will be transformed into an artist's paradise. 
With natural light pouring in, and a Grey finish to reduce any pesky glare, your paintings will come to life before your very eyes.
Picture it: a garden hideaway dedicated to your crafting. No more cluttered living spaces, no more boxes filled to the brim with craft supplies. Instead, a dedicated crafts room for you to fill with everything you need to create your masterpieces. 
No matter what kind of crafting you're into, the Hypedome provides a private and peaceful atmosphere where you can work on your projects undisturbed.
Picture a clear night spent under the stars, gazing up at the constellations. Sounds beautiful doesn't it? 
With its panoramic sky views, the Hypedome Garden Pod can be a perfect space for astronomy enthusiasts. Add a telescope and other stargazing accessories to make the most of the clear views.
Why not spend the night in your Hypedome? What could be better than camping out under the stars in your own private observatory? You might even catch a glimpse of the Northern lights if you're lucky.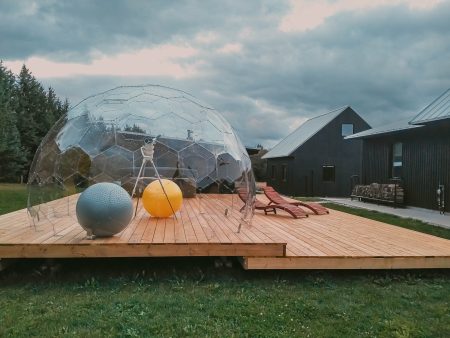 Imagine if you could leave the worries and stresses of daily life behind and escape to your very own wellness space, tucked away at the bottom of your garden. Well, you can with a garden igloo.
Whether your wellness practice is yoga focused, meditation based, or even if you dream of simply having space for other health and fitness activities, a Hypedome pod provides a serene and tranquil space to practise.
What would you say about a private garden concert hall where every performance is dedicated to you? Hypedome pods make an excellent space for musicians and music lovers alike. Use it as a practice space, recording studio, or a place to sit and listen to your favourite tunes. 
Arrange a dedicated space like this, away from the distractions of home and family living, to focus on your hobby and let your creativity and your spirits soar.
Hypedome garden pods are ideal for anyone looking to create a dedicated space for their hobbies. The design and construction are bound to inspire you, give you increased privacy and focus, and protect you from the elements while working outdoors.
Customise your very own outdoor hobby room to fit your passion and create a unique space that inspires you.
Take the next step in creating your dream hobby room. Whether you're a painter, crafter, musician, stargazer, or health enthusiast, you can take your hobby to the next level. 
Once you install a Hypedome in your garden, you never want to leave – and with all that peace and quiet to focus on your creative endeavours, don't be surprised if that "hobby" becomes a vocation. 
Side hustle anyone?