No matter where you live or how you plan to put your outdoor dome to use, leaving behind a limited carbon footprint really makes a difference to the world around you. We've all seen the importance of playing our part in giving Mother Nature a helping hand, which is why we want to share a few more details about what we've been doing. Keep reading to see how we approach stylish geodesic domes to make them eco-domes as well.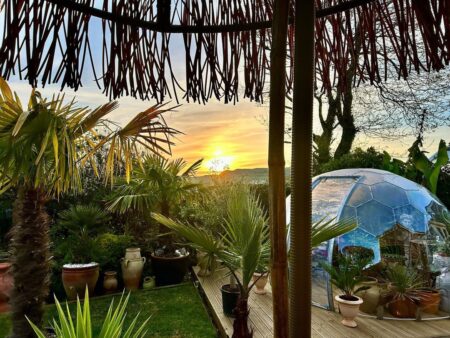 Eco Dome's Nature-friendly Design
We design and manufacture each Hypedome so yours looks and feels like a true eco dome. It's all about having the smallest possible impact on the environment, while at the same time delivering something which is robust and ready to be used all year round.
To make this possible, we've chosen durable solid polycarbonate as our main material. This choice gives our domes a life expectancy of 15 years or more, providing a green alternative as well as peace of mind. After all, being eco-friendly is much about minimising throwaway culture and choosing high-quality, long-lasting products and resources. 
A modular design is at the heart of every Hypedome, allowing you to easily repair and replace any damaged parts (in the highly unlikely event a part needs to be swapped). We wanted to make sure you could still use your garden pod even if a small part of it would surprisingly need a replacement.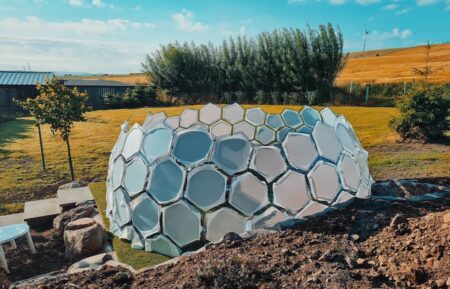 Eco Domes Less-waste Production Process
Hypedome's production processes and waste management are continually reviewed and dynamically optimised. When we make our signature polycarbonate panels, there are always going to be offcuts. Because we want Hypedome to be as sustainable as possible, we gather unused offcuts to make polycarbonate anchors and pads. These pads go under the base deck and are a useful addition to our eco pods. Another prime example of what you can do with a little bit of green thinking.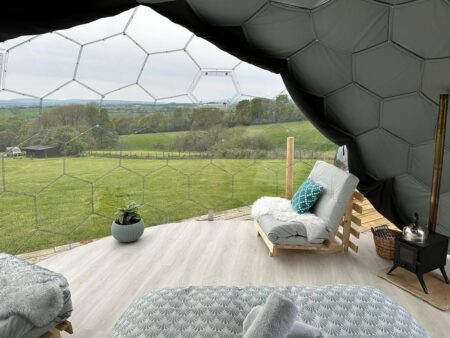 In a perfect world, Hypedome would be a zero-waste product, and although we're not there at the moment, we're continually striving to get to lower and lower waste levels. At all times we think about how to cut the initial sheets of material with as little waste as possible. Offcuts will always happen, and where we can we put them to good use. A good example is the fact that a significant amount of waste material from our Privacy Curtains, Soft Floor and Sun Shade Sail is used to create packing covers for these products. Another green idea we're happy with. 
Eco Pods Recycling and Upcycling
One of the great advantages of polycarbonate is that it's fully recyclable, ensuring that nothing goes to waste. That means that our panels can gain a second life once the domes finish serving our customers after many years. 
What's more, they can be re-used also in another way – through our upcycling program. Even though Hypedome lasts for at least 15 years, there are special cases when they finish their adventure with their first user sooner, and we're here to provide some green help. A great example is our cooperation with a number of restaurants by providing dining domes for their outdoor spaces. Once it finishes, we turn them into community greenhouse domes to reduce wastage even further. And the domes still work perfectly.
Temporary Dome Structures for Smaller Impact on Nature
Heavy equipment, machines and excavators might be signs that your site is taking shape with the arrival of your glamping domes, but they don't fit with a vision of a true eco-village. If you're looking for some green inspiration, maybe take a look at Jean-Francois's Alpine retreat. He is a fan of Hypedomes in large part because they leave very little impact on the environment.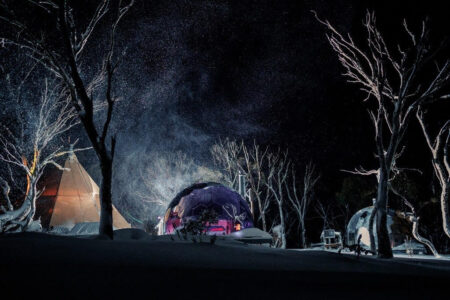 Our eco domes are highly robust structures, and yet temporary at the same time. They are designed to be installed with nothing but a few manual tools. They can fit just about anywhere and require no heavy machinery. Your surrounding trees won't need to be touched, and you can let the land get to its previous shape in as little as a few weeks or months once they're removed. 
We've designed Hypedome to last for at least 15 years, but that doesn't mean we want it to leave an impact on green spaces that lasts anywhere near that long. What we want is to connect you with nature via a relaxing, stylish and fun eco dome that leaves the planet to do its thing.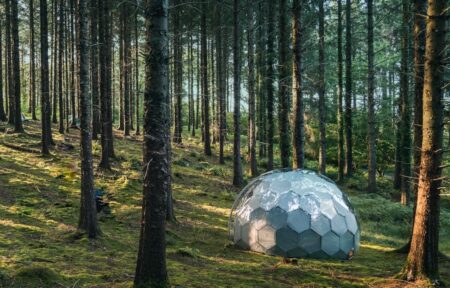 Living Eco-consciously with Hypedome
We hope Hypedome is a natural fit for your eco pod vision. How about getting in on the act by finding a few new plants to introduce to your outdoor space? So go ahead, make a statement with your eco dome and let the green vibes flow!