Welcome back to the interesting world of Hypedome Stories. Today we're heading on over to Chicago, IL to meet Renu Zunjarwad, a Senior UX Researcher with a real passion for design. With a strong design background, Renu is well-oriented and purposeful in arranging her home. Here's what she had to say about how the Hypedome garden pod helped her reshape her living space.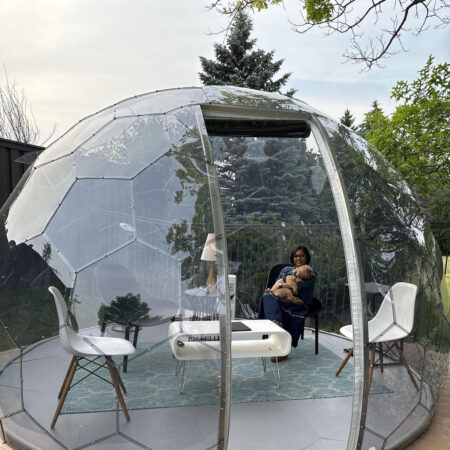 Q: It looks like you have two passions in life: research and design. Care to share a little more about what attracts you to them?
Renu: Sure, and what you said there is very true. I come from an architectural background. I practiced architecture and taught architectural design and history of architecture courses back in India. I have a bachelor's in architecture from India but later pursued a master's and a PhD in design research in the US. Years ago, I moved into UX research, and my day job is very different from what I learned in architecture. But as they say, once an architect is always an architect, my education in architecture has remained an important part of my life. I'm a Senior User Experience Researcher and I work with designers on a daily basis. This association has further deepened and widened my appreciation of good design, so I'm very discerning about what I bring into my own spaces.
Q: How did you come up with the idea of introducing a backyard dome to your outdoors?
Renu: I had some friends visiting last year and we took a road trip out to Lake Geneva. We stayed at a little resort that instantly caught my attention because it had these wooden and glass domes as dining pods in their outdoor dining area. Once I'd been inside one of the pods for a few minutes and I knew I wanted the same type of experience in my own backyard. That's where the research, deep diving, and reflection started as I really wanted this to feel right in my own space.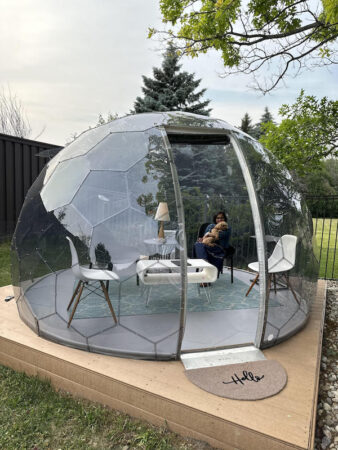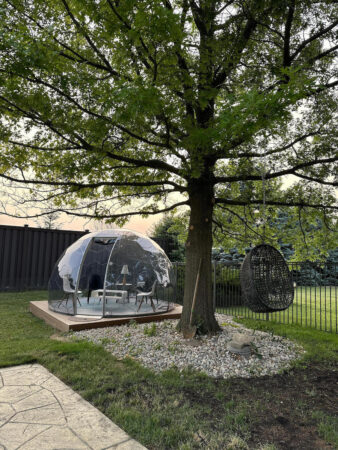 Q: It's pretty cold in Chicago for a great part of the year. Is this why you were looking for a sheltered outdoor space?
Renu: Yes, It was one of the main reasons. I liked the idea of being able to enjoy my backyard more. Our swimming pool stays covered for six months of the year because it's so cold here. We also have a gazebo next to it. We sit there too but it doesn't shelter us from all elements and you get to hear all the sounds coming from everything that's happening around. So when I started Googling outdoor structures, the Hypedome link popped up. I looked at the pictures and I really loved them. I showed them to my family and our friends and they were impressed and interested at first sight. I knew I had to learn more.
Q: What were your expectations prior to the arrival of your Hypedome? And were they met by reality?
Renu: We wanted a 360-degree view of all the trees and the garden that we could enjoy throughout the year; that was really important to us. We also had this really clear vision of how it would fit into the rest of our space. That is something that I envisioned but I didn't envision it to that level.
As soon as it arrived I was struck by the simplicity and unity of the proportions, as well as how the light transitions throughout the day. We have a huge window in our family room which looks out over the backyard, and the dome is right under a tree in the centre. It's like having a natural painting in your living room and it looks even better than I imagined. My first sunset in the Hypedome was just absolutely beautiful and I have taken so many photos at this time of day since. There's such harmony between the design side, the visual elements and the functional aspects. I think they're beautifully combined, so it's far more than I expected. Definitely.
Renu, a UX researcher with a strong passion for design, created a beautiful garden retreat right under the majestic tree in her backyard.
Q: Any remarks for would-be Hypedome owners looking to elevate their private gardens?
Renu: The experience of being able to sit there and enjoy authentic calmness is so moving. It's a very soothing and meditative experience literally to sit there and just listen to the music, and drink my coffee. All external sounds are filtered and beautiful views are just in front of you. Owning a space like this is an investment in your wellbeing.
Q: You created a stunning modern room inside. How do you use your Hypedome daily?
Renu: I've really put a lot of thought into how to create a modern, minimalist look inside and I think I've got it exactly how I want it. So much so that when I attend my meetings from inside the dome, my colleagues say "Now Renu is joining us from the future". Aside from work, it's a real multipurpose space for reading, relaxing and contemplation. Already, I can't imagine life without it. My weekends are centred around the dome with an emphasis on quality time with my family. I love it and our Grey Hypedome S is just exactly what I wanted.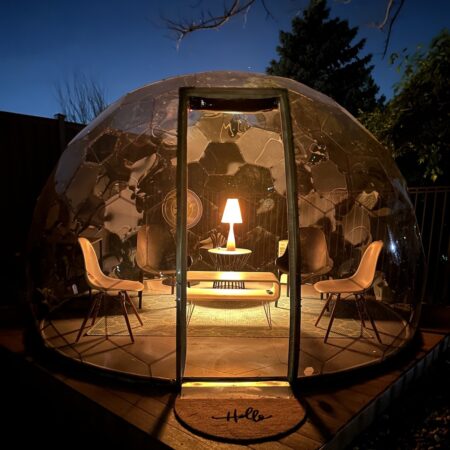 Great checking in with Renu and hearing how Hypedome has made a real difference to her backyard over in Chicago. Read other Hypedome Stories and you'll find all the sparks of inspiration to create your favourite outdoor spot. Have fun in the meantime and enjoy reshaping your own space!