We're here again with another addition to our Hypedome Stories series — the place to be when you want to see Hypedomes do their thing around the world. This time we're off to the relaxing world of Maine to spend some time with Susan and Sheldon Horowitz. Shel is someone who always looks on the bright side of life, while Susan is optimistic and cheery in everything she does. They both wanted to create a relaxing space to enjoy their golden years.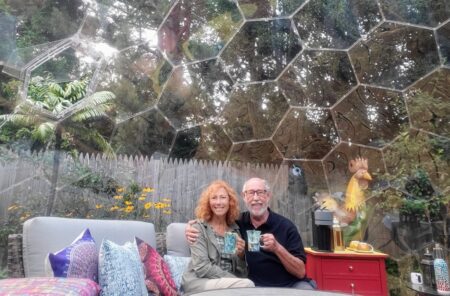 Q: You live in such a beautiful corner of the world, can you tell us more about it?
Shel: We live in Maine, US, on the coast and we're really just across the street from the ocean — we see Casco Bay and the islands. It's beautiful. Being on the main coast we get all sorts of weather and visuals. We can see snow and rain coming down, we can see the fog rolling in, the panorama of stars, and we get all the benefits of being outside but yet, protected completely in our Hypedome.
Q: I'm looking at your backyard and you certainly make good use of it. How did you create such a fun and eye-catching space?
Susan: We've got quite a mix of items in our backyard and we love the free-flowing space it has become. Our collection of animal sculptures is our way of staying connected with nature in an artistic way, and our vegetable gardens and pet chickens are also something we love to spend time tending to. We've also got a hot tub, a fridge full of cold drinks, and a dome that looks like an outdoor living room.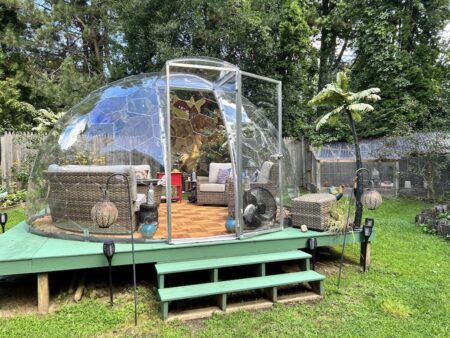 Q: You certainly know what you like. So, how do you like to use your dome?
Shel: We call our dome "the lounge" and really it's the backyard room we've always wanted.
We use it for two purposes. The first is entertaining friends outside of the house yet in a closed environment. In the lounge we're not disturbed by the cats, the dogs, the telephone ringing and all the other things. It's very comfortable and at night it's really wonderful because we have lights that illuminate the area, they change colour too, and we play soft music in the background.
The second purpose is for our personal quiet moments, either for a cup of coffee or just to share the morning. We use it at night as well. Sometimes after a soak in the hot tub we put our robes on and go into the lounge and have a glass of wine.  We also just enjoy sitting and reading, or just having a conversation in the Hypedome. It's a way of taking the outside world and closing it off completely. There is much to be enjoyed hearing the sound of silence after a full day.
Q: Do you invite guests there as well? What do they think of it?
Shel: We've had three couples in the room, which is certainly big enough. It's a real room, a real lounge. The furniture is as comfortable and as expensive as the stuff we have in our house [laughs]. So you don't get the feeling of sitting on outdoor furniture. We've also put a coffee maker in there, wine glasses, and we have a refrigerator nearby, so we can easily pour our drinks, put cheese and crackers out on a little table and just enjoy our time. When we have guests over for dinner, we often take dessert in 'the lounge' afterwards.
We've found that people really are impressed by that kind of environment because it's a way to go out without actually going anywhere. So I would say that for us it's a place to go without having to get in the car.
Q: What made you think of getting a dome in your backyard?
Shel: That's a very good question! We were actually motivated when Covid came out and we realised that we couldn't go to restaurants so we purchased a small dome that was made of PVC with a plastic cover over it and that worked for a while; a 2-3 year life. We enjoyed it as an at-home getaway, but it was just kind of a place with an umbrella.
Susan: That PVC dome we previously had was always wet inside and on a hot day there would be a lot of condensation. Now our Hypedome is really secure and we don't have those issues. It stays very dry there which is great.
Our first little PVC igloo wasn't very robust. So when it collapsed from all the snow in Maine we just laughed and started looking for something more permanent and more solid. We came across your company and started reading about Hypedomes and watching some videos. We liked what we saw and it looked really durable. Just what we were looking for. Our personal video meetings confirmed that the quality of Hypedome staff and the quality of the product gave us the confidence we needed to place our order.
Q: That's great to hear and I'm glad you found us! How have you gone about finishing and furnishing your dome's interior?
Susan: The theme of the first dome was a Moroccan motif, lots of colourful pillows and accessories.  Some parts of the furnishings of that first dome are now present in our Hypedome, which is nice to see. Moroccan music and lighting complete the setting we desired.
Shel: The outfitting was rather an interesting task. We were in Atlanta visiting our daughter. We found furniture there which was curved and we obviously wanted to have a curved couch for the economy of space.
I'm an engineer, so I measured the angle, did some calculations and we moved it back and it fit very, very well. We also managed to get two matching swivel chairs from the same company, which was a perfect complement to the lounge.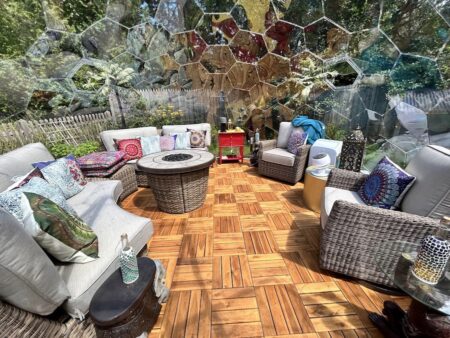 Q: How did you find building your Hypedome?
Shel: Building the dome was an interesting process. We have Hypedome M, the larger one, so it's quite high in the centre of it and we're not that tall even on the ladder to easily build the highest parts, so we needed our very tall friend's help. But we managed to do it. A sense of personal accomplishment and bragging rights come with finishing the construction.
Q: Have you made any upgrades or additions to your backyard lounge along the way?
Shel: Adding the Port Door made a big difference because it's now so easy to get in and out. We use the lounge a lot, either by ourselves or with friends. Sometimes we just want to quickly slide inside for a quick visit. So that's what really made it perfect – thanks to the door we can just drift in and out naturally with no real effort. I want to acknowledge the very professional engineering design and assembly method by the Hypedome engineering staff. I was very impressed, they did their homework on quality and material design.
Q: Anything you'd like to add about your favourite finishing touches?
Susan: Hypedome's Soft Floor and a wooden floor that we made ourselves have really finished things off and made it into a room, instead of just an outdoor recreational space. So have the little candle-type lights we've added. Because of the geodesic structure, it almost looks like a kaleidoscope out there, with each panel reflecting the light differently. It's a very magical space, especially in the rain and snow.
I love it as a hideaway to sit and read, and when it's a little bit cooler I'm going to put out my yoga mat too. It's a very serene, very calm space that really has enriched our home.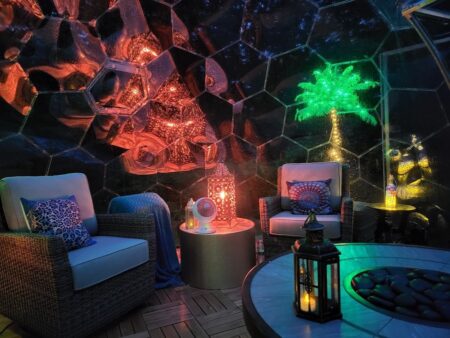 Great visiting Susan and Shel to learn how Hypedome is enriching their garden up in picturesque Maine. We're more than a little envious of how close to the coast they are!
If you're curious to learn more, our Hypedome Stories series is the place to go when you want to see how other dome lovers are using Hypedome. See you soon!