Product Description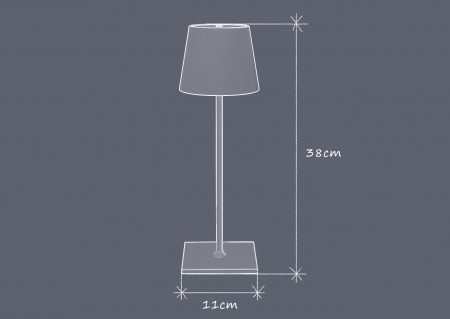 • Dimensions: 38cm (Height), 11cm (Diameter)
• Light Color: Warm White
• Number of LEDs: 1x 2.2w Array
• Voltage: DC 5V / 1A USB
• Battery: Built-in rechargeable 2200 mAh Li-Ion Pack (charging base provided)
• Cordless Operation: more than 9 hours on a fully charged battery
• Weather Protection: IP54
• Control: Capacitive touch switch
• Plug: USB (Mains adapter provided)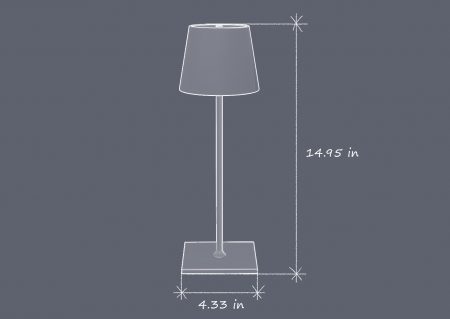 • Dimensions: 14.95 inches (Height), 4.33 inches (Diameter)
• Light Color: Warm White
• Number of LEDs: 1x 2.2w Array
• Voltage: DC 5V / 1A USB
• Battery: Built-in rechargeable 2200 mAh Li-Ion Pack (charging base provided)
• Cordless Operation: more than 9 hours on a fully charged battery
• Weather Protection: IP54
• Control: Capacitive touch switch
• Plug: USB (Mains adapter provided)
Table Lamp comes pre-assembled.
It comes with a charging stand that can be connected to mains power with USB power supply (provided).
Can be also powered from a power-bank (not-supplied)
Charged lamp does not require charging stand to work (fully charged provides over 9 hours of cordless operation).
Lamp works anywhere. Inside and outside the dome.
It features IP65 rating, which means it splashproof, but cannot be submerged in water.
Table lamp
Charging stand
USB power supply
Manual
It comes with either UK, EU or US/CA standard power supply. We ship each type depending on the country of destination. Let us know during checkout if you wish to order different type of plug than one used in your country.
Table lamp comes with 2 years warranty against defects
Moisture damage is not covered by the warranty.
Total weight: 1kg (2.2 lbs)
Package size: 44.5 cm x 15.5 cm x 13 cm (17.5 in x 6.1 in x 5.1 in)