Alfresco dining is massively popular among restaurant-goers. There's just something about spending time outside, surrounded by Mother Nature – it enhances the ambience, opens up the senses and has several health benefits.
For restaurant owners, offering outside dining is a no-brainer. Not only will you attract more diners because many people love to eat outside, but you'll also increase restaurant bookings and covers, as you'll have more seating available. And that'll lead to a nice boost in revenue.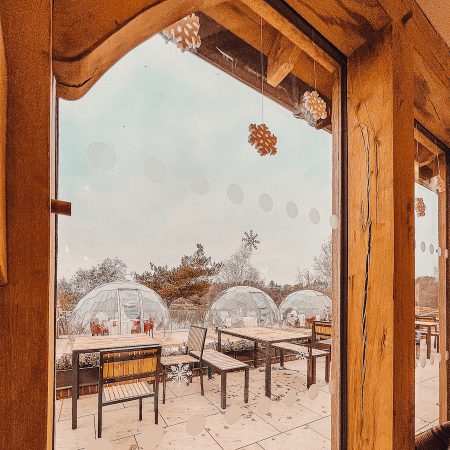 Of course, alfresco dining is weather-dependent which is why most restaurants with outside seating end up serving customers indoors only for four to six months of the year. But what if you could offer outdoor eating all year round irrespective of whether it's rainy, snowy, windy or freezing? Your profit potential would surge!
In this cold weather outdoor dining guide, we explain how to offer alfresco dining even in the poorest weather…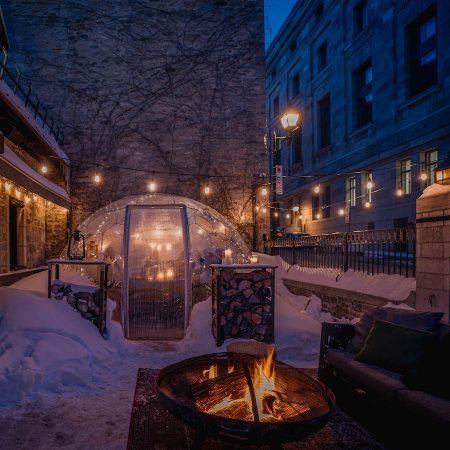 1. Weatherproof Outdoor Dining Areas
Without protection from the elements, eating outside would be plain torturous in freezing or wet weather. So you need to make guests comfortable and provide a covered outdoor seating area that's warm and cosy. 
There are many setups to explore, including:
Pull-out canopies

– retractable awnings that attach to the side of your building and extend overhead to cover diners. These are often the cheapest option, but they're better suited for small bistros with only a couple of outdoor tables and chairs. They don't offer protection from the sides, so they're no good for windy weather or heavy rain.

Tented gazebos

– these have side panels and are easy to put up. They usually come with a steel frame and a light tarpaulin cover. You can get sturdy ones, but a very windy day can get the better of these structures. Another downside to tented gazebos is that they're not exactly attractive to look at! 

Wooden gazebos

– a timber frame is much heavier than the steel frame that comes with a tented gazebo, making it much less likely to get swept away. The price for a wooden gazebo ranges from £800 to £4000 depending on the structure's size and whether the roof's covered. You can get side panels at an extra cost. (Note that you'll need to factor maintenance costs into your budget as timber structures usually need treating over time).

Patio heaters

– with any of the above options, you'll need some kind of outdoor, waterproof heater. These are typically quite affordable as a one-off cost – a

4.5KW wall-mounted heater

costs around £300. Note, however, that

heating a patio

takes time. You'll need the heaters on all evening in frigid temperatures, and they tend to use a lot of electricity, so usage costs can clock up.

Hypedome dining pods

– these are fully covered, igloo-style polycarbonate domes that are

completely weather-resistant for year-round dining

. The

Clear Hypedome S pod

is 100% crystal clear, so it truly blurs the lines between indoors and outdoors and can be quickly heated with an electric heater.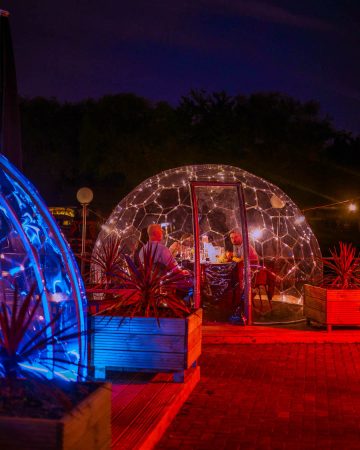 With a heavy-duty anchoring kit, Hypedome dining domes will stay put no matter the strong winds and other elements. They can even be thermally insulated with Hype.Wall panels to make them super snug. And they're guaranteed to last up to fifteen years, making them an ideal long-term solution for winterizing outdoor dining.
With autumn and winter comes dark nights – one of the things many people dread about this time of year. Light affects everything from mood to sleep patterns to appetite, so it's crucial to get the lighting right in your outdoor dining area.
Dim, ambient lighting is a staple at a fancy restaurant. There's a psychology behind it – keeping the lights low helps diners to relax, converse, and stay longer (and potentially spend more money).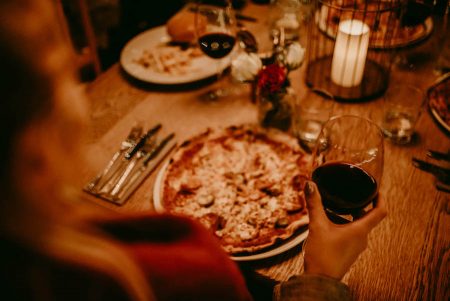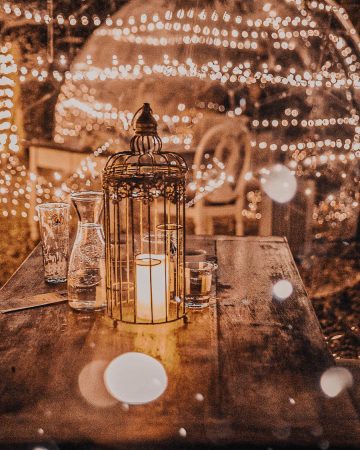 On the opposite end of the spectrum, a fast food joint usually has incessantly bright lights that make you want to head straight back out the door! That's because the fast food business model is about all cheap food and rapid turnarounds – getting diners in and out as quick as possible.
Where outdoor dining in cold weather (or dark conditions) is concerned, the lighting should feel cosy and mellow to put diners at ease. Here are some good options to consider:
Fairy lights or string bulbs

– these are affordable and energy efficient, so you can leave them switched on for quite some time. They're also very pretty to look at!

Hanging lanterns

– you can get nylon lanterns that fit over a string of bulbs or invest in individual battery-operated or candle-lit glass and metal lanterns.

Tabletop lamps

– focused light on individual tables helps create an intimate atmosphere that's perfect for dining. Opt for cordless,

rechargeable lamps

so as not to interfere with the table's aesthetics. 

Candles

– the ultimate tool for creating ambience, flickering candlelight is mesmerising and romantic! Place them on table centres or house them inside large floor lanterns.

Bioethanol firepits

– these use a renewable liquid fuel that burns clean, meaning no mess or fumes to worry about. A few of these dotted around your winter alfresco dining area would look fantastic – they give off real-burning flames that produce plenty of heat.
If you decide to use Hypedome pods, you can get everything you need for a beautiful illumination with this lighting kit. It contains a perimeter ambient light strip, a tabletop cordless lamp and a set of twinkling fairy lights.
3. Get Classy With Your Decor
Decoration plays a big part in how your outdoor environment looks and feels. Done right, the decor will add a little magic to your setting – so consider colour scheme, materials, furnishings and stand-out pieces.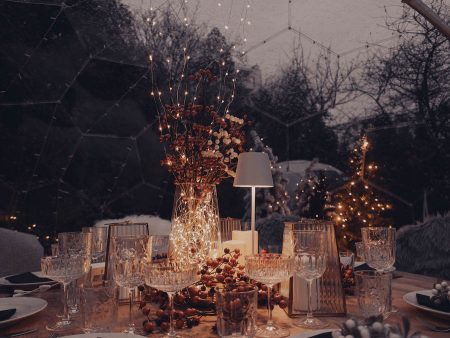 A safe bet is to go classy and use decor that'll stand the test of time. Natural materials like glass, wood and wool have a rustic appeal that works perfectly with ambient lighting, as do neutral and warm colour schemes.
For individual dining domes, consider chunky wooden tables dressed with cotton table runners and jute placemats. Invest in good quality cutlery and heavy tableware. How about glass lanterns, mirrored tealight holders, a shaggy rug for underfoot and a wicker basket stuffed with soft woolly blankets? Padded chairs will please your guests and tempt them to stay a while.
Consider the entire outdoor space available to diners (not just individual areas) when planning your decor. Your guests will want to take in the view of their surroundings from all angles. 
Think about themes that could go well with autumn and winter alfresco dining. Such as fall decor, which might use pumpkins, red leaf bunting, autumn wreaths, harvest festival bouquets, pine cones and orange or yellow soft furnishings. Maybe a winter wonderland filled with Christmas trees and wrapped gift boxes. Or perhaps an apres-ski-style theme with plenty of big bourbon barrels, reclaimed wood, fake snow, plaid fabrics, and a few ornamental sets of skis. (Firepits are also perfect for this theme!) 
Need more inspiration? Check out some brilliant restaurant winter patio ideas on Pinterest.
4. Offer Experiential Dining
Experiential dining is about breaking away from traditional restaurant concepts to offer diners unique experiences and culinary adventures. It's a trend worth embracing as 75% of diners say they would spend more to get a unique dining experience.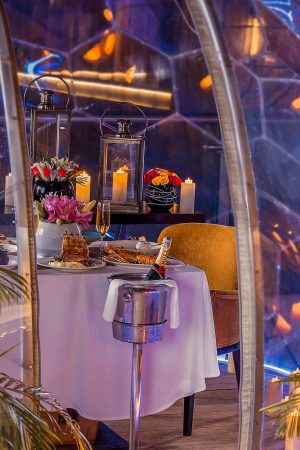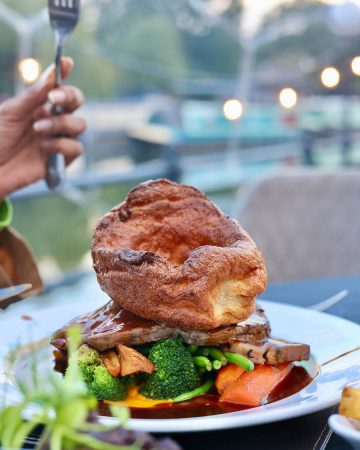 What does experiential dining look like? It can be anything from creating a multi-sensory or interactive dining experience to a themed restaurant or a surprising menu. Some real-life examples include:
Atomix

, a Korean Michelin Star restaurant in New York, offers an open concept kitchen with a tasting menu and a sophisticated atmosphere.

Leon

, a fast food chain in the Netherlands, UK and Ireland, offers healthy, natural fast food and lets diners customise their meals.

The Dog Cafe

, in Los Angeles, lets you snuggle up with a rescue pup while enjoying your fave latte.
So, think about ways to get guests queuing up to try your outdoor dining experience. Be creative – how about offering a cheese fondue or raclette to guests in outside dining pods? Or a cook-it-yourself grill in the centre of each table where diners can cook meat and fish to their own liking?
5. Create an Intimate Setting with a Dining Pod
Visit any popular restaurant, and you'll notice that the booths are taken or reserved. This is because booths are more enclosed and offer some privacy, making it easier to have a conversation back and forth across the table. They also provide a bit more security as diners can place their bags and coats within the booth where they're out of the way of the main traffic of the restaurant.
Having clearly defined booths or pods helps create a relaxing, quieter atmosphere – something that appeals to friends wanting to catch up, families enjoying time together and couples on a date!
Outdoor igloo dining domes are ideal for this purpose. They're even more private than booths as they're fully covered, with the only opening being the door – perfect for helping guests revel in an intimate, exclusive dining experience.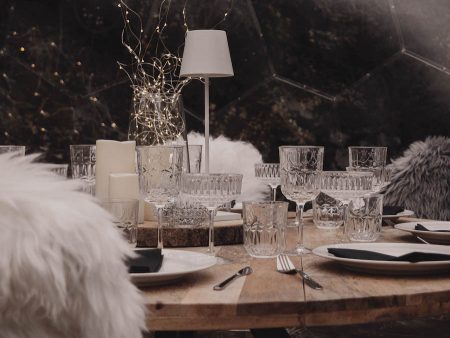 Whatever your outdoor winter dining setup, keep your guests contented by playing relaxing music (at a volume where they can still hear and speak to each other) and ask servers not to check on them too often. Let guests enjoy themselves without too many interruptions, and don't rush at them with the bill as soon as they've finished their meal. Treat them like royalty! Diners who have a great experience will come back time after time and recommend your restaurant to others.
6. Make Your Winter Dining Area The Place to Be
By making your outdoor eating area totally unique and sought after, you'll be able to command a higher price – not necessarily on food and beverages – but via a booking fee or by charging a minimum spend per party or person.
Here at Hypedome, we know from our hospitality clients that guests who use our weatherproof outdoor dining pods are happy to pay a booking fee and tend to spend more on average than people who eat indoors in a restaurant.
This is because winter igloo dining is a special experience in itself. Guests who book a dedicated dining pod look forward to the occasion, are less likely to cancel and tend to treat themselves to something from the more expensive side of the menu.
Once your outdoor dining area has built up a reputation, you'll find that it becomes an easy extra income stream that makes a real difference to your bottom line!
Get More Winter Alfresco Dining Bookings
Restaurants with outdoor seating are in a great position to offer alfresco dining all year round. Leverage your space through the six methods we've described above to get more dining bookings in winter. Here's what else you can do:
Take advance bookings for seasonal events – start promoting Halloween, Bonfire Night, Thanksgiving, Christmas and New Year outside dining

 experiences as early as possible. Take a deposit to help guarantee bookings.

Increase publicity through storytelling

– share behind-the-scenes photos on Instagram of your team setting up your warm and cosy outside area, showcase your menu and share testimonials from happy diners.

Update your Google My Business page

– when potential diners search for

dining outdoors in winter

, you'll want your restaurant to pop up in search engine results. So, update your page and use keywords or phrases people might type to find your restaurant. E.g., sheltered outdoor dining, outdoor dining with heating, heated pods for outdoor dining in winter or restaurant with outdoor heating.

Keep up with new trends

– surprise and delight diners by offering new and exciting culinary experiences, e.g., cooking food to order at the table, hosting a knife skills workshop or running a supper club with a new experimental menu each week.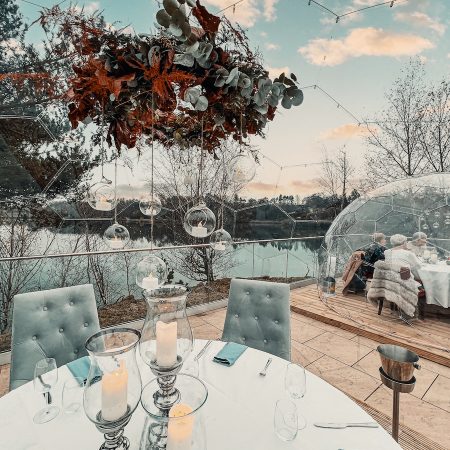 Creating a special winter dining experience will give guests something to enjoy during the dark, cold, often bleak months. More importantly, you'll help your hospitality business battle the low seasons, give your brand a competitive edge and boost your overall profits!