Want to know the secret to getting countless restaurant bookings, even during the slower seasons? It's all about offering guests a unique and sought-after dining experience. This is precisely what the owners of the high-class restaurant, L'Auberge Le Saint-Gabriel, did to  get fully booked up ten weeks in advance. Read about their venture with dining domes below.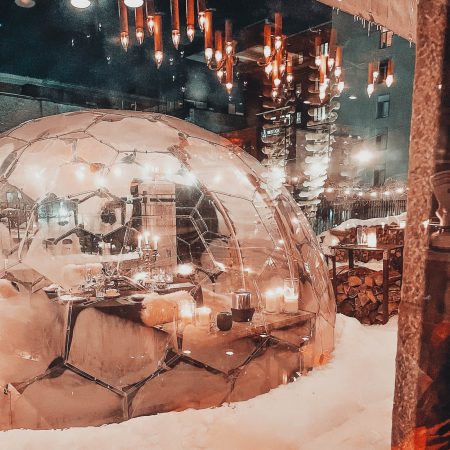 The Dining Domes Experience at L'Auberge Le Saint-Gabriel
L'Auberge Le Saint-Gabriel is a fine dining establishment in Old Montreal, Canada. It serves delicious Quebec cuisine with a European twist. The restaurant building is steeped in history – it was built in 1688, originally as a two-storey house and was later transformed into an inn. Today, L'Auberge Le Saint-Gabriel is one of the city's trendiest spots for nightlife.
Even the best restaurants need to generate buzz to keep a steady stream of diners interested – and L'Auberge Le Saint-Gabriel is no different. In early 2022, the restaurant was provided with two Hypedome S Clear pods so it could offer an outside dining dome experience during the winter months.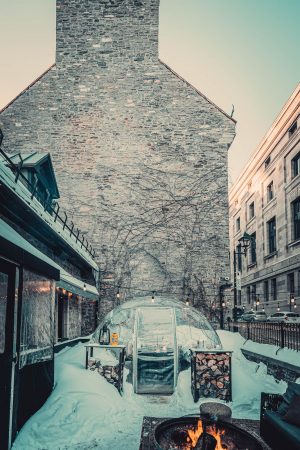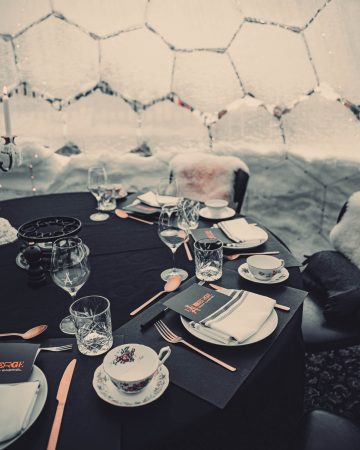 The pods were fitted with bespoke lighting kits, plus electric heaters to keep guests warm and cosy from mid-February until the end of April. (Montreal's weather is pretty harsh at this time of year, with snow and minus temperatures some evenings – so heaters were a must!). 
Bluetooth speakers were also added so guests could play the music of their choice while dining alfresco. The whole experience was topped off with the chance to try the restaurant's famous Swiss fondue.
Once the news was out about L'Auberge Saint-Gabriel's unique winter outdoor dining experience, guests couldn't wait to try it. All available slots inside the domes were snapped up via the online booking system within 14 days of launching. A total of 196 reservations were received, including 683 guests that took up the cheesy fondue dining experience.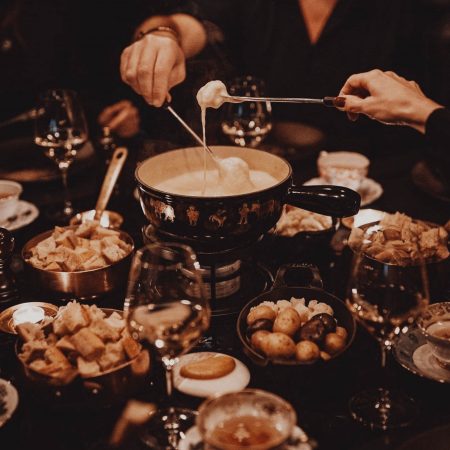 As guests began to enjoy the dining domes, word spread organically on social media and in local press and blogs, which generated tons of awareness, website hits and new restaurant reviews. Here's what some L'Auberge guests had to say:
"I loved the DOME experience; it was awesome and unique."
"We really enjoyed the experience. It was a romantic night for a young married couple.❤️"
"We did the fondue outside in the dome and it was awesome. Heated, and they provide blankets. Definitely recommend."
"The whole experience from beginning to end was amazing and beautiful. Our waitress and service were excellent, and the food was impeccable. Thank you for an amazing and memorable evening!"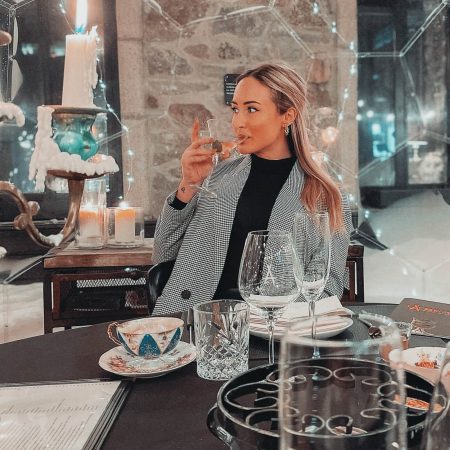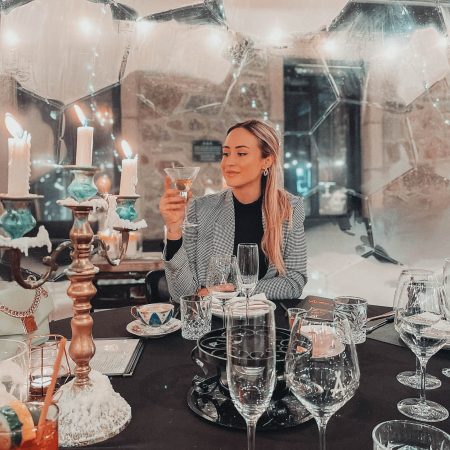 According to the restaurant's survey, diners gave the experience an average score of 9.5/10 overall and 9.7/10 for ambience.
Each Hypedome S dining pod accommodates up to eight adults. L'Auberge Le Saint-Gabriel charged CA$75 as a dome hire fee on top of the price of food and drinks. Time slots were limited to 2.5 hours for each booking, meaning the restaurant could turn around several covers each day and night during a ten week period. The dining dome booking fees amounted to more than CA$14K of additional revenue alone.
Booking fee aside, diners paid CA$85 for a set menu consisting of:
A glass of bubbly on arrival

Charcuteries board

The Swiss cheese fondue

Bread

Vegetables

Dessert (a delish poached pear belle Helene served with almond ice cream and chocolate sauce)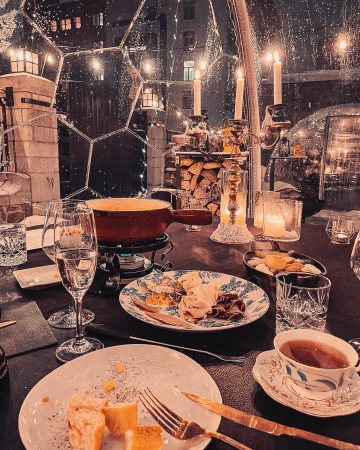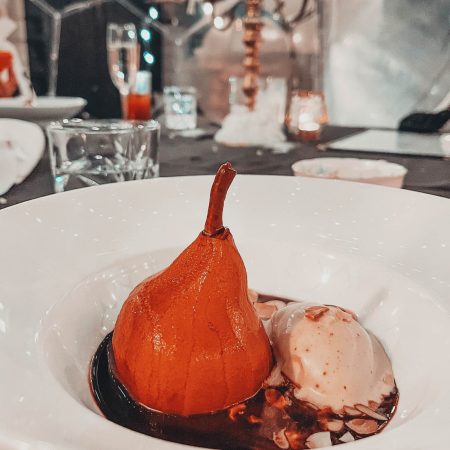 Food and beverages generated at least CA$16.6K in revenue, boosting the total to over CA$30K.
Dining Domes and Profit Potential
It's clear that dining domes can lead to a considerable revenue boost. But what really matters is the bottom line. How much profit and ROI can you expect when investing in a dining dome? We've done some maths based on the recommended dining dome set.
Hypedome S Clear dome = CA$5,395

Lighting kit = CA$460

Wide entrance upgrade = CA$440
Total investment cost = CA$6,295 for one dome or CA$12,590 for two.
When you consider the results that L'Auberge Le Saint-Gabriel achieved with the dining domes' first outing, the investment seems well worthwhile. But the real value of Hypedomes is that they have an expected lifespan of 15+ years – and they're usable all year round, come rain or shine. This opens up the scope for profit substantially.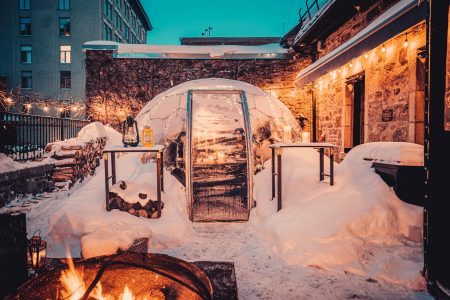 Reap Long-Term Profits with Dining Domes
Hypedome's sturdy and beautiful dining domes help you create amazing experiences for diners. They have a certain aesthetic, and they're a real talking point – you'll notice guests naturally whipping their smartphones out to take pics for Instagram and Facebook. (L'Auberge promoted their dining domes with minimal effort once their 8,000+ Instagram followers got involved.)
Dining domes extend the alfresco dining season, allowing you to provide outdoor dining all year round, no matter the weather. They'll provide a valuable income stream and an unparalleled long-term return on investment when you consider other ways to use them. For instance, you can dress them up for Halloween, Christmas, Thanksgiving, New Year, Mother's Day, and birthday parties. They're ideal for your guests' celebrations (and they'll give you a reason to clink glasses too).
For another restaurant's story read about the Hypedome dining domes in The Willow Tree.