There's nothing like sitting outside on a warm evening, sipping an aperitif as the sun goes down. When we feel like company, it's hard to beat a cold drink with friends – especially if there's a spectacular view. Some of us just love to be surrounded by spring flowers or picturesque autumn leaves – they all create lasting memories of happy times and good vibes.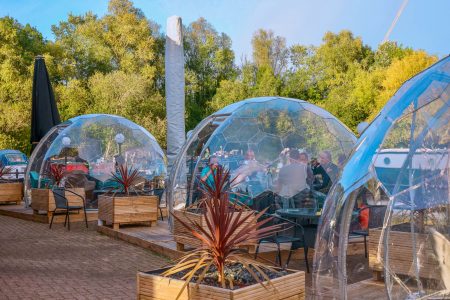 It's the kind of image that any restaurant owner would love to produce because it draws people back to their favourite eateries time and time again. So, if you have an outdoor dining area with great potential, try these tips to make it super-versatile and extra comfy. Your guests will line up to be eating outdoors.
1. Weatherproof Your Restaurant's Outdoor Space
Your restaurant's patio may be pretty, but if it isn't covered it will only be useful for part of the year. Instead of a roof or a shade, why not keep that indoor outdoor dining area feel with Hypedome clear dining pods? As well as providing shelter from the elements they offer a much more attractive upgrade to your outdoor space. As an example, check out this restaurant in Worthing which offers amazing views and protection from the strong winds coming off the sea. They're also much more efficient to heat and come with special shades for summer. To your guests, the dome will either feel like a warm and cosy retreat or a cool place to escape. For more tips, read our post on winterizing the outdoor dining.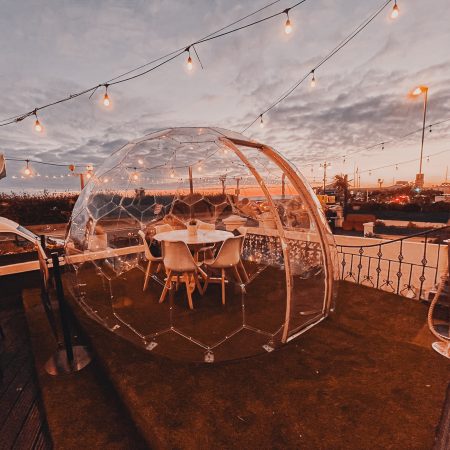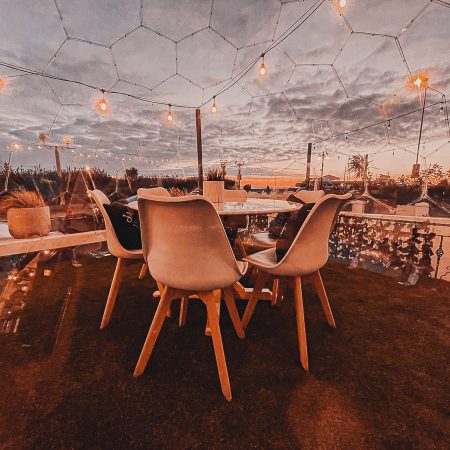 2. Make Your Outdoor Dining Area a Destination Venue
Small outdoor eating spaces are great for intimate events like wine tastings or food and drink pairings, which can attract new clientele to your restaurant. For a larger space, how about live music, bonfire weekends, or an outdoor cinema? Organising an outdoor dining culinary experience is a great way to promote your space, as it will bring in new customers while leaving the indoor restaurant free for regular diners.
Guests love to feel they're in nature, so liven up your restaurant's outdoor space with some well-chosen foliage. Add trees for shade and to hide any ugly fencing or amenities (like the bins) and mix deciduous trees for autumn colour with evergreens for winter. If you need some small outdoor dining area ideas, check out the living walls at this pub in London. You can also use small shrubs or raised planters between tables to add colour and protection – just keep in mind that if you have a covered outdoor dining area, you'll need to choose shade-tolerant varieties!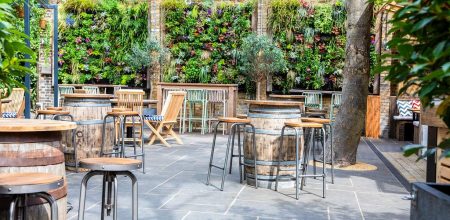 Source: theavalonlondon.com
4. Use Dining Pods to Increase Privacy
Sitting outside at a restaurant can sometimes be uncomfortable because the tables are packed very close together. It makes it hard to build a feeling of intimacy. Counter this by adding dining pods so guests can have their own space – we call this "private dining 2.0"! You could enhance the feeling of privacy by using shades, tinted finish or placing plants between the pods – like at this restaurant in West Bromwich. Guests will feel like they're in their own secret garden!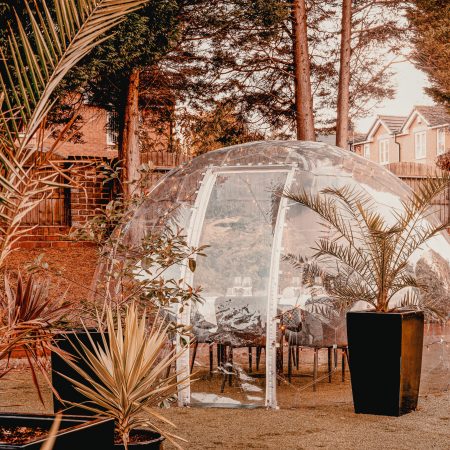 5. Install Larger Dining Pods for Private Parties
Attract larger group bookings by offering private or themed parties in a clear dome. They'll have all the benefits of a private room and the services of your professional staff, without disturbing any other diners. Space won't be an issue, as the Hypedome M model can fit 12 people seated or 18 standing. Plus you can decorate it any way you like, so you can offer it for birthdays, anniversaries, Christmas, New Year, Valentine's Day or anything else – the only thing you need is imagination!
If you haven't got pods or other heated outdoor dining areas, warm things up by providing fluffy blankets. Get in a bit of creative marketing by putting your logo in the corner where it will show in photographs. If you really want to please your outdoor dining guests, add a firepit and offer warm treats like hot chocolate or marshmallows to toast. Your guests will want to snuggle up and stay all night!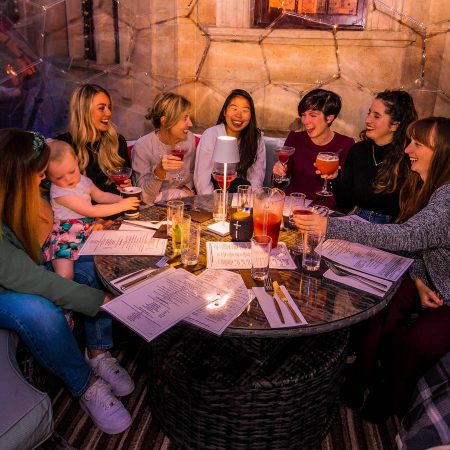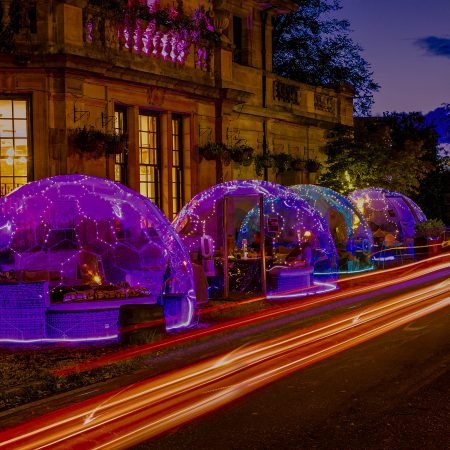 7. Introduce QR Code Ordering
People are getting more and more used to this technology. It's particularly useful in busy times as it saves customers queueing and your staff from running in and out to take orders or payment. Some products, like the OrderCube, also have an option for customers to let their waiter know they're ready. QR code ordering eliminates any potential confusion over incorrect orders, plus you can use it to promote special offers and grow your online following, so it's a win-win for everyone!
Give Your Unused Outdoor Space a New Lease of Life
If your restaurant has an outdoor space that isn't being put to best use, it doesn't take much to jazz it up and bring a bit of life to it. Adding plants, hosting special events and utilising new technologies are all ways to liven up a boring or unused space.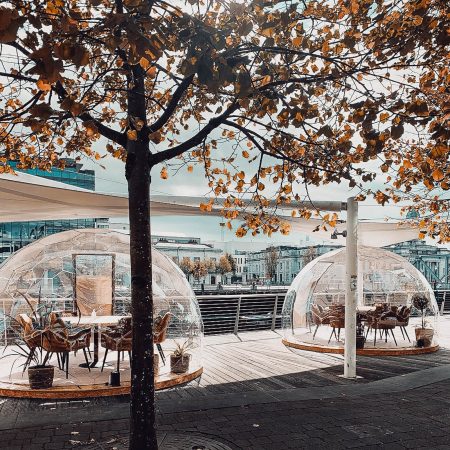 But the best way to get maximum use out of an outside dining area is to ensure that it can be used all year round – this means ensuring shade and air flow in summer, and warmth and protection in winter. What better way than with a Hypedome dining pod? They're private, always comfortable and best of all, they're tremendously photogenic – so you'd better have your booking sheet ready!