Glamping has soared in popularity over the last few years, bridging a gap between quality hotel stays and down-to-earth, traditional camping. Businesses who have taken the luxury outside, by creating comfortable outdoor stays for their visitors, have reaped the benefits. Whether they have introduced yurts, cabins, bubble pods, or even repurposed vehicles, guests are drawn to the glamour and novelty of staying outdoors whilst surrounded by creature comforts. 
More than ever now is the time for hospitality businesses to strike when it comes to expanding glamping options for tourists. Hypedome is all for the unstoppable glamping trend, and we want hotels and hospitality businesses to join the outdoor bubble pod revolution. So, we have put together some very good reasons why glamping pods are the way forward.
Bubble pods are a quick and easy alternative to other glamping structures
Planning permission is often not required for erecting a bubble pod, which means that businesses can expand their guest capacity without the arduous paperwork. Once your pods are delivered, they only take two people to assemble and four hours to complete – meaning that building a 'bubble pod garden' can be done over a couple of days!
Unlike permanent structures, Hypedome's bubble pods can be dismantled and rebuilt as many times as you want, as well as being easy to store. Therefore, if you ever need to clear space, rearrange your site layout or even add more camping space, then it is a quick fix.
You'll attract more guests
Apart from the obvious benefit of expanding your guests capacity pretty much overnight, bubble pods are likely to attract more discerning travellers. Love-glamping.co.uk lists the health benefits of glamping, including: 
how being amongst wildlife helps you relax and unwind, 

how the exposure to light and picturesque surroundings boosts good mental health, 

how letting your body sleep and rise with the natural light cycles (as nature intends) restores our circadian rhythm, 

and how the additional Vitamin D from all that time spent outdoors gives you a boost mentally and physically.
The transparent nature of Hypedome's bubble pods will connect your guests to nature in the most intimate way imaginable. They will benefit from the natural light during the day, and be able to watch the stars above them as they fall asleep.
Bubble pods are friendly for the environment
Being green is a major 'tick' for any hospitality business, as prospective guests are becoming more ecologically aware of their carbon footprint. An endorsement for bubble pods, rather than permanent structures, is that they embrace the nature around them, instead of destroying it. Seasoned glamper and travel blogger Charles Kosman, of The Barefoot Nomad, explains why he is drawn to camping and glamping:
"The problem with most luxury hotels around the world is that no matter how well they try to blend into their surroundings, the reality is that during their construction phase, they destroy the land around them and have to bring it all back again once construction is complete. Tents, huts, cabins and yurts require next to nothing to be assembled and leave a very small footprint compared to their brick and mortar counterparts. The wild stays wild and you can feel good that you're not destroying the natural vegetation around you while you get to enjoy the true benefits of ecotourism."
Of course, if you are going to install some bubble pods on your hotel lawn, or nestle them into your beautiful, natural landscape, then you want them to look amazing and tasteful. Hypedome's pods are built to enhance the outdoor space around them. The transparent or mirrored curvature of the domes means that they rest in any spot without interfering with the natural wonder.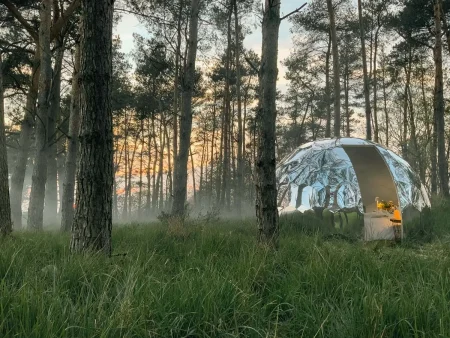 Frequently asked questions about Hypedome bubble pods
If your business is considering making a pod garden, or just installing one or more of our bubble pods, here are some frequently asked questions:
How do Hypedomes cope with rain?
All Hypedomes are completely rainproof thanks to their ingenious design, where separate panels overlap each other in a fish-scale pattern. It makes the dome sealed so well that it easily copes with torrential rains. Hypedomes are made from 100% recyclable polycarbonate so they have a natural elasticity that slightly cushions the sound of raindrops. This means that although the sound of rain is still audible, it is much quieter than on glass structures.
Is Hypedome better than other glamping accommodations?
There are so many benefits a bubble pod provides that other glamping pods cannot. Apart from the versatility and unique shape, the 360° vista made possible by the transparent material provides a truly special experience. The feeling of being cosily cocooned against any weather conditions in a fully transparent bubble pod is an experience guests will never forget.
Absolutely! Hypedomes are easy to heat, especially when equipped with our bespoke insulated wall panels and insulated modular base. To heat a Hypedome it's best to use an electric heater fan or radiator. We do not recommend using gas heaters inside of the dome, due to its limited size.
We are always delighted to talk about how our bubble pods can transform hospitality businesses and bring the indoors outdoors. Just get in touch to discuss your ideas and needs. If you're looking for trusted resources before you make any move, read the Starting a Glamping Business Guide we prepared.