Glamping offers all the fun of camping but without the 'roughing it' part. Whether you're staying in glamping pods, wooden huts or safari tents, you get to sleep in a real bed with a mattress and duvet rather than on an uncomfortable roll mat with just a sleeping bag. You can enjoy being part of the great outdoors without getting up close and personal with some of nature's more undesirable creatures. And you can keep warm all through the night (no need to give in and head back to sleep in the car).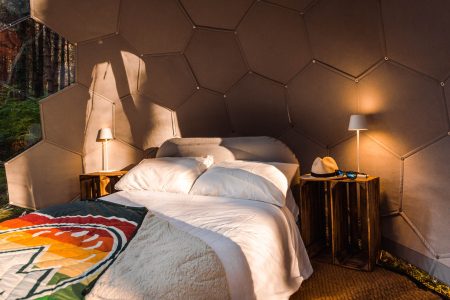 This is our view of the glamping experience, but what do actual glampers think about it? We asked nine travel bloggers that have been there and done it about their best impressions, including what makes glamping special.
Travel Bloggers Glamping Experiences
Supreme comfort, waking up to a delightful dawn chorus, being able to unplug for a while and sitting under the stars… These are just some of the things that make glamping magical. Read each glamper's unique experience below.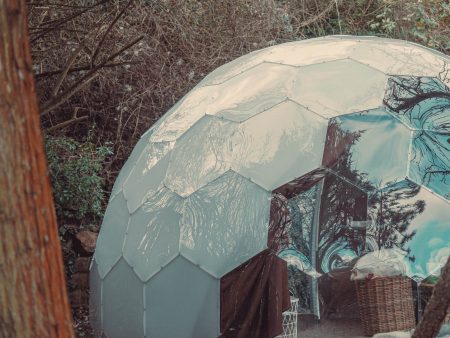 Breathtaking Views and Hotel-Level Comfort
I'm not a big camper. I don't like sleeping on the ground and I definitely don't like being without all the comforts of home. So when I heard about glamping, I had to try it. I was hooked after that! On my first time glamping, I felt so connected to nature, and yet, I had all the luxuries I needed right at my fingertips. It was the perfect blend of luxury and adventure. I will never forget waking up in my cozy bed, opening the door of my tent, and seeing the most beautiful sunrise over the Smoky Mountains. It was truly a magical experience and one that I will always remember.
Denise Cruz – Chief Editor at wanderherway.com. Denise is an entrepreneur, personal finance geek, and travel writer. She believes financial freedom should be accessible to everyone. She inspires women to make smarter money decisions, turn their passion into profits, and travel!
Birthday Glamping Weekend With the Girls
A few years ago, for my birthday, I went glamping inside a Conestoga wagon that had all the amenities of a hotel at Orr Family Farm in Oklahoma City.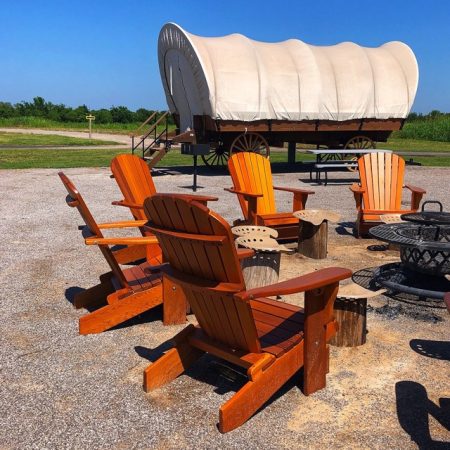 Photos by Nicky Omohundro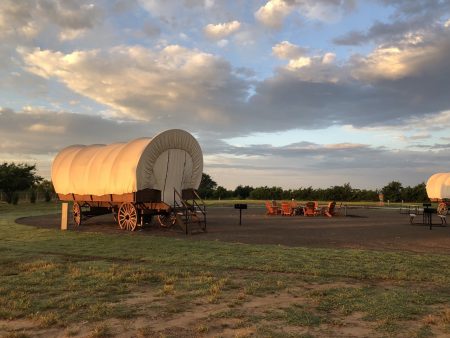 One of the best things about glamping and this experience in particular is being as close to nature as you wanted without giving up any of the comforts of home. This camp was only a 20-minute drive from downtown OKC, but it was peacefully secluded.
The thing I enjoyed the most was sitting around that evening campfire chatting with my girlfriends, making s'mores, and sipping on cocktails. Second thing was running in to the city for spa treatments and Sunday brunch at my favorite midtown eatery. The entire experience was so relaxing and the best of two worlds – the perfect birthday getaway!
Nicky Omohundro is the creator of LittleFamilyAdventure.com, a lifestyle website that helps families focus on spending time together, eating well, and traveling. She is also a freelance writer specializing in travel, food, and lifestyle topics. You can connect with her on Instagram @lilfamadventure.
Hassle-Free Camping? Glamping!
Glamping is a fun way to enjoy camping without the hassle of purchasing all of the items and setting them up.  After moving to Australia, our family missed camping, but as it is a temporary move, we don't want to buy all of the supplies needed.  Not only are camping supplies expensive, but you need a place to store them.  
We decided to go to O'Reilly's Rainforest Retreat in Lamington National Park, Queensland, and stayed in one of their Safari Tents.  
Our car is small and was filled to the brim despite not bringing a tent, blow-up mattresses, cooking stove, camping chairs, and everything else needed.  In addition to everything else, we would have to rent a larger car or van in order to camp.  Glamping makes much more sense.
Our glamping tent had beds inside and chairs.  The tent is part of the campground and so the amenities are the same.  I would prefer an ensuite glamping tent, which is available at some campgrounds.
Glamping is a great idea for anyone who wants to camp but either doesn't have the supplies or prefers less hassle.  
Lanie van der Horst grew up tent camping with her family and has passed the love of camping on to her children. Lanie currently lives in Brisbane, Australia with her husband and kids and documents their travels on her blog Make More Adventures.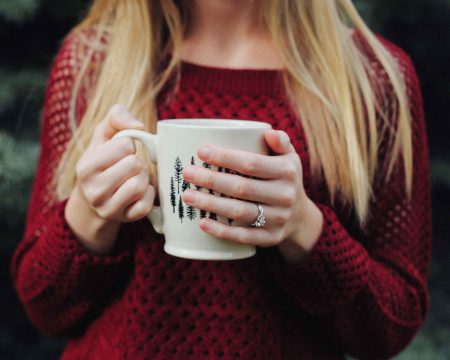 Close-To-Nature Glamping in Ohio
My husband and I recently celebrated our 10th wedding anniversary by heading to Hocking Hills State Park in Ohio. My husband loves camping; however, I'll be the first one to admit that, although I love the idea of being out in nature, camping is not my thing. Glamping, on the other hand, is the perfect compromise. 
So when booking our accommodations, I came across a geodome. The geodome had the comforts of a hotel (think King sized bed, heating, air conditioning…even wifi!) but immersed us in nature at the same time. At the back of the geodome, there was a huge viewing window where we could admire the trees next to us with their leaves changing color for the fall.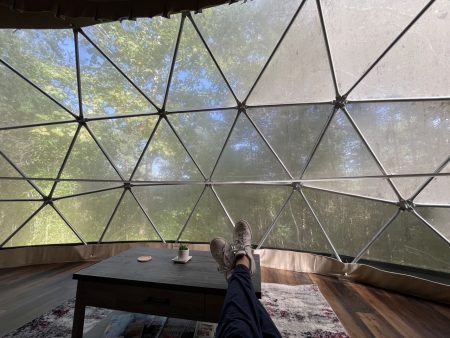 Being able to unplug (at least somewhat) and spend quality time together was the perfect way to celebrate our anniversary. We were able to get away from the hustle and bustle of everyday life, and just sit back with a glass of wine and relax. Everyone should take some time to stop and look around at the beauty in this world. And glamping is the perfect way to do that.
Jenn Johnson is a family travel blogger at ThoseJohnsonBoys.com. She is a wife, mom to three young boys, and a physical therapist, who loves to document her family's travel and tips in hopes to give other parents confidence to travel with their kids as well.
Yurts in the UK Countryside
Surrounded by woodland and rolling green hills in the Devon countryside, our colourful yurts felt worlds away from the thin plastic tents I was used to camping in as a child. This was a weekend to remember for many reasons, and our glamping experience only made it all the more unique and special.
We were on a long weekend away for my sister's hen do. 15 girls of all ages, backgrounds and life experiences. Having organised a festival-style party, glamping on a Devonshire farm, I was a little nervous about the reaction I would get. But as we entered the yurts I could see it was the right choice.
Cozy, warm and welcoming, the yurts were decorated beautifully and the beds were far more luxurious than a roll mat on the floor. The social area in the centre meant we had somewhere to relax if the weather wasn't great (it was the UK after all!) and we made full use of the kitchen area. This was an apartment with all the character of a festival, and with an incredible outdoor setting.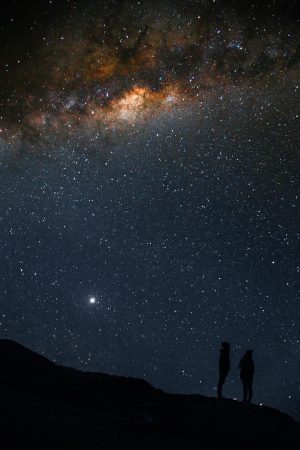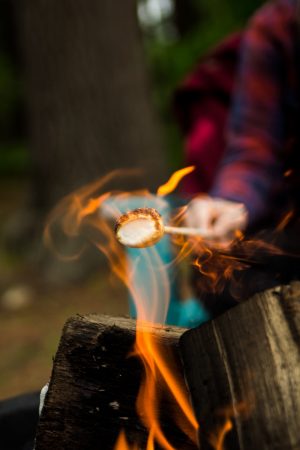 The most magical moment of our glamping experience had to be sitting under the stars, warming ourselves by the campfire while eating marshmallows and drinking wine from the onsite vineyards, and then rolling into our warm beds at the end of the night.
Emily Nancolas is an avid travel writer who lives on a sailboat with her partner and Greek rescue kitten. You can find out all about her liveaboard lifestyle at twogetlost.com.
Enjoying Outdoors With Creature Comforts
As someone who has done every kind of camping you can imagine – backcountry, canoe-in, regular tent camping, and even winter camping – glamping is a way that makes it easier to experience the outdoors. One of the main benefits of glamping is that you are not finding the campsite or setting up the tent, which for many will reduce a certain amount of stress. The structure is usually strong, comfortable, and often quite large. And of course, the bedding and mattress quality is a level above anything you can get when doing more primitive camping. 
While I sometimes don't mind the challenge of finding that perfect backcountry campsite and staking a tent, there is something pretty nice about the creature comforts of glamping. I also love that glamping can make the outdoors a little more accessible to people who are hesitant to "rough-it".
Alan Greenfield is the Editor of Gorp, a longtime outdoors-focused website, and the author of several books on hiking and the outdoors. Gorp can be found at gorp.com.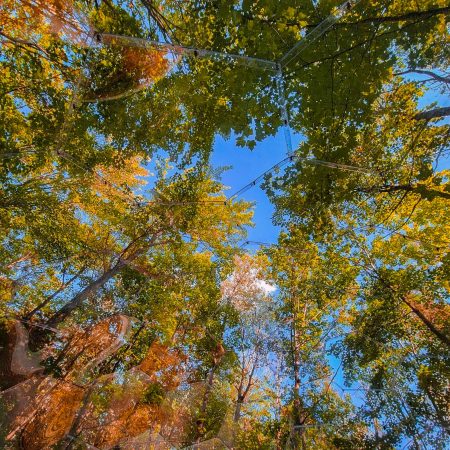 Great Experience Also For Adventure-Seekers
Because I'm an adventure seeker, I was skeptical of glamping. I didn't think it was authentic or sustainable. However, I changed my mind when I visited Collective Yellowstone Big Sky, Montana, glamping resort. It is located in the Bob Marshall Wilderness Area. This prime location offers exceptional Flathead Valley and Gallatin National Forest views.
This glamping resort is unique because it offers something different than any other place in the area. This includes rustic chic accommodations that are perfect for those who want to get away from it all and enjoy nature without having to worry about mundane tasks like cooking or cleaning. In addition, there is an on-site spa that provides treatments such as massages and facials.
What did I like the most? I loved the peaceful and serene surroundings. There's plenty to do in this scenic spot, including hiking and biking trails, fishing, kayaking on the reservoir below, and enjoying local restaurants.
This resort changed my outlook on glamping resorts because I now see them as a viable option for those looking for an authentic and sustainable experience away from it all.
Nicolai Lonne – a co-founder of the review site DIVEIN, providing educational content on Watersports, Diving, Outdoor Life, and Travel. He is a qualified scuba instructor and has been featured on Forbes, NYTimes, Fox News, and Greenpeace.
Much More Accessible Than Camping
Camping is great, there's no denying it. Being close to nature and escaping the complexity of the modern world is something that my wife and I have always craved. However, there are a few things that make camping inaccessible for us. My wife has a few chronic conditions that make camping incredibly difficult because of mobility issues and sleeping in the cold. My wife can't really sleep in a sleeping bag on the floor, but she can sleep in a comfy bed. Though we would struggle to set up a regular tent, a pre-built tent or even a small cabin is a great way for us to still be able to enjoy nature without sacrificing my wife's health. 
We've been glamping in a variety of different areas and have always had a great time exploring nature parks and forests, knowing that we have a luxury and comfortable pod to go back to at the end of the day. Sometimes they even have hot tubs which just makes the whole thing even more special. 
Jason Dempsey is the CEO and Co-Founder of Home City Living. A digital nomad, SEO specialist, and content professional, Jason has the heart of an adventurer and the spirit of an entrepreneur.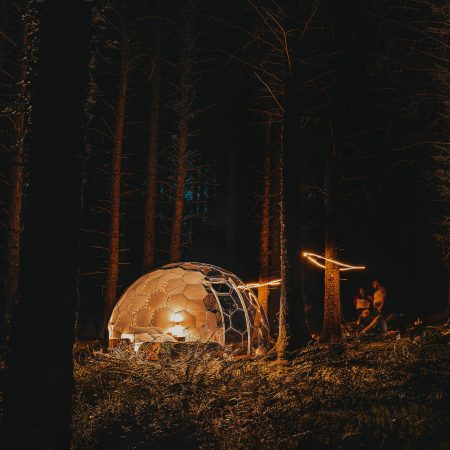 Glamping with a Dawn Chorus of Lemurs and Flamingos
Nothing prepares you for the sounds of staying in one of the 5-star glamping pods at Durrell Wildlife Camp within Jersey Zoo. It's the ultimate treat for animal lovers.
When the zoo buzzes with visitors during the day, the glamping pods, which sleep up to four (two adults and two children), feel spacious and comfortable, and they are a peaceful haven to retreat from the crowds. But the real magic happens when all the visitors leave for the evening and night falls.
You can take advantage of the private dusk tour that's included with the rental of the pod. Alternatively, simply sit back and relax on your private deck with a cold drink or something to eat and tune in to the sounds of the animals while gazing up at the stars.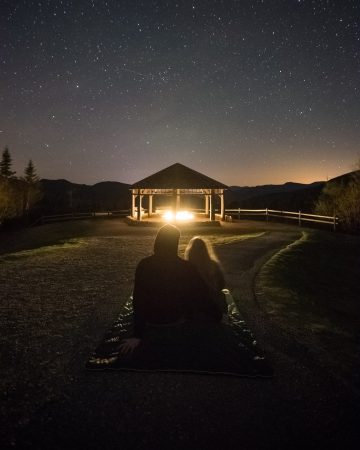 Then light the wood-burning stove, snuggle down in your cosy bed, and drift off to sleep as the animal calls slowly diminish. As dawn breaks, you'll wake to the joyful chorus of lemurs and flamingos and the distant grumble of the rare Andean bears.
Entry to the zoo is included in the glamping package, so you can explore the zoo at your own pace during opening hours. Jersey Zoo is a unique place tucked away in the countryside on the charming British Channel Island of Jersey. The zoo works tirelessly to protect critically endangered species from around the world. 
Coralie Thornton is the founder of Grey Globetrotters – a travel blog inspiring travellers over 50 to plan their next travel adventure.
Glamping - Chic Getaway Loved by Travellers
Glamping is loved by people from all walks of life, not just 'outdoorsy types'. It's a brilliant experience for friends celebrating a special occasion, couples wanting quality time together, families embarking on an adventure and even singles looking for solitude. It's way more comfortable and much less hassle than traditional camping, so it even appeals to people who've never considered an outdoor holiday before.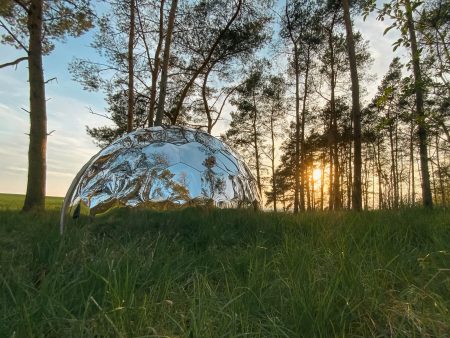 Over the last few years, glamping has grown massively in popularity. If you happen to own (or have the funds to secure) a stretch of suitable land, starting a glamping business could be a savvy decision. Ordering the essentials of what you need for your future guests' stays is very easy with our pre-defined glamping bundle. And if you feel like you could use additional guidance – we're here to help.
In any case, if you prefer a cocktail glass to a canteen, mood lighting rather than torch light and having your bed a good foot higher than the ground, try glamping for yourself. You may just make some of the best memories of your life!