Product Description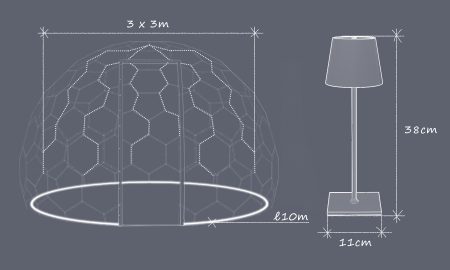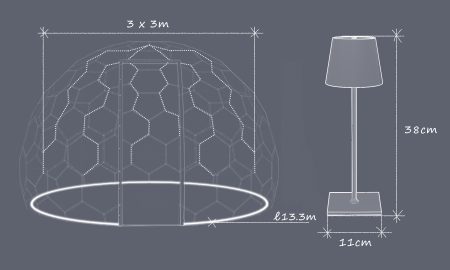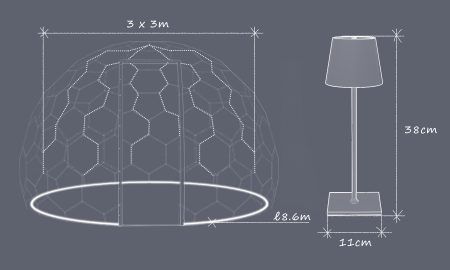 Ambient LED Strip
Length: 13.3 m
Color: RGB (adjustable)
Plug: Mains
Rechargeable Table Lamp
Dimensions: 38cm (Height), 11cm (Diameter)
Light Color: Warm White
Plug: USB (Mains adapter provided)
Fairy Lights
Dimensions: 3m (Length), 3m (Width), 2.5m (Cable Length)
Color: Warm White
Plug: USB (Mains adapter provided)
Ambient LED Strip
Length: 10 m
Color: RGB (adjustable)
Plug: Mains
Rechargeable Table Lamp
Dimensions: 38cm (Height), 11cm (Diameter)
Light Color: Warm White
Plug: USB (Mains adapter provided)
Fairy Lights
Dimensions: 3m (Length), 3m (Width), 2.5m (Cable Length)
Color: Warm White
Plug: USB (Mains adapter provided)
Ambient LED Strip
Length: 8.6m
Color: RGB (adjustable)
Plug: Mains
Rechargeable Table Lamp
Dimensions: 38cm (Height), 11cm (Diameter)
Light Color: Warm White
Plug: USB (Mains adapter provided)
Fairy Lights
Dimensions: 3m (Length), 3m (Width), 2.5m (Cable Length)
Color: Warm White
Plug: USB (Mains adapter provided)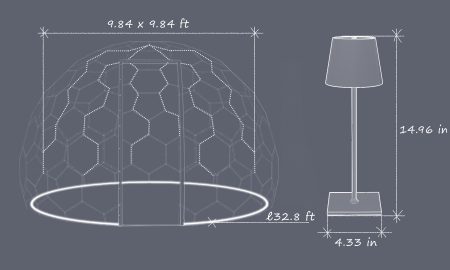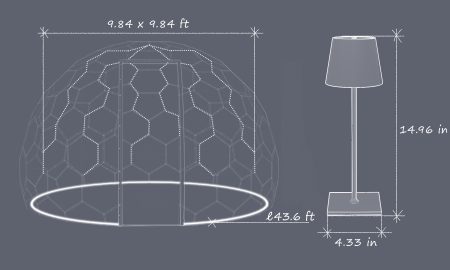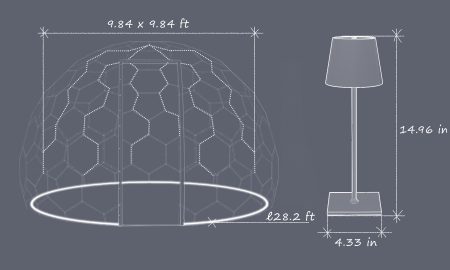 Ambient LED Strip
Length: 43.6 ft
Color: RGB (adjustable)
Plug: Mains
Rechargeable Table Lamp
Dimensions: 14.96 in (Height), 4.33 in (Diameter)
Light Color: Warm White
Plug: USB (Mains adapter provided)
Fairy Lights
Dimensions: 9.84 ft (Length), 9.84 ft (Width), 8.2 ft (Cable Length)
Color: Warm White
Plug: USB (Mains adapter provided)
Ambient LED Strip
Length: 32.8 ft
Color: RGB (adjustable)
Plug: Mains
Rechargeable Table Lamp
Dimensions: 14.96 in (Height), 4.33 in (Diameter)
Light Color: Warm White
Plug: USB (Mains adapter provided)
Fairy Lights
Dimensions: 9.84 ft (Length), 9.84 ft (Width), 8.2 ft (Cable Length)
Color: Warm White
Plug: USB (Mains adapter provided)
Ambient LED Strip
Length: 28.21 ft
Color: RGB (adjustable)
Plug: Mains
Rechargeable Table Lamp
Dimensions: 14.96 in (Height), 4.33 in (Diameter)
Light Color: Warm White
Plug: USB (Mains adapter provided)
Fairy Lights
Dimensions: 9.84 ft (Length), 9.84 ft (Width), 8.2 ft (Cable Length)
Color: Warm White
Plug: USB (Mains adapter provided)
All elements of the light come with clear assembly manuals.
LED strip requires tools to attach the mounting brackets. They come with the kit.
The Light Kit comes in three incompatible variants for the Hypedome M, Hypedome S and Hypedome Mini.
They differ in the length of the Ambient LED Strip.
Please make sure to choose the variant appropriate for your dome.
Ambient LED Strip
The LED strip
Power supply
Mounting brackets with tools
Power Socket Adapter
Manual
Rechargeable Table Lamp
Table lamp
Charging stand
USB power supply
Manual
Fairy Lights
Fairy lights
USB power supply
Eye nuts
Manual
The LED strip should be mounted inside the dome around the perimeter of the floor
Rechargeable Table Lamp works anywhere. Inside and outside the dome. It features IP65 rating, which means it splashproof, but cannot be submerged in water.

There are several ways to attach the fairy lights, but it all comes to individual preferences. The manual includes a few examples. 
All elements of the light kit come with 2 years warranty against defects.
They are indoor use only. Moisture damage is not covered by the warranty.
Total weight: 5.7 kg (12.56 lbs)
Package dimensions: 80 cm x 40 cm x 15 cm (31.5 in x 15.75 in x 5.9 in)