We love the versatility Hypedomes bring to outdoor spaces. Gyms, yoga studios, dining rooms, reading rooms… there are a lot of ideas. Sometimes the ingenuity of our customers surprises us. Just like Sarah and Grant, who pushed the boundaries of inventive outdoor design and used their garden pod to create an at-home golf course.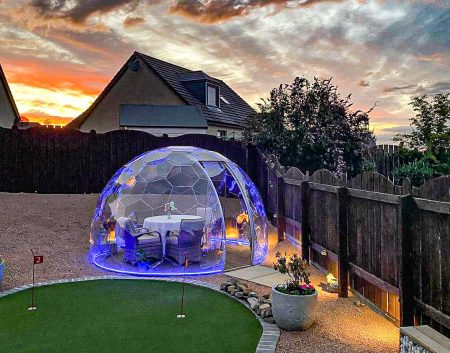 Golf Club Bar in an Outdoor Garden Pod
Sarah and Grant's pod in the garden features predominantly the Golf Club Bar. Living in Aberdeenshire, where the weather can be temperamental at the best of times, they no longer need to cut their days on the green short. A passing shower is now the perfect excuse to pop into the pod for a cheeky glass of prosecco, instead of packing up and heading back to the house.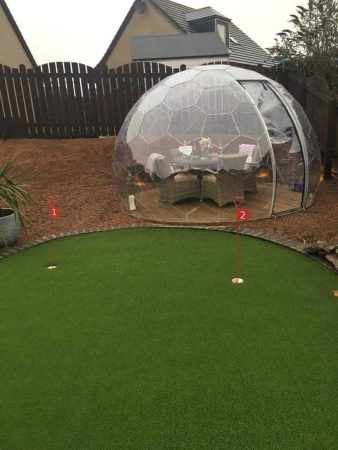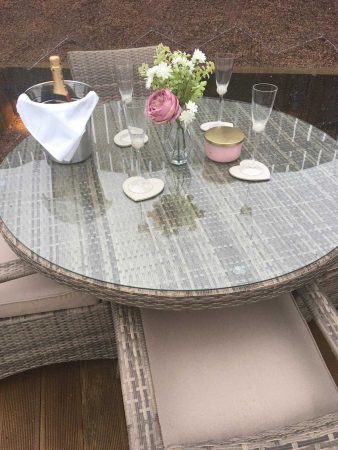 We certainly applaud Sarah and Grant for their original take on garden design and use. Cheers! In fact, their garden golfing extravaganza has unleashed our creative juices. In the spirit of lawn games and fun, here are some more outdoor activities that a Hypedome will enhance.
A Croquet Pitch With a Garden Pod Lounge
The sporting event of any garden party worth its salt, croquet is not only easy to set up but also an inexpensive garden addition. It can be played on any lawn, as the pitch boundaries are highly adaptable. Of course, a game of croquet begs to be accompanied by lawn-side drinks. We suggest the quintessential Pimm's, however, set up your garden pod with whichever tipple tickles your fancy!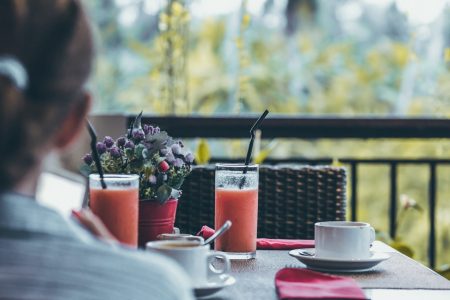 Crazy Golf and Outdoor Chill Zone
Setting up a permanent Crazy Golf course is not for the faint-hearted, although DIY enthusiasts will get a kick out of designing a custom course themselves. For the rest, temporary sets can be purchased inexpensively online and put up easily. This is a great shout for a family gathering or children's birthday party. Sit back and watch the fun commence from your cosy pod in the garden!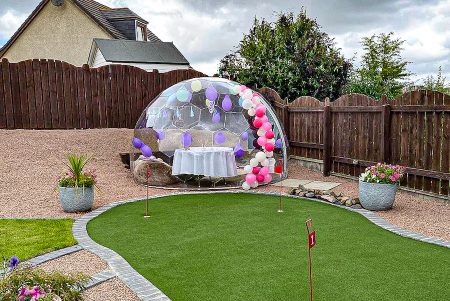 Badminton and a Cosy Watching Room
Watch a match of badminton from your courtside, luxury seating area. All you need is a net, a shuttlecock, rackets and you're away! This is a much safer alternative for your garden space than tennis, as shuttlecocks are a lot easier on windows. Although no worries if you hit a Hypedome with any ball – our panels are made from polycarbonate which is 200 times stronger than glass!
Some Frequently Asked Questions About Using a dome as a garden activity addition:
How do Hypedomes cope with rain?
All Hypedome pods for garden are completely waterproof. Hypedomes are made from 100% recyclable polycarbonate so they have a natural elasticity that slightly cushions the sound of raindrops. This means that although the sound of rain is still audible, it is much quieter than on glass structures, with customers reporting the sound to be a unique, calming hum which aids well-being and relaxation.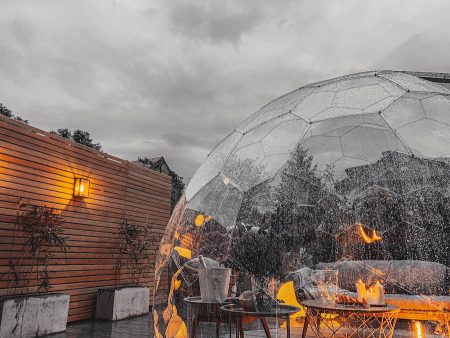 Can I change up the uses of my dome easily?
Absolutely! This is one of the best things about a Hypedome. In fact, Sarah and Grant's family have been benefiting from their dome for a while now. They enjoy decorating it with seasonal accents, using fairy lights and other accessories. Hypedomes are also very safe and easy to heat using a standalone electric heater or radiator, which makes a fantastic venue for Christmas dinner.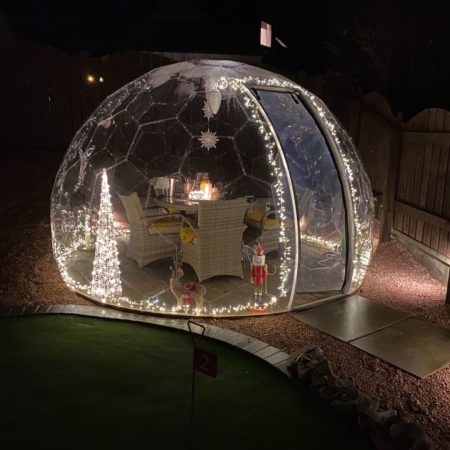 Why is a Hypedome better than a traditional garden room?
A dome provides so many benefits that a traditional garden room can't. Apart from the simplicity of its assembly and versatility of its use, the 360° vista provides a truly special experience. The feeling of being cosily cocooned against any weather conditions in a clear pod for the garden is quite surreal (in the best way possible!).
If you have any questions regarding our products, we will gladly answer them through the online chat box in the lower right corner of our website. You will speak with some of our most experienced consultants who know the product inside out and own a Hypedome themselves. If we are unable to answer immediately, rest assured we will contact you as soon as possible.