Your home is likely a busy space much of the time. Maybe you've a bustling family and something's always going on, whether the children need help with their homework or you're cooking up a storm in the kitchen. You might be working from home, so you find yourself on Zoom or Teams for multiple meetings every day. No doubt, there are times when you crave some peace and quiet. If you're lucky enough to have a garden, you might be able to use it as a place especially for you – where you can kick back, relax and give your mental well-being a well-earned boost. A place of pure escapism. A place for a Hypedome garden pod.
Add an Extra Dimension To Your Home (and Your Well-being)
Gardens and outdoor spaces have so many well-being benefits. There's the outdoors of course, that fresh air full of good old Vitamin D, excellent for helping to boost bones, teeth and muscles. Then there's the feeling of sunshine – it releases the feel-good hormone, serotonin, essential for happiness. Listening to nature, seeing your garden bud with colour and changing with the seasons, a garden has a treasure trove of mental well-being positives, and you could enjoy yours even more by using a part of it as your very own designated space.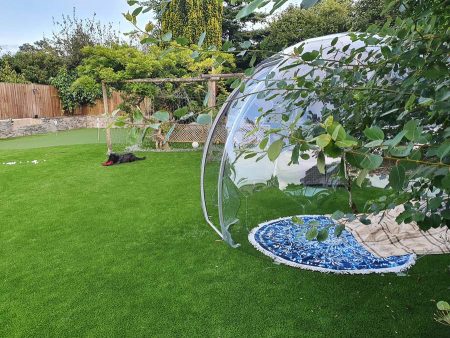 There are countless garden pod ideas. One of our clients has used a dome to enhance a mini golf putting range. That's certainly novel and so are garden pods. Pods are the modern way to add an extra dimension to your home. Far less expensive than installing an extension and much more attractive than building a conservatory. A round garden pod from Hypedome gives you a place of your own. It's a separate room to use for your favourite hobby perhaps (like the putting idea above), or an area for your home office where you can still make the most of the natural beauty outside. Maybe it's a much-needed extra room – just for the grown-ups (no children allowed) where you can sit after dinner and while away the hours chatting to a friend or a loved one. Even if you don't have a generously sized garden, you could still fit a mini garden pod, they're entirely versatile and space-saving.
Get Away From It All – Even When the Seasons Change
The beauty of a modern garden pod is that it's weather-proof too, so when the summer finally bids goodbye, you can still take advantage of the outdoors – while being almost "indoors".  With one of the transparent crystal domes, you can still admire your planting skills and get away from it all whenever you feel like it.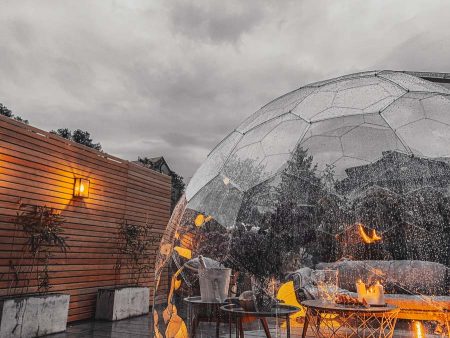 Tremendous Psychological Benefits
There are deep-rooted psychological benefits to being able to disappear off to a room of your own or somewhere quiet to go to and unwind, and several studies tell us that having your very own, designated space can help regulate your emotions by reducing stress. That significantly boosts emotional well-being. One such study was conducted by events' company Wildgoose and one of its key findings was that 40% of respondents felt that having a place of their own or a quiet area at work would reduce mental health issues.
Here are some more reasons why owning a garden pod is good for the soul.
Silence encourages mindfulness. Having a mindfulness room to escape to, offers an opportunity to cultivate mindful awareness. Being aware of the present moment reduces anxiety and calms the nervous system. In your garden pod quiet area you can settle into your mind and body and try to direct some of your thoughts away from the future and the past. A mindfulness practice helps with accepting your feelings and actions and feeling better about yourself.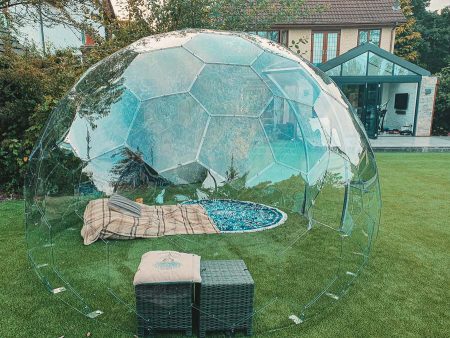 Separate Work from Home with a Garden Dome
Today, more and more people work from home and following the pandemic, having a fluid approach to where you choose to work is completely acceptable. So, if you spend much of your day in your "home" office, a garden pod is the ideal place to escape to after a busy working day. Of course, there's a flip side too – you could use your garden pod as your office and enjoy seeing the outdoors at every angle, helping you to focus and stay nicely calm whenever you're tackling a difficult spreadsheet.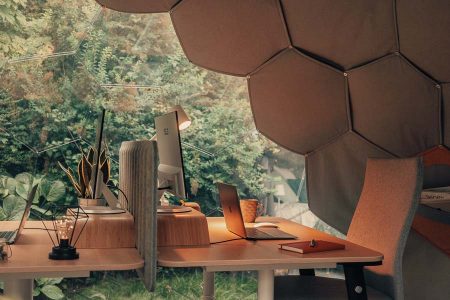 Boost Physical Well-being
Why exercise inside your home when you have a fabulous garden pod as your mini-gym or designated area to practice yoga, perhaps? With gorgeous views of the outdoors wherever you strike a pose, a garden pod is spacious enough to house some useful gym equipment such as an exercise bike or treadmill, your yoga mat, blocks, weights and more. Being physically active and moving your body is an excellent way to boost mental health, exercise releases endorphins, another feel-good group of hormones that makes all the difference.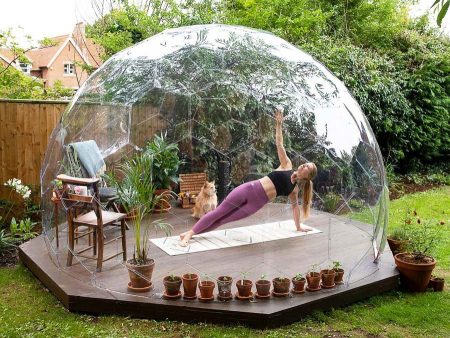 Always Enjoy Nature in Your Garden Pod
Any time of year too. Spending time in an outdoor space where you can see nature is a super way of rebalancing negative energy. It's proven in a study that being "at one" with nature is a brilliant way of restoring calmness and serenity. The study examined 60 adults who went on a walk in a natural environment and the experience resulted in less anxiety and better cognitive response. It's a way of reducing stress by connecting you to the outdoors – away from traffic noise and busy cities. You also get the added benefit of a circular garden pod that gives you a bird's eye view of your outdoor space, keeping the elements out but still with that "being outside" feeling. The natural lighting is also a mood enhancer so use your pod to take advantage of nature and unwind, whenever you feel the need.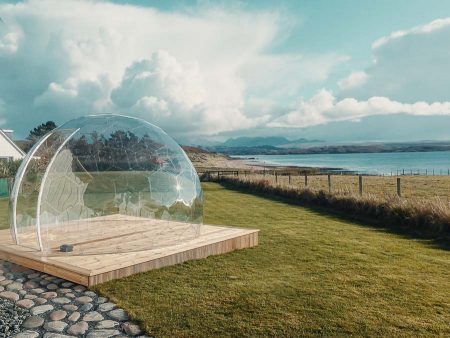 Retreating outdoors with a friend for a chilled glass of wine or a cup of tea and biscuit is ideal. It takes you away from the house (without being too far). It also gives you another place to host a friend or two, when you want some privacy. Garden pod can easily become that extra room you might need with a limited space indoors. So when you want to have a chat, lift your spirits by enjoying your friends' company in your very own comfy garden pod.
When you need five minutes from a hectic afternoon with the children – and you just want that little headspace, having a place to retreat to for reducing stress is essential. You might well have some rooms in your home where you can try and grab a few moments of peace and quiet. However, most mums and dads know that it's never long before someone comes flying through the door. Designate your Hypedome garden pod as your very own, do-not-disturb private space and make your escape when the mood takes you. Hypedome garden pods are sound insulated – you won't hear that loud another request for a snack. It's increasingly important to have a quiet place to disappear when you need to just reflect, or listen to your iPod in peace, perhaps even to finally finish that novel you've been promising yourself.
So get away from it all with a modern Hypedome garden pod. It's so much more than a stunning looking garden structure at an affordable price, it's good for the soul too. It will soon become your favourite hangout and gives you somewhere that's yours and yours alone – unless you choose to share it with someone else.