One of the best things about a Hypedome is that it provides a blank canvas for furnishing and decorating…which means you can get creative! Our garden bubbles' unique, circular floor space means that it's worth considering the layout, type of furniture, and colour scheme carefully. To help you decide on your bubble's perfect style, we have curated a Hypedome Styling Guide, which aims to provide some decorative garden igloo inspiration. Have a browse of our suggested furniture and accessories to find your favourite dome style.
The Scandi-Chic Sanctuary
The Scandinavian lifestyle concept of making time with friends, relaxing, and enjoying the simple life has served as well-being inspiration for the rest of the world in recent years. 'Hygge' for the Danes, 'fika' for the Swedes, the central style staple is a cosy, shared space that aims to fill you with warmth and a sense of belonging.
A garden bubble is a perfect place for a "hygge/fika" sanctuary. Hypedome's circular edges provide a soothing layout for this sort of spot; ideal for low-key, group socialising. The key is to pick neutral, comfortable, quality pieces: Scandi style avoids clutter and busyness. A garden bubble makes a great shell for such simplicity, due to its clean and clear structure.
For understated comfort, we recommend Skyeskyns' Natural Brown Medium Sheepskin. This smaller-sized piece would work perfectly as a throw on a worn armchair to give an approachable, cosy aesthetic. 
Candlelight is a must for achieving authentic, Scandi vibes. Scatter a few of these Handle Jar Candleholders around to give your garden bubble an irresistible and wholesome light source as the day moves into the night. Keep candleholders the same colour so that your space feels unified and uncomplicated.
Detailed accents placed against simple palettes work brilliantly in Scandi design. Source a secondhand, pine sideboard to display these ceramic Nordic Sand Mugs. Keeping special mugs and ceramics specifically for your Scandi garden hideaway use creates an even stronger sense that your garden bubble is a place of retreat.
Hypedome's Expert Design Tip:
If you have any old pieces of furniture being stored in the garage, a garden bubble is a great place to repurpose them as hygge-chic pieces. Paired with the right throws, they will take on a new lease of life!
The Luxury Garden Bubble Lounge
If you crave extravagance and sumptuousness for your garden bubble pod, then furnish it as a sophisticated garden lounging area. This is an exciting opportunity to style a space that oozes luxury and explore creative, artistic pod accessories. This style is also versatile, as it relies on moveable pieces easily swapped in and out. 
The design gives you free rein to express yourself through art. Sculptures work particularly well in garden bubble rooms and are a clever way of setting tone and theme. We love this Hill Rise Moai Head Sculpture that will come to life in the abundance of natural light garden bubbles let in.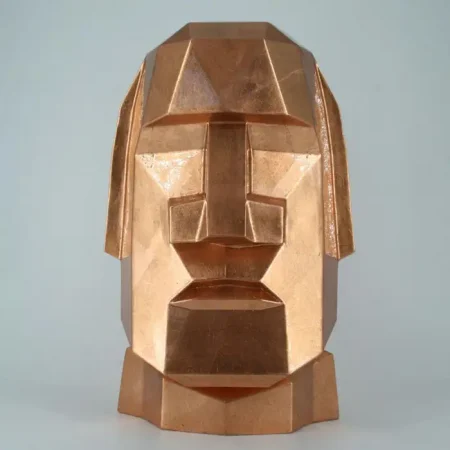 For seating, keep it simple: the luxurious highlights will be accentuated around the basics. This Cox and Cox Indoor Beanbag strikes a high-quality note, whilst waiting for the right pieces to really elevate the space. Alternatively, if beanbags are not quite your thing, this Chidera Sun Lounger from Wayfair is an affordable way to bask and relax in your newly furnished garden bubble.
Hypedome's Expert Design Tip: 
Plants are an amazing way to lift any space. The natural light and protection a garden bubble gives will allow many plants to flourish. Our advice is to go large! Oversized plants never fail to make a sophisticated impression.
Ever dreamed of having your own private, tucked-away bar? Furnished in the right way, our garden bubbles can easily be transformed into one. Modern garden design often features a bar of some sort; Hypedome makes owning an outdoor, covered bar area an affordable reality. 
A standout drinks room is set apart by beautiful glassware and bottle display solutions. To create a truly unique nightcap space, try making your own bar out of a whisky barrel, which can be found cheaply online. This is a great DIY, garden activity and the rounded edges fit well with Hypedome's layout.
If you're looking for something less rustic than a homemade whisky barrel bar, this Pascali Brass Drinks Cabinet makes a real statement. Contrasting outdoor living and garden foliage with graphic, industrial lines will turn your outdoor bar into a sophisticated melting pot of design. 
Hypedome's Expert Design Tip: 
Find an old glass jar or bottle and fill it with battery-powered fairy lights to give your Hypedome bar a low-lit, late-night feel. 
The Garden Bubble for Outdoor Dining
Question: How many outdoor dinner parties have fallen casualty to temperamental weather? Answer: Too many. Owning a Hypedome means that bad weather never ruins party plans again. What's even better is that the circular shape provides a more social seating area than traditional patio enclosures.
Maison du Monde's Laker Round dining table offers a great value, a beautiful option to start. If you are aiming for an eclectic, happy-go-lucky interior, then a collection of mismatched chairs can work well. If you decide to upcycle old dining chairs, try painting the frames in different colours to add some drama to your dining space. 
Hypedome's Expert Design Tip: 
Festoon lighting works exceptionally well for evening, dome dinner parties, as can uplit tall-standing vases placed directly on the ground around the dining space.
So much better than practising your yoga or pilates on the patio, a Hypedome garden bubble offers a sheltered studio that can be used all year round. Likewise, why continue to house your treadmill in the back room when you can work out in your own outdoor gym, bathed in natural light? 
Install a sound system, and even a water cooler, to customize your garden pod for the ultimate exercise experience. The simplicity of the pod design combined with the sharp, strong lines of gym equipment will create a productive, energised environment.
Hypedome's Expert Design Tip: 
Think carefully about the placement of your exercise equipment; where will you be facing on the treadmill? What view will motivate you the most?
Of course, you don't need to limit yourself to doing only one thing in your dome. Take a look at Helen's multipurpose garden dome and feel free to mix the furnishings so they suit you best.
So there you have it! We hope you have been inspired by our Garden Bubble Style Guide and we would love to hear about your furnishing plans! Get in touch with any creative inquiries – we love speaking to anyone considering the unlimited possibilities of Hypedome.