Sarah Gill is a professional landscaper from Camden, London, with a good eye for outdoor transformations. Her garden renovations incorporate a harmonious blend of rich flora and modern design. In her projects, Sarah captures the power of nature through the use of wood and stone and the inclusion of transparent structures.
In addition to landscaping, Sarah is also a passionate writer and blogger. She combines her love for the outdoors and her keen interest in writing to create engaging content for the Hypedome blog. Here, she passionately writes on her favourite topics like garden design, outdoor activities and original uses of Hypedome pods. Sarah is full of ideas and never gets enough of sharing her thoughts on urban nature arrangements for outdoor living spaces.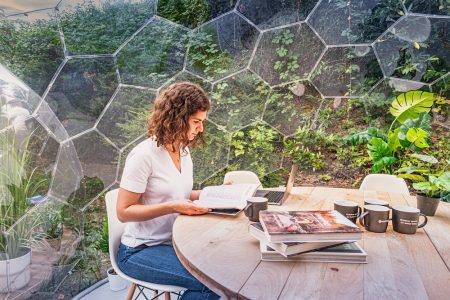 Sarah's lifestyle means she can work from anywhere – handy for another of her favourite activities – travelling. Her travel bucket list includes visiting Banff National Park in the Canadian part of the Rocky Mountains, Thailand's Khao Sok National Park and the temples of Angkor in Cambodia. Sarah also likes exploring her homeland and is on a mission to tour the four corners of the UK. Although Sarah loves getting up close and personal with nature, she prefers glamping to camping – so she can adventure in comfort and style.
When Sarah's not hammering away at her laptop keyboard, reading about the latest design trends or travelling, she loves to spend time outdoors with her beloved pooch, Bailey, an Irish Setter with a penchant for stealing shoes. Together, the pair team up for regular hiking sessions.
Quite the sporty type, Sarah also enjoys playing netball with friends and is a dedicated Yogi, committed to deepening her yoga practice.
If you have any questions about the Hypedome blog or want to explore writing cooperation possibilities, contact Sarah at [email protected].